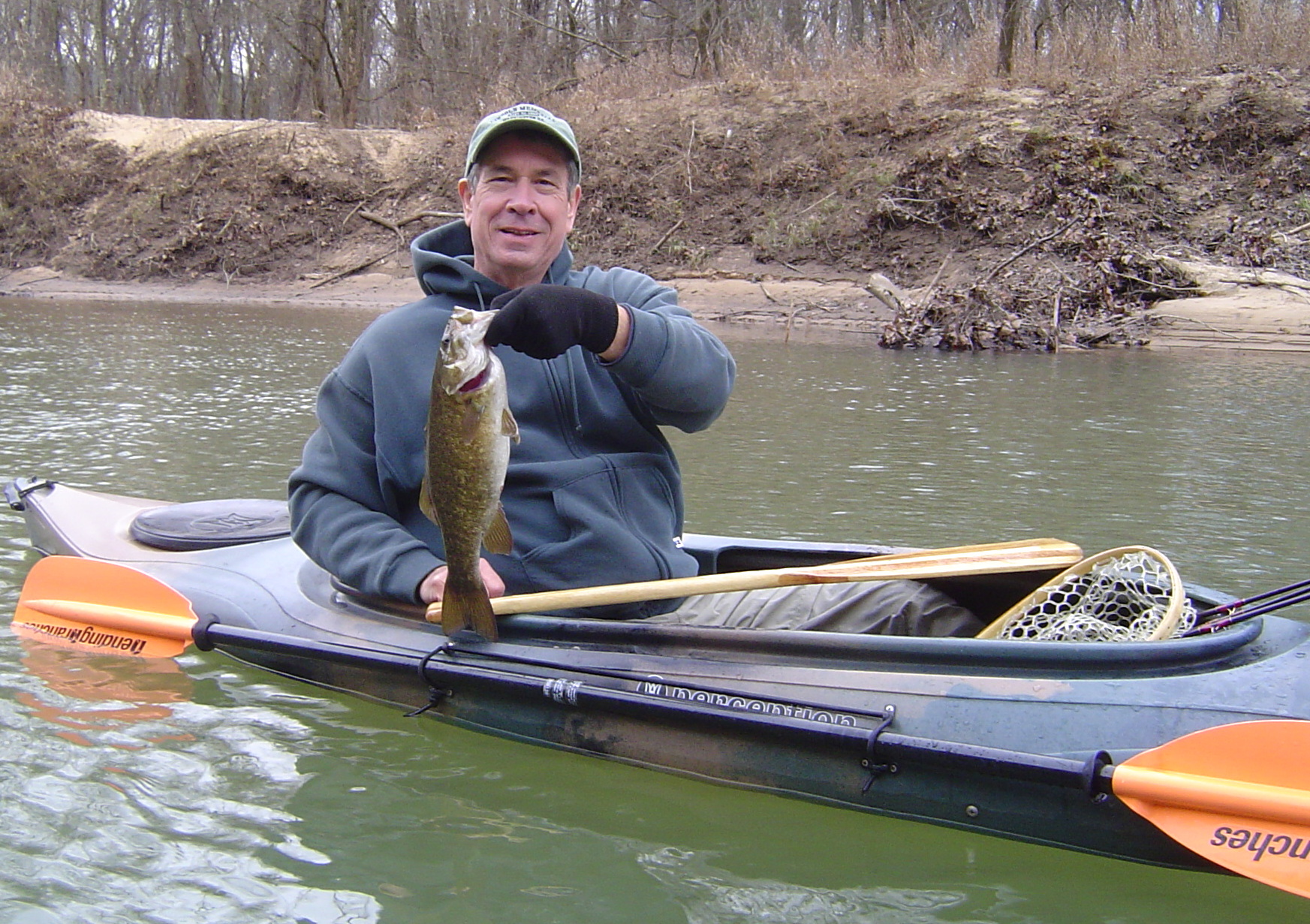 Content Count

33

Joined

Last visited
Everything posted by Ken1949
The power plant at Coffeen Lake will be retired at the end of the year. It will be interesting to see how the fishing will be affected with no more hot water discharge from the power plant.

Rend Lake is primarily a crappie lake. If you are pursuing bass, I would drive about 45 minutes south of there to Lake of Egypt south of Marion Il. There is a small motel about one mile from the lake. Rates are about $75/night. There are no good public docks available. So, you need to pull your boat out each day. The lake is a power plant lake with about 2200 acres. Most of the good bass fishing is in the northern half of the lake. Crankbaits and topwater are my preferred lures.

Water temps are in the low to mid 50's. Stained water throughout the lake. The generators were not operating. Not sure how long that has been the case. I caught three keeper bass 15/17/15. Two on a ned rig and one on a chartreuse crankbait. No short fish. Fishing should pick up when the generators start operating with warmer water temps.

Fished Coffeen for the third time this spring. Water temps already in the mid 80's to low 90's. Not much of a bite in the morning. It did pick up mid day, which seems to be the pattern at Coffeen. Had fair success using a junebug colored ned rig. Not much action on anything else. The main lake is mostly clear with stained water in the hot water arm. Could not find any significant shad action. I saw a bobcat there a few weeks ago. That was a first for me.

We fished Mark Twain in the Lick Creek and Big Indian Creek branches on Wednesday evening and Thursday morning. Crappie were slow. The best bite was shallow along the shore mostly near stick weeds. Very few were caught on stumps and flooded trees in deeper water. We were using 1/16 and 1/8 oz. jigs. Our largest crappie was 10+ inches. Falling water levels and high air pressure was a contributing factor. Water color is dingy to stained and about six feet above normal pool.

We had a fairly good day on Coffeen. The lake is at full pool. Water temps are low to mid 70's in the main lake and mostly clear. The hot water arm is low 80's and dingy. Most bass were caught on ned rigs and curly tail soft plastic lizards in shallow water. Observed lots of wildlife, eagles, geese and fox. Also saw catfishermen having good catches. Now is the time to be on Coffeen before the water temps start to skyrocket during the hot weather months.

I was able to get out in 60 degree weather on my birthday. Not too many past birthdays that I have been able to do that. Lots of other fishermen had the same idea as the launch ramp was busy. Coffeen is at full pool and mostly clear. Water temps ranged from mid 50s in the main lake and mid 60s to low 70s in the hot water arm. Bass fishing was fair on billed crankbaits and a ned rig. No report on other species. Looks like it is shaping up to be an early spring.

I put in at Mayers Landing for the first and only time last July. It appears that the main channel of the Bourbeuse has meandered about 1/4 mile to the east. It was a difficult portage and paddle to get to the channel from Mayers Landing. I am guessing that the flood in Dec. 2015 caused the shift. I advise everyone to check it out before planning to launch or take out there.

I have launched/taken out at River Round many times with no problems. I agree that the terrain is too steep to launch upstream. We used to use the old Bruns Bridge above River Round for access until the no parking signs were installed. Probably best to avoid it now for that reason. Also, people tend to congregate there for illicit activities.

Anyone had any experience fishing with the Cotton Cordell Pencil Popper? It has been around for several years and is used primarily for stripers. I have not thrown one, but have read that they can also be effective for largemouth.

We had a fair day on Coffeen Lake. The lake is at full pool and mostly clear. Main lake water temps are in the low to mid sixties. The hot water arm is mid seventies. Bass were fair on Live Target and Bomber crankbaits. Also caught a keeper on a wopper plopper. Most fish were caught in the hot water arm. The lake is closing during the second Illinois deer season.

The water temps are down from last month. Main lake temps are in upper 60s to low 70s and mostly clear. Bass were fair on a topwater Whopper Plopper. Not much action on other lures. Quite a few boats out despite cool air temps. The foliage is starting to look good. Several weekend tournaments are scheduled for the rest of the year.

I fished in the Lick Creek branch about three weeks ago. Caught quite a few crappie, but they were running small, about 8-10 inches. We did not use minnows. All were caught on crappie jigs next to the stickups. I was told that the bigger ones would turn on in early October.

Our china cabinet was shaking here in Alton IL.

Coffeen Lake is at full pool. Main lake water temps are upper 80's and mostly clear. The hot water arm has temps in the low 90's. Nice day to be out, but few fish. Bass fishing was slow with the exception of one 18 incher on a Texas rigged senko. Few fishermen were out. No report on other species.

The old channel is cut off. No way to float it. Not much water is left there.

Last Wednesday, myself and two buddies put our kayaks in at the River Round access on the Meramec. We have floated this section many times before, but not since before the flood of Dec. 2015. Fishing was a little slow. We only caught a few smallies and largemouth. The river had not changed very much until we reached just upstream from the railroad bridge located above the Chouteau Claim access. At that point, the channel changed drastically. The river has cut a new course, bypassing a major loop in the channel. The result is the river is about one mile shorter than it used to be at that point. We were amazed how the flood waters had cut through a wooded bend in the river and cut off the one mile loop. We had a difficult time getting through the new channel because of downed trees. I am not sure if jetboats can navigate through the log jam. The bottom line is beware of the new channel and be very careful if you float there.

Coffeen Lake is at full pool and mostly clear. Main lake water temps are high, 91-97 degrees. Not many fishermen were out. Bass were slow on a variety of hard and soft plastics. A pontoon fisherman reported catfish were good fishing from the dam area. About 60 were caught on nightcrawlers averaging over one lb.

Thanks for the info. My 25 HP Merc is a year 2000 model. I am not aware of an overheat warning system. Probably does not have one.

I was recently fishing at a powerplant lake with water temperatures in the mid to upper 90s. Temperatures in the hot water arm exceeded 100. I was wondering if the high water temperatures could damage or effect the outboard? Any thoughts on this subject?

Despite water temps in the mid to upper 90's, bass were chasing shad and hitting crankbaits. Caught a couple of keepers and about a dozen shorts on Bandit and Live Target crankbaits. Also caught a couple on a Whopper Plopper. The lake is about one foot below full pool with slightly stained water. Look for schooling shad in the back of coves. The hot water arm has temps over 100 degrees. Almost hot enough to melt your plastic baits!

Has anyone floated/fished the eight mile stretch between Mayers Landing Access and the Union Access? It looks like an easy vehicle shuttle. I have floated other sections of the Bourbeuse, but never this one. Any information would be appreciated.

Coffeen Lake is at full pool with stained water throughout. Water temps are 85-90 in the main lake and 90+ in the hot water arm. Both powerplant generators were operating. Despite high water temps, bass fishing was fair to good. Caught several keepers on BPS sticko worms in watermelon colors. Also, a few on Ned rigs and Live Target crank baits. Not many short fish caught. There is a 25 HP limit on the lake. Saw several larger boats using trolling motor only.

I fished TR first week of May just below the 39 bridge at Shell Knob. We caught a lot of green sunfish and a few goggle eye mostly on Ned Rigs. Did not keep any but most were nice size. Black bass and smallies were only fair as water temps were low to mid 60's. Warmer water should improve prospects this week.

Fished Coffeen for about six hours. Caught three keeper size bass 15-16 inches. All three caught on black/blue and crawdad color Eakin jigs. Very few short fish today. Water temps are in the mid 60's in the main lake. The water is stained throughout the lake. Take note that limit regulations for keeping bass is changing on April 1st.