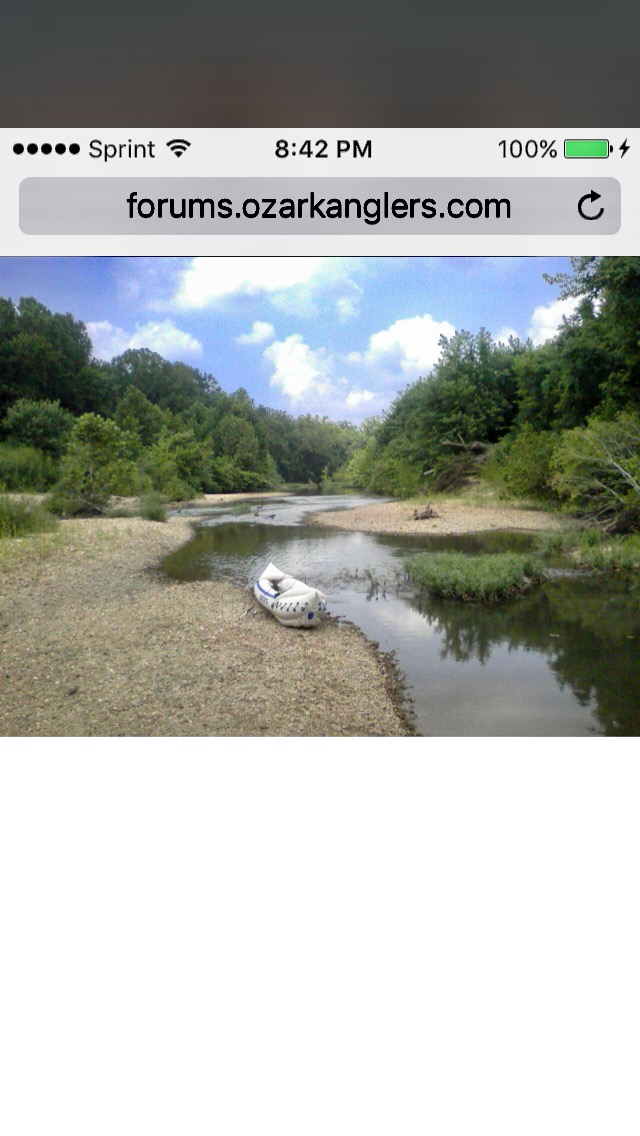 creek wader
Fishing Buddy
Content Count

658

Joined

Last visited
Profiles
Forums
Blogs
Calendar
Articles
Video Feed
Gallery
Everything posted by creek wader
I personally have never caught any, there. But, the Gasconade flows into the Missouri river, so it's highly possible. It was probably a sauger. They are easily confused with walleye. Sauger is what you usually catch on the Missouri and it's tributaries, like the Lower Osage. In fact, anything in the Lower Osage could possibly be in the Gasconade. I just don't think there is a large population of them. But, you never know.

Thanks for all the info, Al. I fished the Lower Osage in my yak, today. I was trying for a bigger stream that was stained, like others have mentioned. I snagged and lost my only two spinnerbaits, two crankbaits ( a bomber and wiggle wart), in the first 30 min. It was getting a little expensive so, I switched to a Yum Dinger, and caught about a doz. sport Kentuckys and a Kentucky/Smallie hybrid. I did snag and lose a couple of dingers, also. It was too difficult fishing out of the yak, with the strong current. Trying to control the boat and fish. Yak paddle in one hand, pole in the othe

Thanks for the input, everyone. I'm getting ready to head out, now. I'll give a full report, later. ..wader

Finally had a chance to fish at Jeff. City. I had brought my inflatable kayak down with me. The past several outings, there were a few sections of streams that I could not wade past because of the depth. I decided on the Big Tavern Creek, the put in was about 30 min. out. The stream was much lower than the last time that I had fished it but, I still need the yak to get over a few spots. I put in about 4 pm. and fished till dark. Temp was lower 80", water was clear to lightly stained. A few weeks ago, I had got into a mild debate on soft plastics vs. spinnerbaits and also crankbaits. I had

Nice post, Al. Sounds like you did well, changing baits. I finally made it back to Jeff. City, after 4 wks. vacation, and had time to fish. I came armed with a couple of spinnerbaits, crankbaits and a few Pop R's. I couldn't wait to try them. I stepped off the engine and it was 98 degrees. I opted for a movie, and some sleep instead. But, I will try it again next trip. After reading your posts and others. I've noticed that most anglers are using spinnerbaits or some kind of crankbait, and doing well. I'm always open to something different. So, I'm going to take the challenge and try

Ok, I knew this would happen,... Here we go I've always liked trying something new. A new bait or a new stream, lake, boat, reel, flyrod or species. Because it's a challenge. I still carry spinnerbaits and throw them for a while, almost every trip. Because, you guys catch fish on them. So now it's a challenge to me. I've tried normal speed in the mid water column, I've tried slow rolling, sometimes I even try reeling fast to break the water surface. I've tried different sizes,. With and without trailers. After 45 min. of nothing, in very "fishy" water. I switch to soft plastics and

That's ok about them mermaids. They come with a lot of baggage. lol. I much prefer the solitude. Nice pics from Center Creek. We drove over it on hwy 71. I didn't get a good look at it. But, your pics did it some justice. Must be nice to have so many choices, so close to home. If I don't fish at Jeff. I have to drive 4 hrs. just to get to a stream like what you have, down there. Keep sending that fish porn. ...Later ... wader

Some nice looking fish, Chief. I only see largemouth and Kentuckies. Any smallies on that stream? ...wader

We took a look at Indian Creek on our way back from the Elk river, the other day. Pretty little stream. Looked like it was low and perfect for wade fishing. Looks like you and your boy had fun. That's what it's all about. I'm going to have to try it, next spring. ...wader

Buzz, Had a great trip. Elk's a nice stream. We checked out Indian Creek at Lanagan City Park, on our way back. Pretty little stream. It was very low. Looked a lot like the streams that I wade fish around Jeff. City. Also, got a look at Shoal Creek. I'm jealuos of you guys having something like that in your back yard. Sorry, I never got to fish with you and Chief. This was one of those spur of the moment things. Both my brother and mine's last days of vacation. Now it's back to the grind till next year. Keep sending those Shoal creek reports. You guys may get this Yankee down there yet. T

Good report SMJoe. Fishing is usually tough this time of year, during the day. The heat and low water makes for some tough fishing. Still beats work or school. In January, you'll be wishing that you could have a day like that. Keep up the reports. ...wader

I almost solely fish senko type worms. I like the 3" "Yum Dingers" for stream fishing smallies, actually all stream bass. For me they out fish any other artificial bait. But, that's just me. I tend to fish skinny water because I wade fish. There's usually not enough room to work a crankbait or spinnerbait. I have yet to catch a smallie on a spinnerbait. I have caught them on inline spinners though. I've had real good success with them. I usually Texas rig senkos with a split shot to help slow it down in the current or to bump it off rocks. I rarely snag and can cast into the worst brush or roc

Yea, they're good people down there. They cater to fishermen. I thank Russ and Jean Ann again. If you enlarge the pic of the goggle-eye. You'll see one of those Elk River "mermaids", splashing around in the background. Odd how that pic worked out. ...lol ..wader ...

Just got back last night after two days of float/fishing the Elk. My brother had never canoe/fished before. I hadn't floated any of the SW Mo. streams, yet. I had two days of vacation left and had only fished one day, so far. Which was on a local farm pond. So, we headed down on Monday morning. After a 4 hr. drive we arrived at Hog Heaven. Jean Ann got us all set up and we put in at Hog Heaven. It was one of the hottest days so far this year with the temps. in the upper 90's. Later Russ (wacky worm), told us the river was at it's lowest in 3 yrs. We got on the water around 2 pm. We float

I also, thought large mouth. But, I'm not one to argue about it. I caught a 4 lb. 3 oz., 20 1/2 in. large mouth Fri. while fishing a pond. The 1st pic is of it. The 2nd is of one a little smaller, from a stream, about 2 weeks ago. Here they are for comparison to your fish. .. Any how, nice fish. ...wader

Russ, I"ll give you a call next week. Also, It looks like we'll be coming down on Mon. the 3rd, and going back Tues. the 4th. ..always changing, but still coming ..for now..anyway

Russ, I messaged you back in May about taking a float/fish trip. It fell through. Well, now I actually have a couple of days that might work. We're thinking about driving down on Tues. Aug. 4th and floating that afternoon. Camping the night and floating the morning of Aug. 5th. Then heading back that afternoon. It's a bit of a drive 260 mi. according to Mapquest. There will be two of us. We're game for any of the streams, Elk, Big or Little Sugar, or the Indian. We'll let you pick the what's good at the time. ... Wader

Hoglaw, I've already talked to Chief, I'll also, let my friend know about your boat and leave it up to him. He knew I fish a lot and asked me to put out some feelers. I'll let him know. .. thanks ...wader

I have a friend that's looking for a used 8ft. 2-man bass boat. One of those plastic jobs that fit in the back of a p/u truck. I haven't seen many for sale. If anybody knows of one please let me know. Thanks, ...wader

" Ok Chief, I deserved that one. I told you my spelling/typing is not any better than yours. I liked your recent post on "Shoal creek". Looks like Dylan had a real nice goggle-eye. On a road runner, hmmmm. I got about a million of them and never hardly use them on a stream. Ok, what color?

Siusaluki, I agree, I really like this combo, so far. Time will tell. I think I read a post where you said that you fished the Tavern before. I counldn't find it though. This bridge is on Kemna Road. South of St. Elizabeth, Mo. This stir any memories?

Nice smallie. I gotta get out in a canoe or yak and fish the bigger water. By wade fishing, I'm limited to skinny water and short distances. ... Nice catch.

I just bought a new Pflueger President combo and was itching to try it out. I got to say, It worked well and is a very smooth reel. I've been trying to hit sections of the local streams that I haven't fished yet, or haven't fished for a few years. I decided to access a section at a "swing bridge". I fished it once several yrs. ago. When I started fishing the area 4 yrs. ago, there were 4 swing bridges, but, now I only know of two still standing. It was easy access below the bridge. It looked like it had been frequented a lot by the locals. Usual trash and tracks. Still the hole below the bridg

St. Elizabeth? Are you talking about the Osage-Tavern Access, north of St. Elizabeth? Or, are you talking about the one near St. Thomas?

Chief, Ok, I have to admit it. I just "Googled", "Northern Studfish". Curiosity was getting to me. Cool little fish.