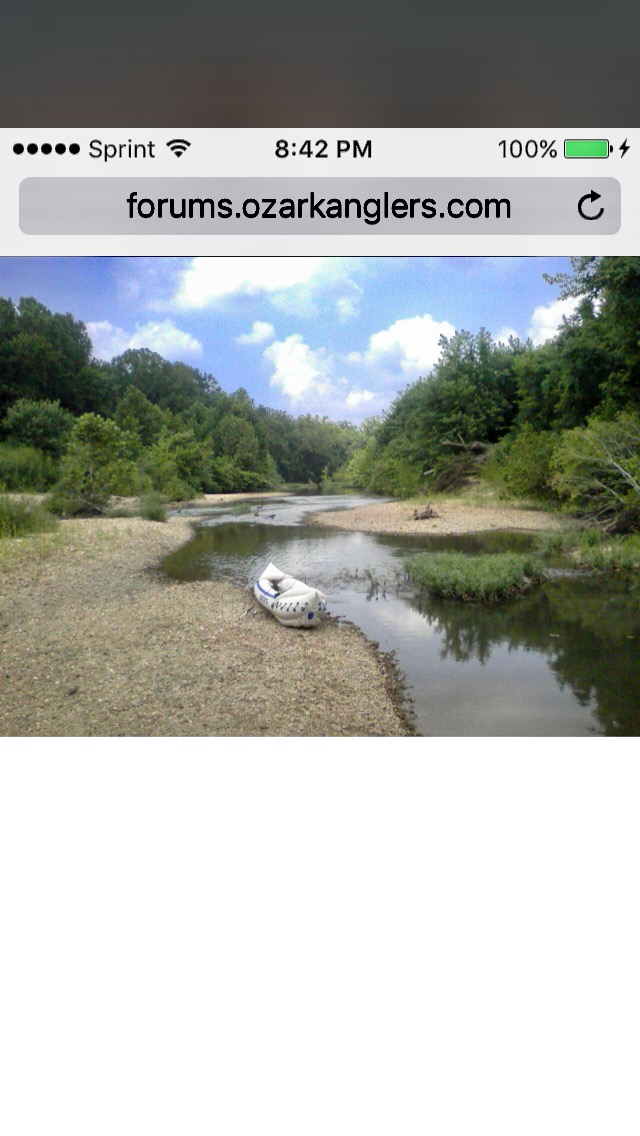 creek wader
Fishing Buddy
Content Count

658

Joined

Last visited
Profiles
Forums
Blogs
Calendar
Articles
Video Feed
Gallery
Everything posted by creek wader
Fellows Lake above Springfield, has a good muskie population. It probably found it's way down from there, one way or another.

I travel a lot and can't haul a solid kayak or canoe. So, I went with a 2-man inflatable kayak from Sea Eagle. I only use it by myself as I'm very tall and like to be comfortable. It's stable and very portable, (fits in a duffle bag). It also, has plenty of room for fishing gear and a cooler, etc. I've used it on a few large streams and several small ones. Worked great. It's pretty tough also, as I've rammed some pointed snags with no problem. It's more like a canoe so, it is easy getting in and out of. I think that a solid kayak would have less resistance and be faster, but I needed space sav

Been there done that. Wish you the best of luck. Let us know how it turns out.

Classic pic all the way around. I love it.

Most people think of carp as a trash fish. What most of them don't know is that the Carp was originally brought over from Asia as a source of food. I've eaten many lbs of carp over the years. Some that I caught and others at all you can eat buffets of carp and chicken, in Neb, Iowa, and No. Missouri. Also, they put up a heck of a fight. Especially if caught in a river, like the Missouri. I've used cotton seed cake, doughball, corn and worms. All real effective. Plus with doughball, if you get hungry, you can eat your bait. Also, in the area where I'm from it was always common to score the meat

I dive and I wish that I could help you. I assume you lost it at Table Rock lake. Given the distance from St. Joseph to Table Rock (gas prices). Also, tank and dry suit rental (best for this time of year). I'm a afraid it wouldn't be cost effective. There are divers and dive shops in the TR area. They are usually looking for any excuse to "get wet". Plus, it'll give thier dive a "mission". Like a search and rescue. Table Rock is usually at it's best visability this time a year. So, a diver would probably have a good chance at finding it. I'd look in the phone book for a dive shop. Give em a ca

Just got this in an email. . ... JEFFERSON CITY--Officials with the Missouri Department of Conservation have confirmed a sighting of a free-ranging mountain lion in the central Ozarks. They say they will continue to investigate in hopes of learning more about its habits and origins. Jim Hurst of Success reported the sighting to Conservation Agent Jim Pokorny Jan. 10 after returning from an afternoon rabbit hunt. Hurst was hunting with his son Matt and a friend, Mike Turner, on private property when their two beagles stopped out of sight of the trio. "They were baying like they had something

Great report. I grew up fishing for cat, carp, bullhead, and bluegill, up in Nebr. The carp were a blast on an ultra light.

With temps. in the lower 70's today, fishing fever got the best of me. I knew a front was coming in so, I went down to Pikes Camp CA. Fished from 2pm to 4 pm. Threw suspended crankbaits and wiggle warts with no success. Went to sliders and tried several colors, got one hit. Put on a 1/16 oz. white maribu crappie jig and finally caught a fish. It was a 10 in. Kentucky bass. The sky started looking pretty ominus, so headed back. Found out later a twister had touched down near California, Mo. (about 20 mi. away). I fished the outside of a curve on a rocky bank. I was happy, just to catch one fish

Wow, seems like the Piney has gone the way of most of the other smallie streams. I really hope that I'm not too dissapointed on my trip.

ozarkkid, read this ... http://www.missourigameandfish.com/fishing...g/mo_aa083202a/ ... They talk about some rivers close to St. Louis. cw

I'm not sure of the driving distance of them. If you go to http://www.missouricanoe.org/map.html ... ... That will show you where the rivers are. Then click the directory and that will show you where the outfitters are located, for each river. Then get on rand mcnally or mapquest and do a driving direction search, for the town that the outfitter is located in. Also, you might send a PM to coreycottrell, he's a member on this site. he might be able to give you some info on the Meremec, Huzzah, or Courtois. They are all within driving distance of St. Louis. The Big River is another, that's

Thanks guys. After reading your posts and some older ones. It looks like Rich's Last Resort, is the outfitter to use and a overnight float from Slabtown to Ross, would fit the bill. Thanks again. .. Wader

I had recommended the Current River because of it's proximity to St. Louis. Also, it has about everything you would find on many the rivers in the Ozarks, all wrapped up in one. It's water clarity is hard to beat. The strong current lets you cover alot more of the river. But, Al is right, the middle Gasconade would be better from a fishing stand point. Actually, it's hard not to have a good trip on most of the major float streams in Missouri. One of my most favorites, which would be a bit of a drive for you. Is the Little Niangua. It is in mid-Missouri, it is a smaller stream but, compares wit

We're thinking about doing a canoe/smallie trip on the Big Piney, next spring/summer. It's one river I haven't been on yet. I searched some of the outfitters sites. But, would like any imput on your favorite sections to go for smallies. Your imput is usually better than any of the outfitters reports. Any info would be appreciated. .. Thanks ... Wader

Another hint. If you are fishing, do not to take too long a float, . 5 miles is more than plenty in one day. On the Current and Little Piney Creek, you can do more miles, because of the curent speed. But, unless your fishing from a jet boat or other motorized boat, and your fishing from a canoe. Shorter is better. My 2nd float/fish trip, was on the Little Niangua. We put in at 1 pm. the first day. Five hrs. later, we set up camp. The next morning, I did some figuring and found that we only went a mile. We casted to every log, rock, or likely looking spot, the 1st day. We had to high-ball some

I'm afrid it's just the society that we live in. It's always been that way and always will be. They are the same people that throw their trash out the car window, or leave the styrofoam worm containers, on the bank. The same person that will throw an old tire in a ditch rather than find a place to take it. The same people I see at the city lakes, that are stocked with winter trout, keeping the fish or using bait during the C&R season. The same people who never buy a fishing licence. It's sad, but poachers and people that litter, are all the same in my book. They think if nobody sees them,

I agree with Al. I too am a stream/bass fisherman. Sometimes, I would get caught up in numbers and size. Then I would see a mink or eagle. Or round a bend in the fall and the sun is hitting the leaves just right or gleaming off the water at a riffle. Then realize that's what it's about. I'm not sitting in front of the TV, but out here wading a beautiful stream. To me the next 6 in. smallie that I catch is a trophy fish on that little stream. He's the big fish in the little pocket by the log. I can recieve more enjoyment fishing a stream that you can step across, and catching a hard fighting gr

Well, you'll get a lot of replies on this one. Canoe/fish trips are my passion. I think the section of the Current River between Aker's Ferry and Round Spring would fit the bill. It's a 2 or 3 day trip if your fishing or you could shorten it up. Pulltite is half way. This section has caves, springs, high bluffs, nice gravel bars for camping, clear water, smallies, trout, googleye, and lots of sunfish. It has a good current so, you don't wear yourself out paddling. Also, there are few if no portages. Pulltite has campsites, if you don't want to do a gravel bar. The Jack's Fork is another favori

Thanks hfdhoosier, I use flukes, tubes, senkos, and most other soft plastics. I have good success on all of them. I was just curious how the banjo would work. It's only $20 for the whole system. The weed guard didn't look any better than a normal rubber band. The action that the bait presented and the price is what caught my eye. I might just give it a shot for a hoot. Thanks again.

Ok, at the risk of looking like a beginner, I'll give this a shot. I've seen the infomercial a million times and always thought it was a joke. Has anybody pulled the trigger and bought them? Did it work or not? I got online and read a lot reviews, and most swore by them. A few said, save your money. I'm not sure how "real", those reviews are. I figured this was the best site to ask someone. I realize that most fisherman, don't want to admit being taken buy an infomercial. But, my curiosity has gotten the best of me. The whole system is only a $20 bill, but I hate being taken.

Wow! Looks like I have my reading assignment for the winter. I searched several of the mentioned books, on the internet, and found more related books. I think I'll be busy this winter. Keep firing them out there, guys.

After doing some more checking. It's definatly a class III and even class IV, in some places. Be careful if you canoe or kayak it. Personally, I'd wade fish it. I'd try it myself, but it's to far for me to travel. Good luck and keep us posted. ... wader

Your right, this would be the best place for your post. Sorry, I've never been to Marble Creek. Although, I looked it up. It flows into the St. Francis near a small town called French Mills. According to to the info that I found, it is a good wade/fish stream for smallies. Sounds like a really pretty stream. I'm sure there's some locals out there, that know much more about it. Here's a couple of web-sites you may want to check out. : http://www.fs.fed.us/r9/forests/marktwain/...s/marble_creek/ http://www.riverfacts.com/rivers/11737.html

I prefer smallies and walleye. I like what Trav says here: .. boosting the current Smallmouth and Walleye populations, and using yellow perch as an intermediate forage option as well as for fry-pan game fishing opportunities would be the best scenario. None of the four species would impact the staus quo. There is already a tiny population of smallies and walleye already. Channel Cats would thrive in Taneycomos deeper lower end and would help the walleye keep the yellow perch populations in check.