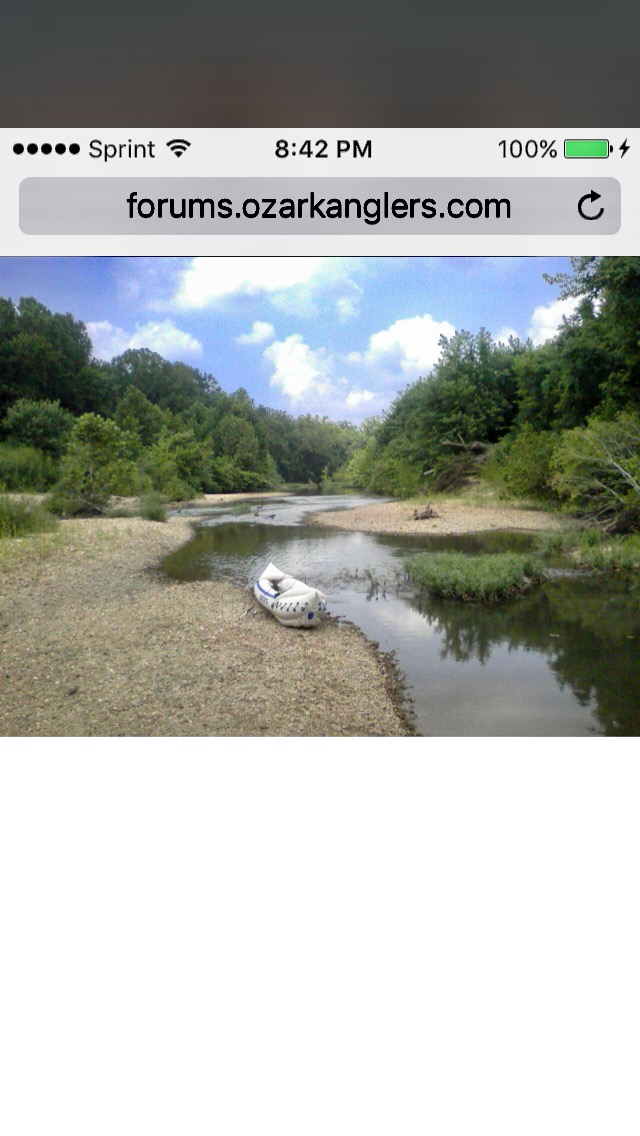 creek wader
Fishing Buddy
Content Count

658

Joined

Last visited
Everything posted by creek wader
Went to the lower Osage again, last Friday. Caught nine keeper crappie, ranging from 10 to 13 in. Also, caught a 13 in. spotted bass, along with about 20 dinks. Caught most of them off sliders. With the weather change, I think the bite is about done.

Al, Thanks for the year end summary. Very informative. I look forward to all your posts. I wish that I could do half of the fishing that you are able to do. Unfortunatley, my free time limits the streams and time, that I am able to fish. Also, I usually go with my standard soft plastics. This summer, I started using senkos with very good results. I personally have not used spinnerbaits or crankbaits, very often for smallies. Evidently, I'm missing out on some good action. I guess I should expand my smallie arsenal to include them. Thanks again for the posts, please keep them coming. P.S. I sure would like to get a look at your homemade spinnerbait.

Managed to get in about two hrs. of fishing Wed. Nov.7. Bank fished at a different CA on the lower Osage. It was closer to Jeff. City. I was unfamilar with it and had to spend some time "hunting" for the crappie. I caught 7 crappie, total. 2 @ 12.5 in., 2 @ 11.5., and 3 @ 9.5 in. The 9.5 in. are the smallest that I've caught on the river, yet. ... I didn't have much time to fish, and spent quite a bit of the time, hanging up on a downed tree, and retying on new jigs. But, the fish were in there. I also caught about 20 spots (dinks), a few largemouths (dinks), one smallie (dink), and a very small white bass (3 in.). So, I caught 4 types of bass. Largest was a spot about 13 in. .. Anyway, once again the bass cut down on my opportunity to catch crappie. They were harrassing my sliders, the whole time. I had to use a slow retrieve for the crappie, this gave the bass ample time to hone in on the jig. .. It was a cool 28 degrees air temp., when I sarted. The water was warmer, than the air. The river was clear and low. I fished from noon to about 2 p.m. ... This time I took a stringer and the crappie are currently soaking in lemon juice, in my fridge.

Went down to a CA on the lower Osage river a couple of days ago. Just to see what I could catch. I fished from the bank, and caught one very fat spotted bass about 14 in. and quite a few smaller ones. Then caught a couple of 11.5 in. crappie on twister tails. I thought alright here we go. Then my reel jammed up (bent spring in the bail mech.), so my day was over. .... Went back down Sunday with a new reel and a fanny pack full of sliders. Caught 14 crappie and around 30 spotted bass (dinks). I measured and released all the crappie (didn't have a stringer or basket). I caught 5 @ 12.5 in., 7 @ 11.5 in., and 2 @ 10.5 in. None smaller. Caught all fish in about a 100 ft. area, fishing from the bank, in about 3 hrs. I think I would of had more crappie, but I believe the spots were beating the crappie to the lures. .. 72%, clear sky, light southerly wind, water low and very clear. beautiful fall day. P.S. I'll be taking a fish basket with me next time.

Fished the lower Osage, about 30 miles downstream from Bagnell dam, today. I was fishing from the bank. Caught a fat 13 in. spotted and several smaller ones. Also, caught two 11 in. crappie back to back, then my reel shelled out on me. (bail wouldn't close). Had to give up, only got an hour of fishing in. Looked like the crappie are getting active. Will definatly be back. I was using twister tails, fished between 3:30 and 4:30. Water clear and low. Perfect sunny day, little wind, 60 degrees.

Does anyone know if they've stocked the Roubidoux, yet this year?

Thanks for the info. I'll bring my kayak down next spring then. It's put up for the winter. Right now, I'm limited to just wade fishing. I may check a few spots further upstream where the water should be shallower. Thanks again. ... Wader

Sounds like a good time. I've been wanting to fish the Bourbeuse River, for quite sometime. It'd be a bit of a drive for me. Any more info on the river, including places closer to Jefferson City, would be appreciated. P.S. I'd be on foot, at least till spring. So I'd be more interested in wade fishing water. Catch and release.

Steve and Lilley, Thanks. I thought maybe I was just talking to myself. I know of many streams where I can catch smallies. But, I love to explore new waters. It's more like an adventure than a fishing trip.

Went further up the N. Moreau last week way past California, in my search for the elusive N. Moreau smallie. The stream cleared up quite a bit and started looking more like an Ozark stream with gravel shoals and riffles. The only probelm was, it was more of the same as far as fish went. Largemouth and sunfish. No smallies. It maybe me. But, I covered alot of water and tried everything in the box the past few weeks on the N. Moreau. Still never caught any pure smallies. ... I ventured up on the Moniteau Creek, on Monday. It also, looked very inviting for smallies. But, after several low water crossings and a few steel bridges. I only landed one small largemouth and numerous sunfish. The stream was clear and rock bottom with a beautiful fall back drop of hills and trees changing color. The stream looked like it was on the low side, and I did much walking to find any depth over ankle deep. I may have to try it again in the spring, when there's more water. It was fun exploring new streams and searching for smallies. But I think, I'll go back down on the Tavern and Maries to finish out the season. I know where the smallies are there.

Went further up on the North Moreau a few days ago. Used senkos only. Did real well on largemouth. I caught a half doz, or so, in the 15 to 18 in. range. Had one break my line (8 lb test), mind you my drag wasn't set properly, either. Also, caught a half doz. or so between 6 - 14 in. Didn't have much time to fish. I caught them all within 50 yds. of a bridge. Never even got my feet wet. Still no smallies. I realize that I wasn't using the ultimate bait for smallies, either. Also, didn't catch any spots either. I was 2 or 3 slab crossings above where I went last time. Maybe those slabs impeded the migration of the spots, upstream. .. Still, I'm going further upstream next trip, and I'll give another report on the endless search for N. Moreau smallies.

A Missouri farmer was down in Houston at an agriculteral convention. At one of the intermissions, he was chatting with a rancher from Texas. The rancher asks, "How much land do you own?" The Missourian responded proudly, "100 acres." The Texan snickered a little. The Missourian asked, "How much land do you own?" The Texan thought for a minute and responded, "Well, let's put it this way, I can get in my pickup at sun up and drive till the sun sets, and still not reach the other side of my property." The farmer from Missouri said, "Yep, I used own a truck like that."

Wade/fished about a mile of the South Fork of the Moreau River Aug. 5th. River was clear but way down, moss was starting to form. Mainly fished the long runs and deeper holes. Fished with an ultra light, 4lb. test, and small plastics. Caught quite a few largemouth and sunfish. Biggest largemouth was 14 in. Only caught one dink smallie. Lost two nice largemouth on senkos. 4lb test, even with the drag set light they were too much. I felt helpless. ...... So, went back Aug. 9th., with 8lb. test, and a fanny pack full of senkos. Fished the same stretch. Caught about 15 largemouth. Never hooked into the big ones, though. But, caught 7 or 8 between 14 and 16 in. They made mince meat of the senkos. I went through a pack of ten. No smallies. It was 99 degrees but the springs kept the water bearable. Not a bad day considering the weather.

Fished about midway up on the Maries, Aug. 1, late afternoon. Caught about a half doz. bass. Largest fish was a largemouth, it was 12 in. The biggest smallie was 10 in. The river is way down. Pools below the riffles were too shallow. Only real water was a long pool, that was not flowing and very murkey, moss has taken over. Finally, had to use white twister tails to do any good. The sunfish were fairly active. Water was real warm, except where an occasional spring was.... Guess it's time to get out the kayak, and try the larger streams.

Went back to the same bridge on the Maries on July 23rd. Waded about a mile or so. What a difference a few weeks made. The water level dropped 18" or more. Quite a bit for that small of a stream. Holes were too far and few between. The runs were down to trickles. A couple of springs were bone dry. A feeder creek was a trickle, at best. I did however mangage to catch about 15 smallies and a few largemouth. About 25 sunfish. No real size. The largest being a 14 in. largemouth. Most were caught on top water after the trees cast shadows across the river. ... Hit the Big Tavern Creek on July 27. Had a lot more water that the Maries. Fished mid-afternoon. Very hot! Caught about a dozen smallies, mostly on small jigs. Quite a few Longear. Few largemouth. One decent smallie, the rest were dinks. Senkos' failed me, too shallow to work effectivly, I guess. Only had sunfish tugging on them. Caught a few off a rapala. Had to head out before dusk. ... Most of the smaller streams in the area are down to thier summer levels. (low side) Moss starting to cover the rocks on the bottom. Still catching a few but, it's getting tougher. With the low levels the fish are becoming increasingly spooky. Best fishing is top water at dusk. ... Good Luck... Wader

Wow! I just read most of these posts. Very interesting. I just ask this one question. Name any city, county, state, of Fed. agency that you get this much bang per buck, out of your tax dollar. I feel that all my other tax dollars are pretty much squandered away. But, I see alot of results from the MDC.

Those had to be huge smallies. My largest is a little over 18". He's still swimming. In fact. I've released every smallie, that I've ever caught. I've heard that they are much better eating than largemouth. But, I can't bring myself to keep one, yet. Tough thing is, I love eating fish. I'll keep crappie, cat, and walleye, that's about it.

Waded/fished for a few hrs. 4th of July. Pressed for time. Caught smallies on everything. The water was up a few inches, and was amazing crystal clear. Considering every other stream in the area was high and muddy. After catching several dinks and sunfish. I decided to use a larger jig. I put on a 4 in. Senko, rigged weedless with no weight, and had a blast with the smallies. Had many hits. Caught a half doz. between 10 and 12 in. Then finally caught a 15 in. with a little weight to her. Had to be over 2 lbs. A good fish on the upper stretch of the Maries. Caught and released around 20 smallies and twice that on sunfish in less than 3 hrs., two hundred yds, from the truck. A good day wade fishing, on such a small steam.

I think most of us agree that landowners should have the right to control who goes on thier property (land). The question is the water. ... Would someone fishing around your crappie bed and boat dock on the LOZ from a boat, be the same thing? That water doesn't even flow. I realize that would be apple and oranges.

Brownieman hit the nail on the head; "It is all in stewardship between folks and respecting the landowners rights and likewise towards honorable fisherman." ... "Respect" is the optimumn word. It only takes one weekend warrior, trashing it up to ruin it for others. One bad apple can ruin the it for the whole bunch. What a shame. I was a former lanowner in NW Missouri, and know well, what tresspassers can and will do. I was more civil than most, but I hear where they are coming from. I for one access many streams at the low water and other bridges. I leave everything the way I found it or cleaner. Also, I catch and release, so the only thing I take out, is other's trash. If I'm ever confronted. I would respect the landowners wishes and leave.

Seth, Anything else hitting. Whites? Crappie? Walleye?

I'm one that can attest to the fact that other state's wildlife depts. are poor in comparison to the MDC. I'm originally from Neb. and lived in Kan. If you drove through either state, you wouldn't even know they had a wildlife dept. You can't swing a dead cat in Mo. without hitting a CA sign. The MDC, puts out more info on all outdoor activities and animals, plants, caves, etc., than any other state that I've found. The Cons. mag. is light years ahead of others. The web site/ online atlas is great. The smallmouth map and CA map is very handy. They do far more studies on all aspects of the outdoors than any other state, that I've visited. I guess you never appreciate what you have, until you live somewhere else. As far as taxes, license, and usuage fees, they are relatively cheeper than other states. I'm more than happy to pay them. That's just my two cents. ... Wader

Thanks for the report. Sounds like a hoot. With all this rain we're getting, they ought to be running water, for sometime.

1) soft plastics 2) Rebel wee craw 3) Rapala floater 4) Itsy Bitsy jig

Can't believe what a difference a few weeks make. Went back down and did a 10 mile overnite on the Little Niangua, June 14/15. Toughest fishing I've ever had, on the river. The locals said that there was quite a bit of rain upsteam last week. The water had been dropping for several days and the fish were totally turned off. The stream was stained but starting to clear up. Only caught 15 bass most were 8"-12" smallies. Biggest fish was a 15" largemouth. Still was a good time and a nice float. But the fishing was very tough. Threw everything I had at them. That's what I get for bragging on the stream.