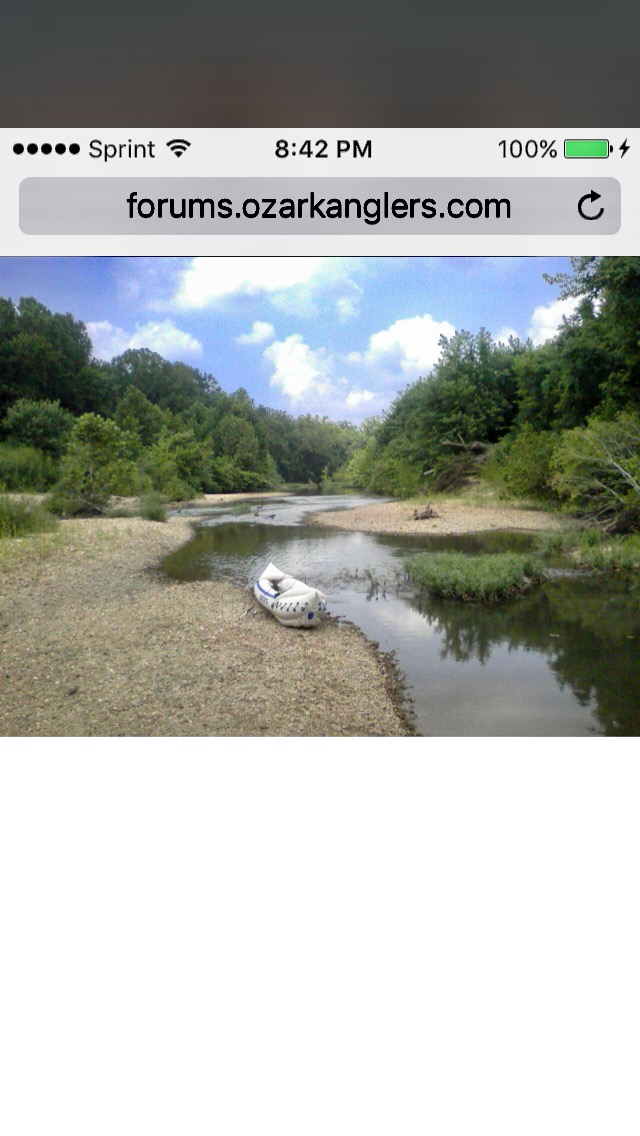 creek wader
Fishing Buddy
Content Count

658

Joined

Last visited
Everything posted by creek wader
We did the lower Buffalo a few years ago. Did a float/scuba/fish trip, with a scuba group, out of Little Rock. Was very impressed with the river. More senic than the Current River. High bluffs and crystal clear water. Seen the biggest smallie of my life while diving. A good 20 plus in. smallie under a couple of big boulders, in about 6 ft. of water. She dwarfed a good 3 lb'er that was with her. Only caught a handful of smallies off a rapala trolling behind the canoe. Tried everything in the box, but no sucess. Always wanted to go back and do some power fishing on it. .. Good luck.

We usually have a portage or two. Never had to carry a canoe, though. We usually float the canoe through on a bow line and walk. This year it had a real good flow to it, with the rains and all. No portages. But, what struck me was the clarity of the river for having so much rain. ... From Mule Shoe CA to Rd 66 access. You have more portages, naturaly (upper part). From Rt. 66 down to Howards Ford has the best fishing. Howard's Ford to Firey Fork CA has very little portages and great fishing. A mile or so below Fiery Fork CA, it slows way down and becomes part of the LOZ. I imagine it would be good fishing in the early spring but, a waste of time this time of year. Also, it is a work out in a canoe. Basically trying to paddle on the LOZ. .... I haven't floated it on a weekend, so it could be busier. It has plenty of solitude on a weekday. Unlike the Big Niangua, which would be ok if your 18 and want to party on a river. But, that's not for me.

Hank, you got it. What gave it away? ... The Little Niangua parallels the Big Niangua. It is centerally located in the middle of the state. It flows into the LOZ. It has several canoe rentals. Little Cedar Camp is the best, and cheapest I've found anywhere. It is a classic Ozark stream. Very clear water, and is chock full of smallies. I hated to let the secret out. But, since you guessed it, I had to. Like I stated before, I've never seen anyone else on it. So, it is a great fisherman's river. Not a floating party cove, like the Big Niangua is this time of year. The only way you can use a jet boat is to come up from the LOZ. But, they would be stopped at the first low water bridge. So, it is a great float/fish stream. It has quite a few low water bridges, for easy access. Below the last low water bridge the river slows down and the fishing really drops off this time of year. Upstream is definatly the best. ... Good guess Hank...

Sorry Crappiefisherman, wrong again. However, We're all learning of a lot of good smallie streams.

No, nope, and nada. That's 3 guesses. I've never fished them. Would like to give em' a crack sometime. .. Hint; The amazing thing about this stream is that it is near several popular places, yet It's rarely visited. At least when I'm there. It has plenty of solitude, but yet it is a classic smallie stream.

Aha! doing some trolling, great idea. Yes, it is in the Paddlers Guide. Crappieman, No, No, No, No, No, No, No. on all of them. ... Come on one at a time. Otherwise, you can go right through the book.

No, but nice guess Crappiefisherman. However Brown Branch is listed under "Wild Trout Creeks & Streams". This stream is not listed here. There should be a catagory for "Other Streams". I'm kind of suprised there isn't. I'm sure many of you have fished it before. Since it's not listed, I thought I'd just make a little guessing game of it, till some one guesses right. So, go ahead and make a few more casts. ... Wader

Floated a stream that isn't listed in the topics, on May 31. We float and smallie fish it at least once, every year. It's a fine stream, reminds me of the Little Piney/Jacks Fork. Anyway, we did a 4 mi. stretch in 8 hrs. Last year we did it in 2 days and slayed smallies. This year we were a little more rushed. Between the two of us we only caught around 40 bass. The largest being an 17" largemouth, the largest smallie was 15". My partner broke off on the largest fish of the day, in a deep hole. Never got a good look at it. But, it was much larger than the herd. (classic, big one that got away). Overall we caught around 30 smallies and the balance were largemouths. Caught a few on a floating rapala. Most were caught off twister tails. The larger ones were caught off senkos. Tried a variety of lures, but no success. Only caught a few sunfish. Most were green sunfish. We were using larger baits so the only thing that the bluegill and longear could do, was just nip at the tails. Usually catch a 2 to 1 ratio of sunfiash to bass, with smaller lures. I'm suprised this stream isn't listed. It's a classic Ozark stream. Gravel bottom, gravel shoals. Springs, caves. Very clear, lots of riffles and long runs, an ocasional deep hole. Chunk rock, a few mud banks. Lots of Ozark fish, smallies, longear sunfish, largemouth, bluegill, green sunfish. No trout or goggleye, though. Plenty of crawfish and minnows. It has plenty of water to float, can be waded in many areas. Has a good flow to it. We only drug bottom once, this time,(in a canoe). Even has a some canoe rental outfits. We go every year in May, on a week day. We've never seen another person on the stream. No one on the banks or anywhere. Lots of deer, turkey, wood ducks, mink, muskrats, and other wildlife. I've given alot of info on it. It's in Missouri, very easy access. Many accessable spots on it. Can anybody guess this stream?

Don't pressure cook em. Skin them like a catfish, cut them into pansize chunks, score the fish with a sharp knife. ie. make straight cuts half way through, along the rib bones. The meat will pull off the bone real easy, after its fried. Roll them in the same flour/batter that you'd use for crappie/bass/catfish etc. and fry em. You can do the same with carp. I've eaten buffets up north with em on it. Yummm

Sounds like an active day. That was a very good report. Thanks. ... Wader

It may not be any of my business, but, I see where someone asked if Cory Cottrell, was a member. He, by no means, needs me to come to his defense, But, I will anyway. He was mentioned in the article but, not in the context that mentions sight fishing the beds. I believe, and I'm sure that most would agree, that Cory is above reproach. ... As far as the article goes, I think maybe Billie Cooper, ought join this site and read the posts, that we've had the last few weeks. Maybe, he would learn a bit on smallie conservation. I know I have.

My friend is a caver, not a fisherman. What a waste of a good float trip on a great smallie river. I wish I could of made it. I would of had all the good spots for myself. Good Luck. ... Wader

Brian, Sorry I didn't get back with you sooner. I just saw your post. ... I live in St. Joe, quite aways from any smallie streams. But, I work on the railroad and run between KC and Jeff. City. So, I'm in Jeff. once or twice a week, it varies. I started exploring the creeks around the area two years ago in the winter. Then hit em pretty hard last year. I've covered a lot of the Maries from Hwy N to the mouth. I have some personal favoite spots. Your right it gets shallow in the summer. I don't mind it though, because it can waded it then. I have a inflatable kayak, but then I'd have to paddle or drag it back upstream or visa versa. It would help with another guy and vehichle. My biggest problem is, I don't have set hours or set days. I don't know when I'll be in Jeff. or when I leave Jeff. I only get a 1 1/2 hr notice on each end. I'll stay in contact. I too, am pretty much a loner. But, if your an avid smallie guy, I think we can work out something. ... Wader

A friend did a 3 day float/caving trip on the Jacks Fork last weekend. No one fished. ... Crazy people. ...Anyway, I believe they put in at Hwy 17 and went to Alley Spring. He said it had good water and was faily clear for being up that much. He said they didn't have to portage at all and only drug bottom a few times. A rarity that far up. I may have to try it early next year if we get the rain, again.

Corey, Thanks for getting back to me. I'll keep your business/resort in mind, for a future trip. Also, thanks for the update on the river. We'll be going to a stream a bit west of there, sometime next week. I'll post a report. You and Al are real helpful, kind of mentors for the rest of us novices. Also, a friend did a 3 day float/caving trip on the Jacks Fork last weekend. No one fished. I believe they put in at Hwy 17 and went to Alley Spring. He said it had good water and was faily clear for being up that much. He said they didn't have to portage at all and only drug bottom a few times. A rarity that far up. I may have to try it early next year if we get the rain, again. I'll be watching for more of you southern boys' posts. ... Wader

Corey, I just read your latest report on your website: http://huzzahvalley.com/conditions.html, I think it is wonderful that you stress the fact that the bass are on the beds. I'm doing an overnight canoe/smallie trip on my favoite stream, next week. ... If I had my druthers, I'd wait several weeks to make my trip, after the spawn. Unfortunately, work and timing dictate when I can get away for several days and fit my patner's schedule, also. We have a 4 hr. drive just to get to the first smallie stream so, we have to do alot of planning. We can't just go at the drop of the hat. You southern guys don't know how lucky you are. ... Anyway, I will be careful of the nests. I think I'll use heavier line than usual, and not play the fish, so as not to wear them out. If I catch anything, that is. I always practice catch and release. You and Al have made me aware of the spawning fish and where the nests would be as to avoid them. You two have also been real helpful in your stories. Please keep them up. Always willing to learn more. ... PS, If I was ever in the Huzzah River area, do you still guide?

We all know how delicate our smallmouth fishery is in Missouri. I hope that anybody on this site would be above fishing the beds.

Thanks Pup, I appreciate your response. I searched the net and found some. I'll have to see what Wal-mart has. Your jigs look good. I would like to find some 1" dbl tail twister tails. But, I think I can get by with the 2" and the little crawfish that I bought. I'm just trying to make smaller jigs, then what most people use.

Keep the big smallie stories coming. I think we all want to hear more. ... It sounds as if I need to get off those creeks, and start fishing the rivers. I enjoy playing with the 6 to 15 inchers but, it would be nice to tangle with some of those heavy weights.

Pup, Seeing the post on your jigs, got me going. So, I used the Cabela's $30 coupon, that came in the mail and bought some squirrel tail. Enclosed is a pic of my first trial and error jigs. Not nearly as pretty as yours. Also, pics of some with trimmed down skirts. I used 1/32, 1/16/ and 1/8 oz. heads. I use an ultra light with 4 lb test. So, weight wasn't the factor. Rather, hook size. Most store bought jigs have a large hook, I guess for the big ones. The streams that I wade are small and full of smaller bass and sunfish. I was getting tired of letting them tear up my larger jigs and missing them. So, I'm stooping to thier level. Also, I don't know why, but I like the leaving the "tuff", athe the top of the jig around the head. If it doesn't work, I guess I can always trim it. ... wader

Guess, I need to ask Pup. Thanks. ...Wader..

Terry, thanks for your encourgement, I think I've tied about 15 different versions of it, not counting a dozen or so with the rubber skirts. What kind of hair or material did he use on the one with the craw trailer?

I don't believe it. I've been trying to get someone to tie me a fly/jig like the first one you have pictured. The one with the craw trailer. Basically what I was wanting is a scaled down version of the Gary Yamanmato Double tailed hula grub. Something that had a smaller hook, that I could catch not only smallies but, google-eye, and larger sunfish. Bitsy jigs have too large of a hook. I had several trout fisherman tie me some versions but, they were flies for fly rods, (I also use one), but what I was wanting one for an ultra light spinning rod. I finally bought a tying kit and after numerous attempts. I wound up with several that are pretty lame. So, I bought some skirts online, and trimmed them up, added them to 1/32, 1/16, and 1/8 oz. jig heads, then added twin tailed trailers. Unfortunatly, the trailers are still larger than what I want. Although, the first time out, I caught a 15" largemouth, and two 12" smallies. How big are you craw trailers? Where did you get them? Crappie critters are the size of trailers that I want. They'd be perfect but, they don't come in the right colors. If you are interested in selling a few of those in a 1 1/2" or 2" . 1/32 oz., 1/16 oz. ,or 1/8 oz. size I'd be interested. Sorry to ramble.... creek wader

Al, thanks for the pics of the Spotted Smallies. Or whatever they call them. That's what I've been catching on the Lower Osage and Moreau rivers. Also, I've caught some that varied even more. I'll have to take some pics.

Welcome to the board. Please keep us informed on fishing Indian creek. I'll be nice to here some smallie reports, from down that way.