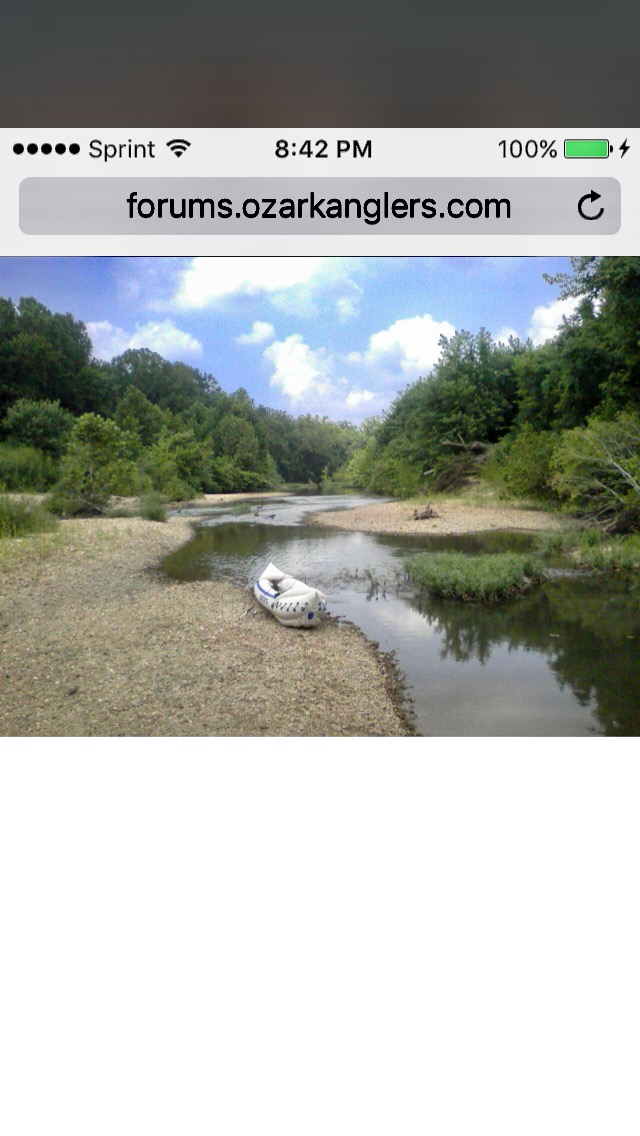 creek wader
Fishing Buddy
Content Count

658

Joined

Last visited
Profiles
Forums
Blogs
Calendar
Articles
Video Feed
Gallery
Everything posted by creek wader
I imagine parts of i-29 will go under and be closed for awhile. Some levees will break before they're breached. That will relieve pressure and save some places elsewhere. They've never released this much water before or so for long. It's going to set all new records. Check out this article on Hamburg, Iowa. Then look it up on a map. It'll give you an idea to what's going to happen to I-29. http://www.reuters.com/article/2011/06/07/us-usa-flooding-plains-idUSTRE75660920110607 It references I-29.

Well it's our northerners turn for a disaster. You southern boys have already had floods and some horrible tornadoes. Now were going to get a flood of biblical proportions. Too much water in the Dakota's and Montana's reservoirs. Some mismanagement by the Corps.,and a horrible under estimate of snow melt. Also, holding water because of the sturgeon and a endangered shore bird, to nest. Is the cause this time, not rain. Already the" Mighty Mo" is out of it's banks and over levees in parts of South Dakota, Neb. , Kan., Iowa, and Missouri. Several cities and many counties have already b

For fear of getting berated from all you "southern" boys. I'm going to risk making this statement. Those of you that think carp is a bony fish not worth eating, your wrong. Carp didn't wind up in our streams and lakes because it wasn't edible. They are from China. Like many other non-native fish they were brought to the U.S. as a food fish. In the local city lakes up north, they actually have been stocked. ... I know what your thinking. ... "WHY?" ... It's because they are edible, very edible. I remember going down to the fish shacks on the Missouri river when I was a kid and seeing t

I've always used bread for bait. Usually the heal. No one (in my house), ever eats them anyway. Works great. I've had mesh minnow traps over the years. They've worked great for me.

Yeah, I thought about it after I posted. I use the 2" on "skinny" water, with smaller fish. On larger water I use the 3 1/2" or 4 3/4", or whatever size it is. I'm a big fan of them, because I rarely fish water deeper than a few feet. Still, I've had very good luck with them. I guess you use what your comfortable with.

All of the above. Also, bring along a Rapala floating or shallow diver. 2" or 3 1/2".

I see. I thought maybe you were referencing a railroad term, for the hours of service law. Chief knows what I'm talking about.

Nice fish Hoglaw. I haven't been smallie fishing yet. I'm a lot farther north. By the way, how did you come up with your nickname?

OOPS ! I had misread the header. I thought you were below Bagnell dam. That's where I was. Fishing below Bagnell has been slow, too.

Filled out one last year. Can't remember the content. I never got a reply from the MDC, though. I was just happy that the MDC, asked for the fisherman's input. It's a start.

I received my new Smallmouth Bass survey, today. Already filled it out and mailed it in.

Well, it looks like I was on the wrong side of the river. I got down there late, yesterday. I got there about noon and fished for about 4 hrs. Caught a 10 lb. carp on a crappie jig. That was the only fish that I seen caught on the east side, all day.

I enjoy all outdoors. Fishing being my first love. I can have fun catching bluegill or snagging spoonbill. Fly fishing for trout on a pristine stream or cat fishing the Mighty Mo.Even ice fishing. But, Smallmouth is definitely on the top of my list. I usually practice catch and release.Crappie is about all I keep, do you blame me.

I have 5 weeks vacation starting in mid July. The first two weeks in August, I'd be free. The wife have July vacation , also. So, I'd be on a tight rein then. .. However, later this spring or early summer, I might be able to escape in the midweek. Because of my work schedule, if I get any free time on the weekends, the family gets me. ... Anyway, your fairly close to the Little Blue. I could bring down my inflatable yak, if you got a yak. We could work out the shuttle between us. We could do an exploratory trip on the Little Blue, and of course take a pole with us.

I assumed that Big Creek flowed north. But, it didn't appear so on the map. I'll have to look next time that I pass it on the train. With the recent rains it should be flowing now. Either way, there should be some fish in it. As far as the Little Blue. You are right, it is very narrow(because of the channeling), but deep in spots and you'd be walking the bank in places to avoid the deeper spots. I thought a small kayak would be suited well on the lower part. Where the bicycle trail starts. You'd be able to cover alot of water. Of course as with any small stream, there would be some, if not

There is at least one "drop off waterfall", or "stop dam", between each access, if not a few more. Quite a few of them between the last access and the Missouri river. They look man made, probably for flood control. Fishing should be good above and below these. Especially in the spring. By looking at the aerial map. It looks as if the stream was channeled at some point in time. As far as Big Creek goes. It's definitely not channeled, it's all natural. It's a winding curvy stream. I traced it's origin from a small lake/pond near Longview lake, all the way into Henry county before I lost it n

I've done a little researching on the Little Blue. Our tracks cross it. It's always looked inviting. It has bike trail accesses. I've wanted to kayak fish or canoe fish it, between two of the accesses. You'd need another person to shuttle you, though. As far as Big creek. Our tracks also, cross it. It looks inviting, too. But, I've checked it out on foot, a few times. It's very shallow. I think this is because it is fairly wide. However, It would be a good candidate for wade fishing. Below is a map of the lower Little Blue public accesses. Hope this helps. ... wader http://www.jacksongo..._B

Everybody has their go to bait. Here's my top 5. 1. Senko type bait. Usually a 4" or 5" BPS version. Sometimes a 3" Yum Dinger. .. fished weightless, on a jighead, or with a split shot. 2. twister tail grub - with a 1/16 oz., or 1/32 oz. head. 3. soft crawdad imitations. ... Fished weightless, jighead, or with a splitshot. 4. Rapala floating minnow, sometimes with a splitshot. Doubles as a top water or a crankbait. 5. Spinnerbaits with a trailer. Honorable mentions: Teeny Wee Craw, Sammy(BPS version), inline spinners, beetle spins. Like everybody. I have a whole ars

I'm not sure. I know that clear ice is very solid. I think the white ice has been frozen and thawed a few times and air is trapped in it. Just my opinion , though. My first ice fishing experience was in the late 70's on a large reservoir near Lincoln, Ne. It had been below freezing for over a month, and below zero for several weeks. The ice was over 2 foot thick. We did real well on crappie. It was tough keeping the holes open and the wind chill was brutal. All fingers and toes were numb. We were young and catching fish, though. My next experience was on a pond near Falls City, Ne. The

Buchanan County. ..and yes it is very hilly. All river bluff, where I live. .... just no smallies

You're right. My own fault for living up here. I think that is why spring is my favorite season.

Ok, guys. Ive done a lot of ice fishing in my "younger days". Northern states have recommendations for ice thickness. This refers to "clear" ice. It's the most solid. Here's the Minnesota DNR guide General ice thickness guidelines For New, Clear Ice Only 2" or less - STAY OFF4" - Ice fishing or other activities on foot5" - Snowmobile or ATV8" - 12" - Car or small pickup12" - 15" - Medium truck Remember that these thicknesses are merely guidelines for new, clear, solid ice. Many factors other than thickness can cause ice to be unsafe.

Really? Really? ... I feel sorry for you guys. We're over 40" for the year (season) in NW Missouri. Nothing like standing knee deep in snow cleaning 18" of snow off your car with an ice scraper. You'd think by now, I'd at least carry a broom and a shovel.