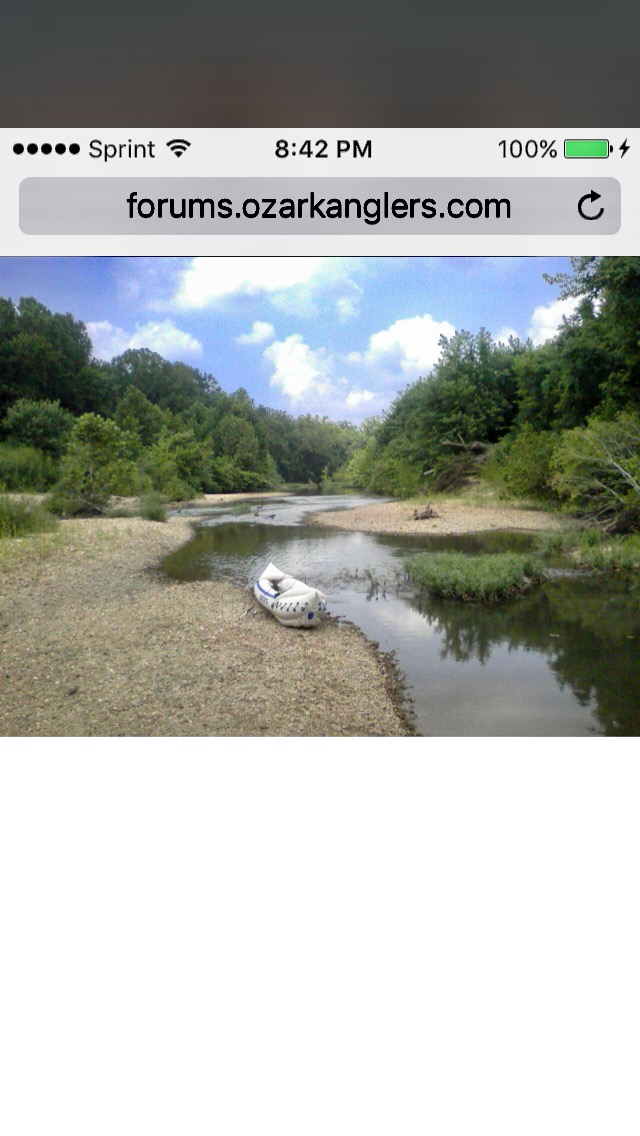 creek wader
Fishing Buddy
Content Count

658

Joined

Last visited
Profiles
Forums
Blogs
Calendar
Articles
Video Feed
Gallery
Everything posted by creek wader
I would love to have a nice (solid) fishing yak or a solo canoe. But, the inflatable fits my situation. I live in St. Joe. I'm a RR engineer. I take trains from KC to Jeff. City. I lay over in a motel between 12hrs. - 24hrs. So, while I'm down there, I either wade fish or use the inflatable yak. I have a Ford Explorer, that I keep the yak in. The yak fits in a duffel bag. I could put a "hard" yak on top. But, then I have to worry about it being stolen. I know I could chain it on. Also, in another month or so, I'll be taking it back home for the winter. It's much easier hauling a duffel bag on

Ok, good luck. Let us know how your trip goes. ...wader

Yea, I agree. I usually read the posts with the pics, first. Others on this site call it "fish porn". lol ... I take pics of most the fish I catch and of any interesting scenery. Their digital, so it doesn't cost me anything. I can always delete them. It would be nicer, if the pics were of bigger fish, but, hey I'm catching smallies on "walk the dog" lures. A method that I was a little skeptical about, when I first tried it a month ago. ...wader

Got in a good afternoon of fishing on the Maries today, 9-13. I wade fished, carrying two poles. One with a "walk the dog lure", the other with soft plastics. I did pretty well. The stream was even lower than last trip. It was very clear and the weather couldn't of been any nicer. I caught at about 10 bass on the "wtd". Which was my highest total yet. I started throwing the "wtd", last month. The soft plastics did well, also. My first fish on the "wtd", was a nice 13" smallie. The largest fish of the day. Also, caught a 12" smallie and several smaller ones, along with a 12" largemouth and seve

I've used my inflatable yak on quite a few streams now. I couldn't count them all. As far as a shuttle is concerned. I've used it on the Meramec from Meramec Springs down to Scott's ford. I've also, used it on the Big Piney. I've also, have been on the Osage River near Jeff. City numerous times. It was pretty deep, where I floated. I've developed a few holes now, in the bottom. I've patched them with the patch kit, that came with the yak. It fixed them. I don't have any leaks, now. I've bought another patch kit from Wal-Mart, that I carry with me at all times, also my foot pump. I wouldn't h

Your right, Joe. I'll be fishing till the ice forms and there's no open water left. ... Still, I like being in swim trunks and no shirt. Glad the fish don't care what I look like. ... lol

Went to a section on the Maries that I haven't fished since spring. The river had been quite low but it rose about a foot the past few days due to local rains. It was surprisingly clear. I started out fishing the pool, under the hwy bridge, throwing the 4" BPS Slim Dog but, nothing was interested. Tried the Spinnerbait and no takers there, either. Started downstream and switched to a Tiny Torpedo. Caught several 6" to 8" smallies and several sunnies and bluegill. Switched to a Pop-R and caught quite an array of fish off it but, no size. when I got to a run I started throwing a senko and

Thanks, .. The goggle-eye bite has been hot lately. They have been hitting everything I throw at em' ... wader

Managed to make it out for a few hours, before the rain ran me off. Went down on the Maries, near Freeburg. The river was at it's lowest since March. So, I planned on wade fishing upstream several miles. I accessed the river at a popular local spot below a hwy bridge. I usually make a few casts under the bridge, then head on. This spot gets a lot of local fishing pressure. I started throwing a 4" BPS Slim Dog. On the 3rd cast, I caught a 11" smallie. It was the 1st smallie that I actually "landed "on a WTD top water lure. That's been my goal for the last month or so. I made another 20 or so c

Thanks guys. Yes, I got real lucky. The whole time, I kept thinking, "Why couldn't of been the $20 pole." mrbuzib1, Yea, I'm doing much better than I ever thought, on the spinnerbait. I've been changing trailers. All have worked so far. I've got several packs of twin tails. I'll give them a try, next trip. fishinwrench, Thanks for noticing. I just assumed it was a white. Now that I got looking at it, 3 lines extend to the tail like on a hybrid. On a white it says only one does. Anybody out there know? Here's another pic. ... wader

Ok, Where to start. The the beginning is always a good place. I've been in the process of converting from soft plastics to spinnerbaits and top water for smallies, at the suggestion of some guys, on this forum. I've been having pretty good results. Also, I've been exploring new sections of streams, that I haven't fished before. Oct. 30 I put in at the swing bridge near St. Elizabeth. I've fished downstream several times in the past. So, I decided to try something new, and went up stream. Since, I had my yak, I took 3 poles. One with a WTD top water, one with a spinnerbait, the other wit

I hear ya. I was trying to unhook a small bass one time. It flopped and hooked my thumb. I thought I'd release him first then get the hook out. Bad decision! Before I could release him he flopped again and buried the treble under my thumb nail. I tried the string tech niche and of course it didn't work. It's hard to do it on yourself. I wound up at the emergency room and a little embarrassed. It must be a fairly common thing. Because they actually have a tool in the emergency room, that's sole purpose is for removing fish hooks.

I started out using small lures, 1/32 and 1/16 oz. On a ultralight with 4 lb test. Lost a lot of lures and a few nice fish. Went to 6 lb. test and had good luck with it. It's a good all around size line. Lately, I've moved up to larger lures and a bigger combo. So, I mainly use flourocarbon or a co-poly 8 lb test. Haven't lost any fish using it, and it saves a lot of lures. My thinking is, use the largest line that your reel can cast the lure, effectively. Don't worry about the fish seeing the line. Their not trout, line doesn't spook them as much. That's just my opinion, tho

I've fished the lower Cedar creek, a few years ago. Caught a nice 14" smallie, 18" largemouth and a average white bass. Next time there, I didn't get a hit. The lower Cedar is muddy and all around nasty. I've heard the upper is much cleaner. Let us know where you go and how you do. ...wader

Thanks guys. I'll be back at it in the morn. Give ya full report. ... wader

Gotta agree with some of what your saying fishinwrench. I went on a few wild goose chases myself. But, that's the nature of the game. "The adventure", that is.

Yea, the biggest smallie that I've caught on the Maries was a 17 ", 3 yrs. ago. ... 12" is a good fish for the Maries and a 15" is usually a very nice fish for that stream. I just measured my paddle, that I have at home. I think I under estimated the smallies length. I'll have to measure it again. I got 17" from where his mouth is, in the pic, to the end of the paddle. And he hangs over. ..hmmm, I'll have to check my tape in my tackle bag and the other paddle, when I get to Jeff. Yea, the explosions were awesome. I wish I could of landed the smallie that shook off, when I tried to

Al and others, I finally got out and gave the walk the dog and spinnerbaits a test. I went down to an access on the Maries river. I tried this place because I thought the water would be too low at the others that I usually fish. I was a little surprised that the water was still up a bit, and still stained from the recent rains. I mainly fished a long deep slow moving pool. I started out on foot and used the 4" BPS "XPS Slim Dog", it is BPS's version of the "Sammy". My first cast was into the riffle feeding the pool, with no hits. My 2nd cast, was what I figured would happen. I

I'll sell ya my copy for only $125.00.

Al, ... Well, I'm slowly gathering the lures that you've recommenced. Spinnerbaits, buzzbaits, poppers, sub walkers, and several of BPS's version of the "Sammy". I know, I know. Everybody is going to tell me that I need to use the real "Sammy". ... But, until, I catch a smallie on the BPS version, I'm not pulling the trigger on a $16 lure. With my luck/skill or lack of it, I'd leave it hanging in a tree, before I caught anything. Now, I just need the time and opportunity to try them out. I did get a few minutes to practice the "WTD" on a city lake in Jeff., last trip, Af

smjoe, checkout the Rapala x-rap sub walk, or the Rapala skitter walk. I p/u one of each. I haven't had a chance to try them yet. The rivers around here just got a good flushing, from the recent rains. I'm waiting for them to settle back down. ... good luck

Nice walleye, kc ratt, I stand corrected.

I'm glad that I asked. I was just going to buy a new one. .... Thanks guys. ... wader

I misplaced (lost) my fishing license, last trip out. I usually leave my billfold in the truck and put my license in my pocket or a tackle bag. Anyway, I can't find it now. Probably fell out somewhere. Do they have replacement license or do I need to buy a new one. I realize they are only $12.00. I lose that in lures every other trip. I was just curios, whether I can get a replacement one. Since everything is in the computer, now a days.