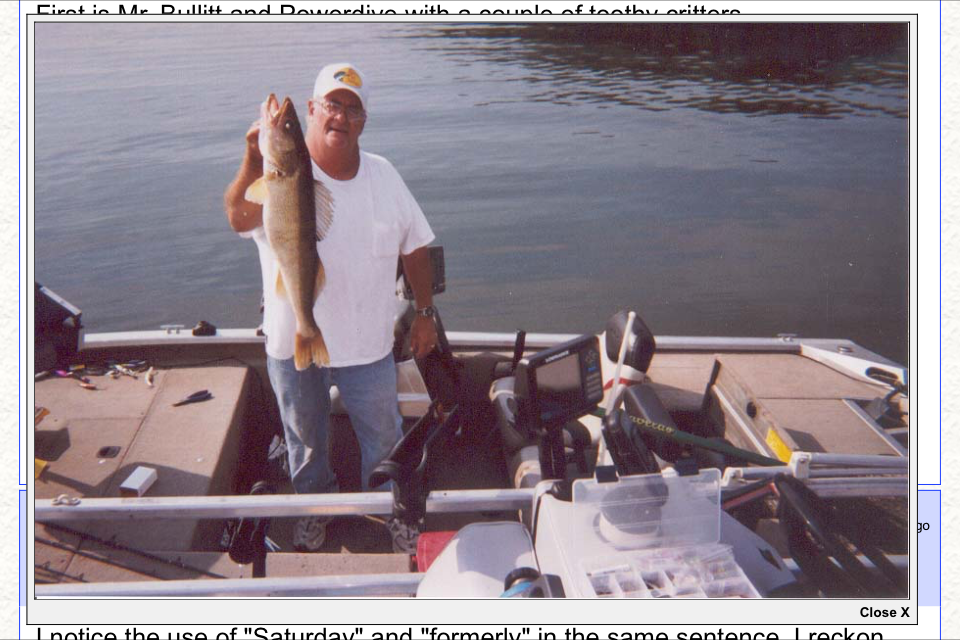 Ron Burgundy
Fishing Buddy
Content Count

426

Joined

Last visited
Everything posted by Ron Burgundy
That's where I saw it so not sure.

Bry's guide service, Devils Lake .

Having a blast and seeing lots of waterfowl....be worth anyone's time to hire a guide an experience it .

Teal season and no Billethead report yet??

Nope, I tried following at beginning of year but it's not the same...BPT all the way

Going up in mid October for a guided hunt, I've never been has anyone hunted ducks in NoDak before?

My father in law spent a few days on Skiatook with a friend they were after crappie, they fished bridge piers . They caught lots had to go through several shorts until they would get a what keeper..Minnows was the bait that got bit...maybe that's some of the people you saw were after?

Are there walleye in Skiatook?

Fished the dam area today for walleye got several shorts with only one keeper...I always keep a top water tied on to cast to Striper chasing shad up, this morning had a big Striper busting the top but never got a sniff but kept seeing a nice bass busting near the bank so threw at it and ended up catching a 4lb black unfortunately she sucked the pencil popper way down and ripped a gill , she ended up dying so I cleaned her and found she had eggs and a fairly big perch in her stomach.

We dream of days like this , RM consistently does this not just on BS but TR also....Had RM been around during the MSW tournament days he would've been a serious threat to the top teams that kicked the rest of our butts 6-7 times year.

Great info Rangerman!..Thanks for sharing!

That looks like the bait Murray was using this morning during his rise from 32 to 11 place in matter of just a few minutes.

I was also watching it was quite the flurry, fun to watch.

I just got one and LOVE mine it's a game changer , spot lock love it!

Quill, I've looked a few trips for top water action and seen very little , no more getting up at 3:30am to get to lake for nothing.

Pro circuit has not been here since 2008.....Unfortunately I do not know of any walleye tournaments locally......Our old club MSW went away about 9 years ago....Kansas or Nebraska is closest states to find a tournament that I know of.

I do not know the answer to that question.

Prairie Creek is where I would choose, I don't live there but you are just minutes away from Hospital, great food , tackle shops etc.......PC good location on the lake also.

A friend fished Eagle Rock area Saturday and saw several fish on beds......caught a 4lb black and said saw lots that size on beds.

Closes this Sunday the 27

Guess that wise crack backfired on you! 😂

Iowa has blizzard forecasted for them maybe that will push some south .

Ducks?......I live and hunt in NWA and there's just not many ducks at all. Are they in MO?.....one of the worst years ever for me.