After a successful ocean fishing trip in Ocean City, I looked a bit further down south of us in Virginia to see where we could go next. With Livie completing her 2018 species goal, I wanted to have the opportunity at some new fish for myself to meet my goals. Also I wanted a nice family get away as well. The Assateague and Chincoteague islands looked promising. So I booked a charter out of Chincoteague for 7:30 am Friday morning. Instead of driving down at O'dark thirty, my Betterhalf got us accommodations for Thursday night. Unlike the BilletHeads we were not going to be roughing it at all on tis trip
.
When you have spent over a month in a half this year in hotels like I have, you can reap the benefits of the rewards like booking a stay without paying a dime on the room!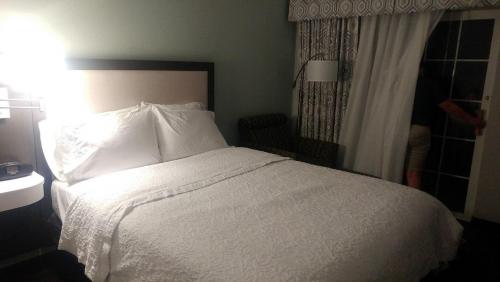 Outside of the hotel in the morning we were met with another beautiful day.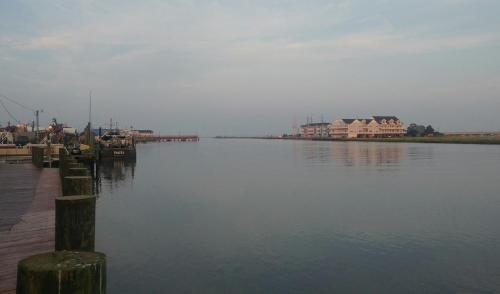 After the complimentary breakfast, we headed to the dock to meet Capt. Pete and the Fish Tales. He only books a single group of folks at one time and up to six anglers. With three of us there was plenty of room on the boat. The water was calm and there was fish busting the surface where ever we looked. The mate and Captain kept saying that was baitfish, but in the Folly eyes, those could be a new target
! We headed out of Tom's cove and just out into the Atlantic. This was a comfortable trip with us fishing out of our chairs with rods dropping baits over the sides. As with the Ocean city fishing trip, I was the first to hook up with an Atlantic croaker.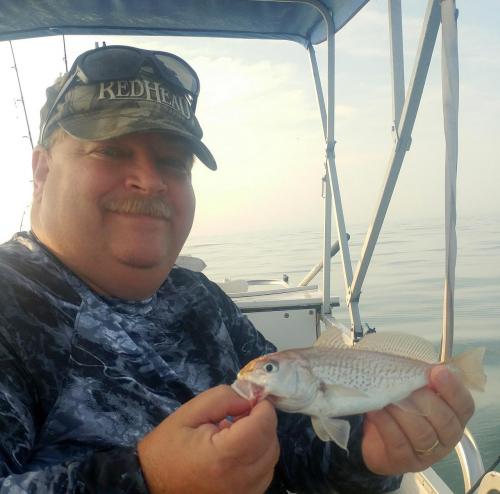 We sore mouthed quite a few with Livie and my Betterhalf catching several each and even doubling up at times.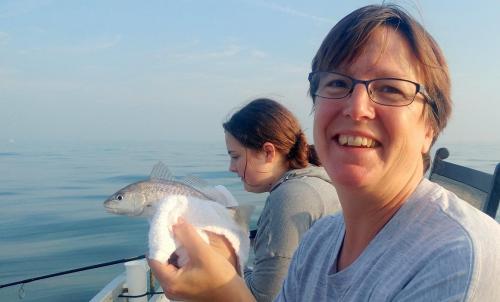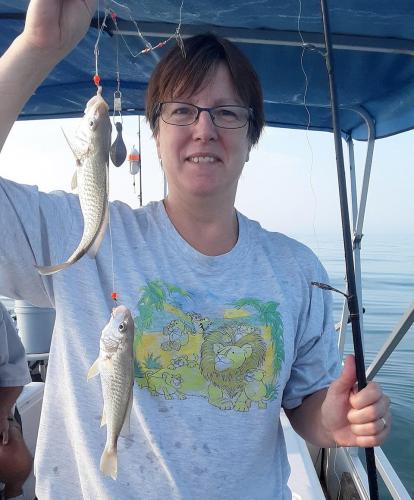 Livie just loves noisy fish and would squeal with delight at every croak these fish made when she caught one.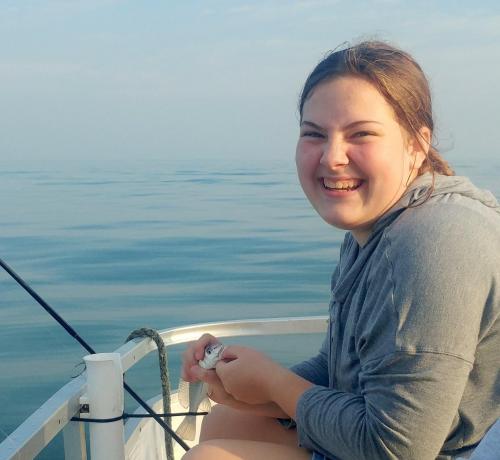 On the way out to fish we mentioned that we might take some fish home, but we really wanted to catch a few different fish and just have some fun. While we were bottom fishing the mate set out a cut bait under a float. It wasn't more than a minute or two that the float went under and he was calling to have someone reel in the fish. Livie junped up and began her fight with a bigger fish. After about a 10 to 12 minute fight she had the fish to the boat and the mate hauled it on board. It was  nice male Atlantic sharpnose shark!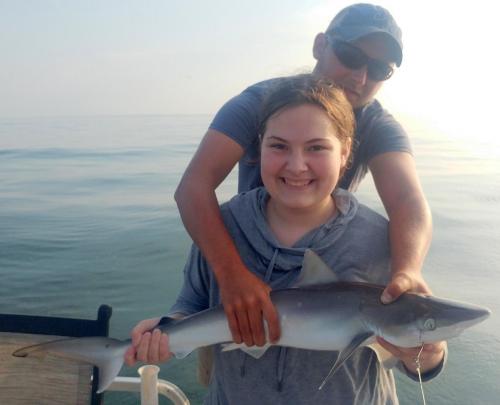 I will state that we Follys are omnivores and are not likely to pass on fresh fish particularly if they are a sustainable species. So this guy did end up on ice. The mate got the line baited again and this time I was on the rod to land my first sharpnose shark!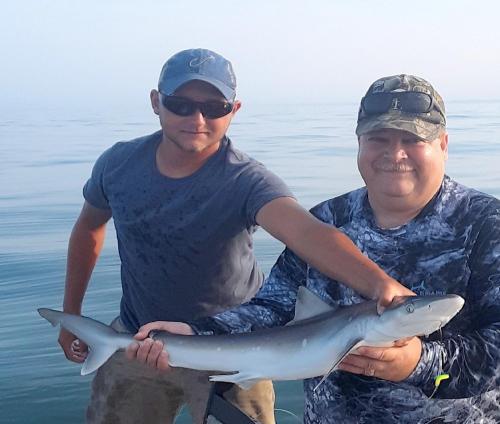 He was the lucky one and was soon released. We continued bottom fishing this deeper water and both Livie and I caught Virginia Trout - @JestersHK would be proud! These are really sea trout or weakfish. related to the croakers and other drum species.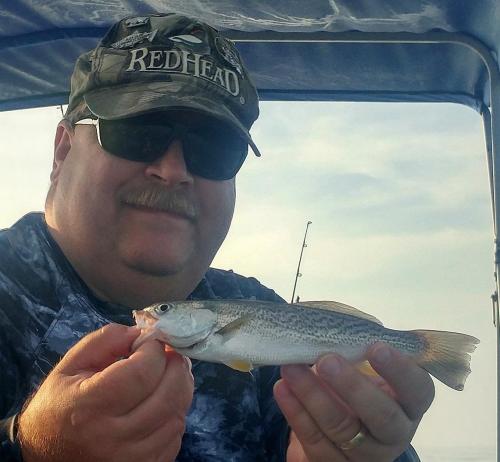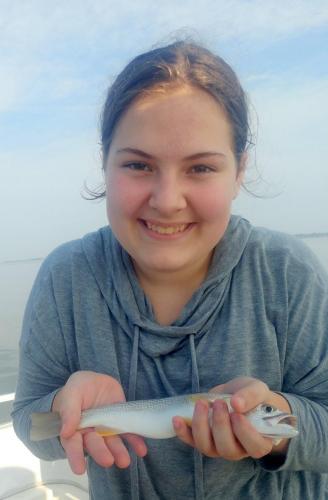 We moved into shallower water in Tom's Cove between Assateague and Chincoteague islands to try for kingfish (another drum species also known as whiting). We saw several small pods of dolphins and a few loggerhead turtles taking a breath. There were lots of shore birds, pelicans, skimmers, etc. that would have made for a nice birding trip if we weren't set on fishing! We dropped our lines and I was again the first to get bit and land my first southern kingfish!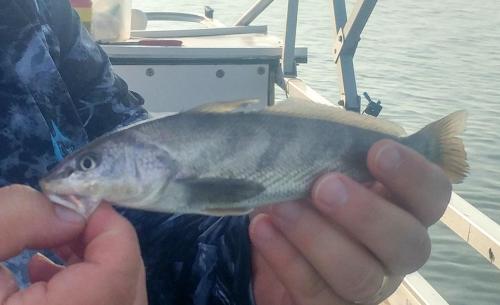 Then my Betterhalf.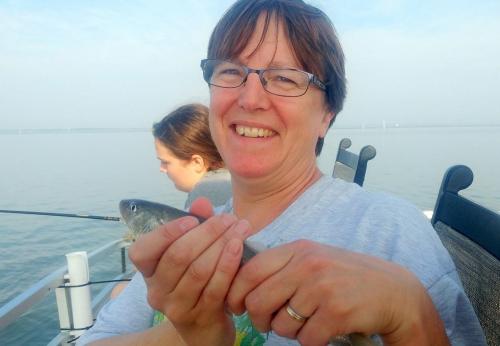 As with the croakers both Sue and Livie had doubles at times.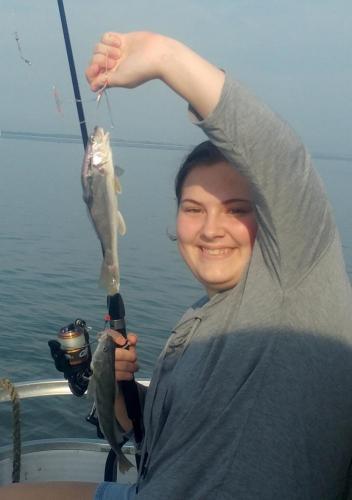 Several kingfish went into the box for a future fish fry. We caught a bunch of other fish that the mate called white perch. Since we have caught whiter perch I didn't take any photos. However, these were a very silvery fish with yellow fins and tail. They didn't look like white perch that we have caught in the rivers near home. I kept thinking that maybe is the saltwater they were different color phase. At home I looked at a lot of white perch photos and none had that same coloration as these fish. I looked up saltwater fish of Virginia and found a reference to silver perch. All of the photos for that species matched what the fish that we caught.  All too son the trip ended and we headed past the island and back to the harbor.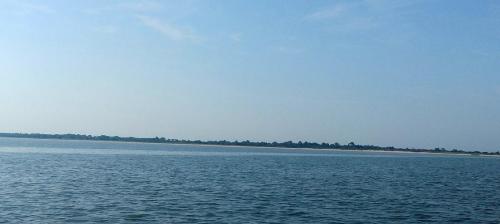 At the end of the day, Livie and I both caught four new life list fish and my Betterhalf only three since she opted out of trying for a shark of her own. As we headed back to Maryland, we talked about trying to come down again in Sept. Looking forward to that trip!