It took a couple of days here in Maryland, but I finally got out and fished. With my travel schedule I have been trying to get in on some panfish spawning. Back in Missouri I got into some crappie. Now I hoped to get into some bluegill or readear sunfish at Tuckahoe lake like I did last year in May. I tied on a John Deere microjig that I picked up at Weaver's tackle store in Lebanon, MO the last time I fished Bennett's Spring.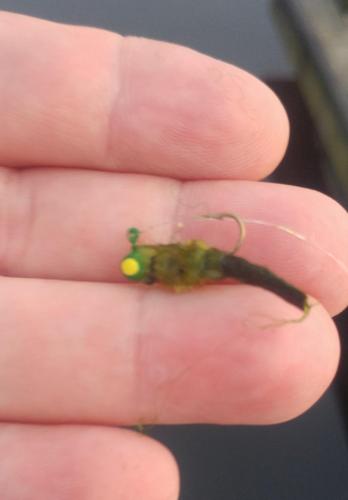 Even with the 4# Pline I can cast this tiny 1/125 oz bait 20 to 25 feet. If the fish were in ths spots that I caught them last year I wouldn't have to cast much further than 25 feet. I fished the jig without a float. The first spot I tried I did not get a bite on three casts. I hoped that this wouldn't be a busted trip. I went to another spot where I had caught bluegill previously. I made a cast out between some emergent plants and the line straightened out as the jig dropped and I set the hook on a nice bluegill.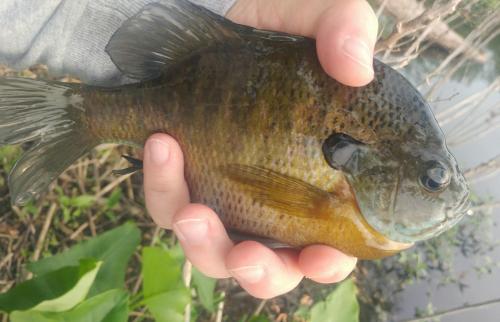 I caught a few more from that spot. Most of the fish took the bait as the jig dropped at the end of the cast. On one of the casts I did not get a bite until I jigged it a bit and got it close to the weeds and got a surprise bite, a black crappie. This was the first crappie I have caught in Maryland. Yes I do have a list of fish that I have caught in Maryland
!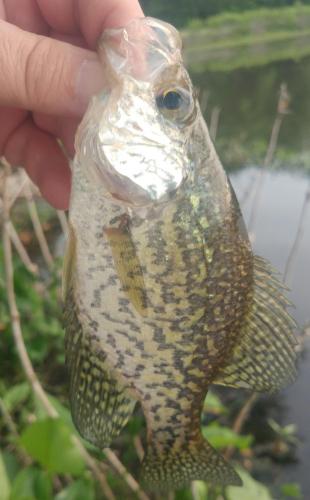 Once the bites slowed, I moved to another sandy spot where people put in canoes and kayaks. I had caught pumpkinseed sunfish here last year and I could see beds in the sand. As luck would have it I caught another pumpkinseed in that location. These are just beautiful fish.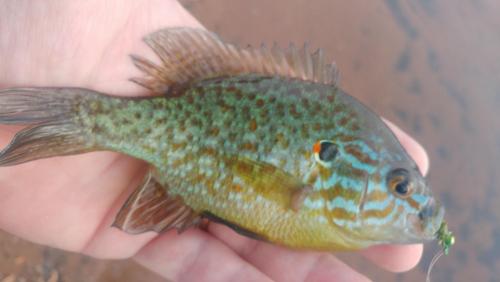 I moved to the dock and caught several more nice bluegill.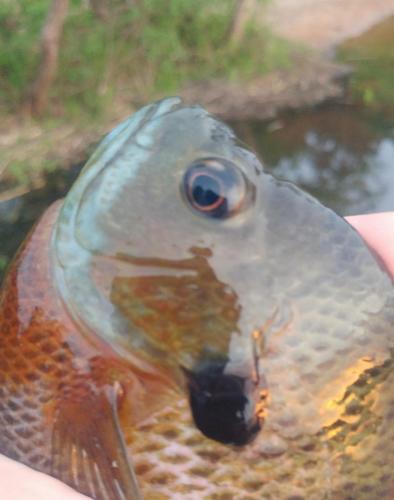 Then I got a stronger fighting fish and landed my fish redear of the night. A dark male.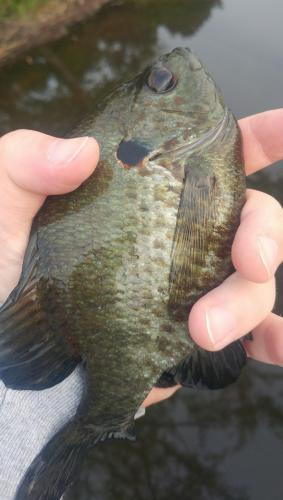 I could see the fish moving around the dock. I also thought that I saw a long dark shadow at the corner of the dock. Several of the bluegill were over 8 inches in length and this redear was almost 10".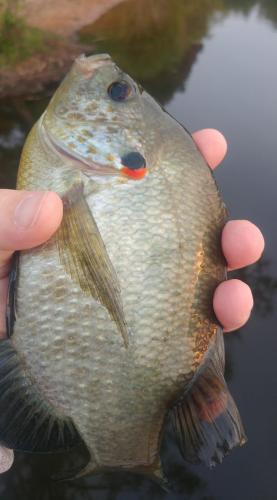 I ended the night with a dozen bluegill, eight readear, a pumpkinseed, and three black crappie in 84 minutes of fishing. I made a cast up near some brush and lifted what I thought was a branch and it was a 14 to 16 inch largemouth near where I had seen the shadow. I did not get the hook set well enough and the bass swam away unharmed. It was a great night. The only thing better would have been able to share this with my daughter or some OAF friends.