We started at the cable and fished the bluff or south side to the island.  The lake level was 705.4 feet and the release was 4,000 cfs (60 megawatts).  This is just over one unit of water.
Duane tied on a #10 hopper and I tied on a smaller #12, just to give them a little different look, both pink though.  We drifted down stern first, me on the trolling motor to the fish saw D's hopper first... that was my undoing, so to speak.  He said he was picking all the good spots, thus he caught most of the fish.
Note to self:  Make him run the trolling motor next fishing trip.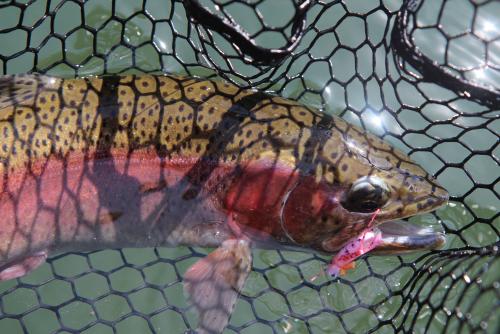 We both had lots of looks and tastes.  Duane caught on skating the hopper across the surface - they wanted to chase.  
When we fish hoppers, or any dry fly for that matter, we generally see larger fish but this time most of the rainbows were on the small side - 13-14 inch.  He did have a couple pushing 16 inches though.  No browns.
We fished both sides down to Trophy Run and the south side from the cable to the island was the best run.
The last drift, we threw jigs - 1/8th ounce gray/white and 1/16th ounce sculpin/ginger.  Both caught fish, better than the hoppers.