The days of no generation may be over for now.  We've seen the dam operators moving some water the last few days from lake to lake, even though the White River at Augusta, Arkansas is still at flood stage.  With no rain in the foreseeable future, we may see more and more water running through Lake Taneycomo.
We've been seeing about 6,000 cubic feet per second of flow for most of the day lately with a bump up to 12,000 late in the afternoon.  That's 2 units to 4 units worth of water.  There's really no way to know if this pattern will continue but for now it seems reasonable to think it will.
Trout fishing has been just ok.  There are days though it has been real stinky!  Early and late, of course, is the best times to fish.  Most of our guides are on the water by 5:30 am and the bite is good for a couple of hours.  Then they have to work for fish.
Most of the guides are either drifting a Berkley pink powerworm just on a hook on the bottom or on a small jig head under a float.  The pink worm is actually catching some big trout.  This little gal caught a trophy brown trout using her kid pink fishing rod.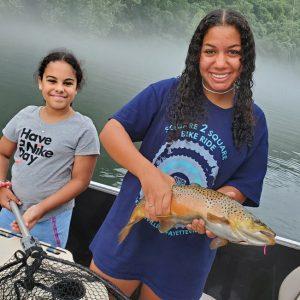 Anglers are catching mainly rainbows drifting night crawlers and power eggs.  And we've heard all colors are good except red or pink, which makes no sense because the pink worm is working better than power eggs.  It must not be the color.  Best area to drift is Lilleys' Landing down through the bridges.  Stay in the middle when drifting because there's a lot of old, sunken dead trees on the edges of the lake.
Right now there's a ton of stocker rainbows in the Branson Landing area.  They're being caught on the Berkley pink worm on a small jig head under a float 5-7 feet deep.
I personally haven't tried drifting minnows lately and we haven't sold many but I would think drifting them on the bottom should catch trout, especially brown trout, seeing all the browns being caught right now.
Trophy brown trout are still being caught at various areas of the lake on bait and lures.  I've been asked why does it seem all of a sudden we're seeing so many big browns being caught.  The short answer is I don't know.  But it does coincide with an increase of trophy rainbows which I believe is a result of constant flow of water from Table Rock over the past 2+ years.  The food base in Taneycomo (plankton, scuds, midges, sculpins, small forage fish) stays much healthier when the water is running verses when there's long periods of no generation.
We've had reports of browns being caught on the pink worm, night crawlers, marabou jigs (white, sculpin/ginger and sculpin/peach), Doty's custom painted jerk baits, MegaBass 110+ jerk baits and other jerk baits, and smaller jerk baits drifted on the bottom, mainly in the trophy area.
Trophy rainbows are also being caught, mainly in the trophy area though.  They being caught on scuds drifted on the bottom, jerk baits and marabou jigs (same colors).  Last count, we were up to 55 - 20-inch trout or bigger registered as catch and release trophies for the month of June but I know Blake caught a 24-inch brown last night close to Lookout Island.
https://lilleyslanding.com/trophy-catch-release/
Drifting scuds on the bottom is just ok... there's a lot of algae on the bottom and cakes up the fly.  You need to reel in and check it pretty often.