Current Table Rock Lake Fishing Report Shell Knob, White River Outfitters. 5-19-19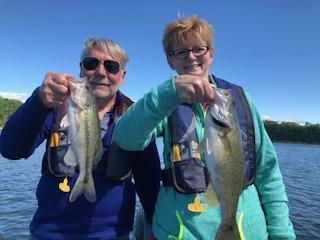 Launched with Tom and Julie at SK 6:30 and it was on like Donkey Kong.  First location with a Red Fin and we had 11 fish, all keepers off one location.  As I was releasing our 9th. fish, I got pulled in on by a Bass Pro Tour guy in a Pee Green boat.  We saw him coming and he pulled in pretty close.  I was unhooking a fish and he yelled over he had driven 65 miles to fish that point.  My lady caught another fin fish about that time and he yelled over again, and asked If I was a guide.  I should have said no, I'm just getting in casting practice today and letting this lady catch the fish.  I kept my mouth shut.  About a minute or two later he yells over he is in contention to win 100 G.   
At this point my lady asked if he was going to cry if he didn't  get to fish here.  "She said its ok, we have caught enough here."  I yelled over that he was making her feel bad and so we went else where.  Which at this point really does not matter.  Our next location we had 6 more fin fish and a bunch of Keitech fish.  Fished a total of 4 location around the mouth of the Kings that right now has beautiful James River Green color.  68 degree and probably 6' visibility. 
 We had 44 Keepers and 62 fish this morning and nothing would have been under a pound.  It was catching this morning and not fishing, just reeling them in.  Biggest fish today was a LM at 2.95,  on the MLF scale.  Julie with a nice Jaw and Tom with a short but over a pound K that they doubled on in the  Photo.
There are fish in the water column from 1' to 35 feet.  and all the area in between.  We would swim the keitech on a 1/4 oz. head Pro Blue Pearl 3.3 with the boat in 25 and when I would see a cluster we would drop on them with the shad shape worm.  Probably over a dozen doubles.  There were bass on the bottom and everywhere in between.
From Baxter to Big M right now the lake is perfect color and just stupid with fish.  Most are solid 15 plus inch fish.  We had lots today in the 2.70 pound range.  K's, LM and Jaws all mixed in and out.   Lots, and lots of fish totally full of eggs, mostly K's and you don't dare grab them around the middle.
Good Luck