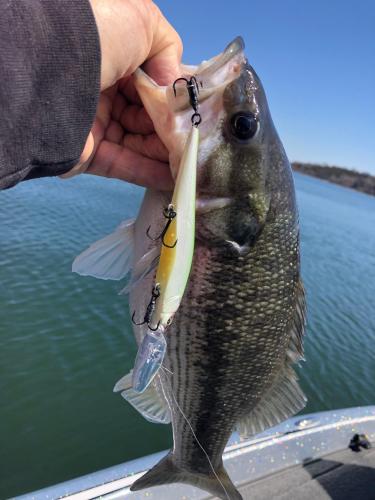 One of the earlier bites up the white river.  Thought I was going to get into good fish and then the Buck event happened.
Had a late start as Becky is full and it was pancake day and I helped serve.  Hit the water at the Eagle Rock ramp at 11 am.  Surface temps at 50 degree and 2 footers even up there on that skinny water.
I had dedicated the day to the Jerk bait and was only gong to throw it and nothing else no matter what.  First 3 locations 5 nice keepers between the ramp and Devil's Dive and then that was that.  
Headed up to the mouth of Panther and fished the deep channel bank.  Surface temps at 1pm in the creek were 54 and it was full of bass.  All bucks and were a total pain the the hand.;
From Rock Creek to Eagle Rock every cut and every cove mouth had tons of LM and K buck males all over them.  Very seldom have I ever said fish are not worth catching, but today was that day.
These bucks that probably averaged 12" were skinny and the bite was just like you were hooked into a dish rag.  They came to the boat like a 10" walleye and then wiggled and flopped like crazy when you tried to get those vicious treble hooks out of them.
The crappie I caught could have kicked the tail of 90 percent of the small bucks that were in a hurry to get to the bank this afternoon.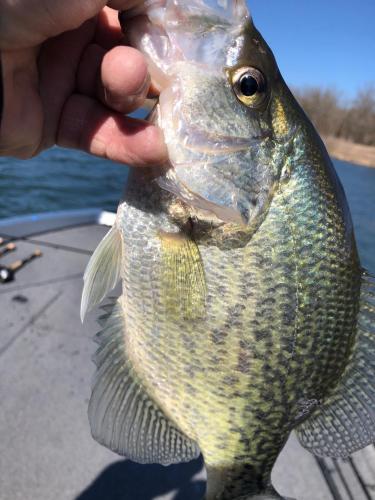 I quit at 3 pm and they were still hooking themselves on the megabass.