I launched at 6:30am and tried a couple different banks that I don't normally fish. I caught 1 that went 14.5" in the first 10 minutes, but it was slow after that. Like I normally do - I started with a black Buzzbait and only had 2 shorts on it. 
Water temp was77.4 when I put in and it ended up at 76.4 when I left at 1:15pm. Visability was a couple feet.
I couldn't put much together. I caught a few here and few there. No keepers all day. I fished through the rain that lasted a few hours or more. I put 10 or 12 in the boat. I caught a double on a "deep little N". They were about 6" each. I caught a couple on a Mann's spinner bait, deep little N, rock crawler, buzzbait and a couple on a straight worm.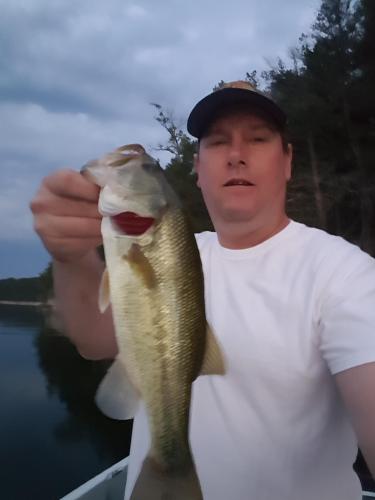 I caught my very first Table Rock walleye that went 17". I caught it on a Rock Crawler. That was pretty awesome!!
I ran across another poisonous snake. Not a good picture and I took a picture of these geese flying right over the top of me. I thought it was pretty cool.