I headed to the Niangua to try to catch a northern rock bass. I haven't caught yet this year and had caught them below the Barclay canoe access using a Ned rig. I brought a rod rigged for micros and the other with a 1/8 oz green pumpkin Ned rig. I went to the boat ramp and saw several minnows swimming amongst the rocks and brush. A few caught my eye, those were a couple of small groups of western mosquitofish (a relative of the guppy). I caught Eastern mosquitofish in Delaware, but not a western this year. I had my #26 tanago hook rigged with a tiny piece of a pink/purple rubber. I caught a couple of the westerns right off the bat.  Also a couple of topminnows.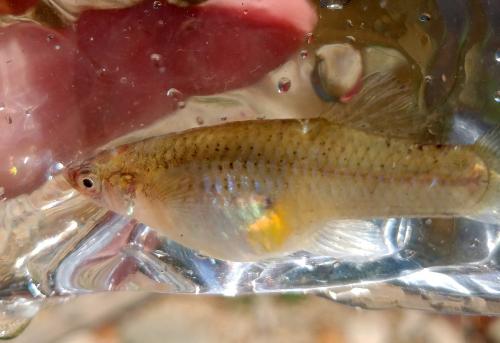 I didn't see any other novel micros and went to the spot I had caught rock bass in the past. On the first cast I had on a panfish, but it got off and I didn't land that fish. The next cast resulted in a 5 inch smallmouth. Only got a couple more bites before I hung up on the structure that attracted those fish to that area. Once I tied on another bait, I was hit with the first wave of floaters. Then it was pretty much a non-stop wave after wave of canoes, kayaks, and rafts. Lots of loud kids and a few drinkers. Only caught one more bluegill before I just could not deal with the boats disturbing the fish. I headed upstream of the take-out and was going to fish where the fast water hit a deeper area with slower water. Looked like a good spot for trout. Just as I was beginning to fish a kayaker past through the spot I was about to cast into and he headed back upstream and cast in front of me. He hooked a rainbow on a crankbait. I did get at least one rainbow on a 1/8 oz olive and orange Zig Jig.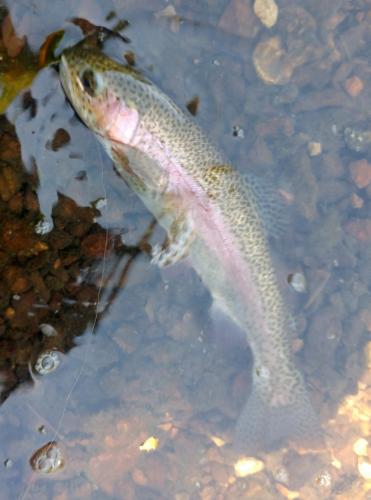 After that fish I just could not deal with the boaters any further and left the river to them. I definitely have not had as much trouble catching a rock bass, but I will keep trying. I may catch an Ozark or shadow bass before I catch a rock bass.