Norfork Tailwater and the White River are great trout fisheries in Northern Arkansas. Both have great numbers of big rainbow and brown trout. Norfork also have brook and two species of cutthroat trout. The Dry Run Creek empties into the Norfork tailwater just below the national hatchery and receives a lot of its water from the hatchery outfalls. It is a tremendous trout fishing stream set up for children under the 16 years old. It is catch and release with only single barbless hooks. On Friday I was there with Ham and my daughter Livie. Livie has only caught rainbow trout while fishing the trout parks and urban trout lakes in Missouri and she has never fly fished before. She was looking forward to trying to catch a couple of new trout and possibly one of the giants that swim in this stream. We started fishing at a plunge pool at the lower end of the stream. Fishing a black and red Zig jig she was getting the attention of the multitude of brook trout in this hole. Livie mostly fishes with a float and was having trouble seeing / feeling the bites of the trout on her jig. The fish were all very cooperative and she landed her first brook trout and several more on the zig jig.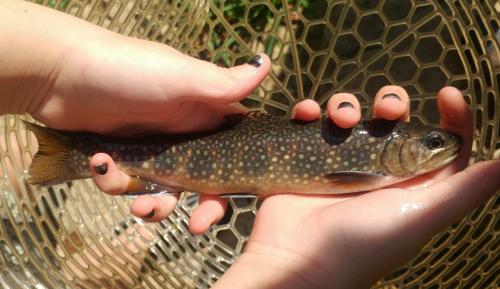 In fact after we switched baits and fished them with a yellow float the trout kept busting the float itself. She also caught one each on a San Juan worm and orange/yellow egg with the fly rod. Never did get the brown trout hooked up from that hole. We headed to the upper part of the stream next. The next hole contained several giant rainbow and brown trout as well as loads of trout and many of them were actively feeding. She fished several baits and flies. We finally got a number of strikes on a John Deere microjig under a small white float. Livie landed a few rainbows.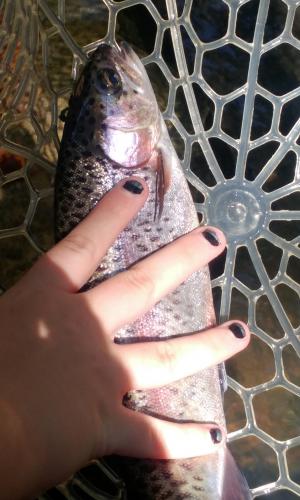 Never was able to get the hook set on a couple of the bigger fish that struck her baits. She finally caught a small brown trout on an elk hair caddis with the fly rod. This guy slipped out of the net before we could get a better picture.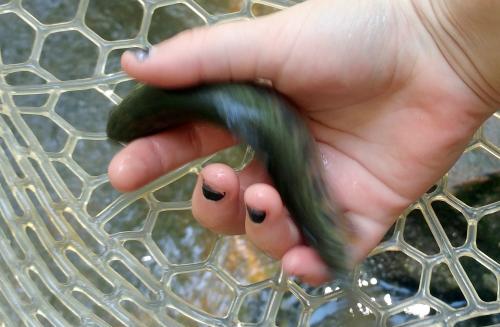 Every stretch of water held trout, often lots of trout, and most held a couple of giants. The fish were cooperative. Though she never got one of the giants, she caught two new species of trout and several rainbows including one that was 12 to 13" in length. Now she did have to put up with the peanut gallery telling her when she had a fish on the bait or that she just missed one of the big ones. I hope that she is able to get back down to fish this creek again. I have to get her practice on the fly rod to get the feel on how to read the fish's behavior, anticipate the take, and to set the hook. I would anticipate that there may be less "One's got it ... Oh boy that was a big one..."