The BilletHead's perspective of Jig Fest,
  I cannot begin to tell you how much fun I had at my first Jig Fest attendance.  Not a selfish person on site. A big share of everything and anything. Food knowledge and friendship. Two things stood out.  Terrierman said to me, " Marty it isn't all about fishing, just look at this group of good people". Yes I seen that a bunch of guys of various ages and all walks of life together with a common goal friendship and fishing.  Then Stein said. " Look at this group of guys. All getting along. You couldn't put a group of women together like this and their not be some competition for pecking order, Men and women are wired different"  I can see this to be somewhat true and Mrs. BilletHead agreed with me as I told her about what I had heard!. BTW she is extremely jealous of what I got to do
.  I may have to treat her special for some time!  I never heard a cross word between anyone in this bunch of guys. I was about the first one to turn in for the evening. I could lay in my bed and hear nothing but laughing. 
   Then their is the fishing. I was on my way down early Thursday morning.  I knew some were there day before. I was hoping to fish when I got there. So I start getting texts and calls from GrizWilson. Where are you? What way are you coming down. What is your ETA ? Meet us at the Cotter access
.   I get there and here comes a boat with Griz, Mike (Wounded one) and I think Ron? (hey these guys know each other and I have to remember them all being a newbie) Up comes Griz and Mike. Griz to make sure my drift chain is made correct and Mike to be my fishing partner for awhile. Griz says we are going to drift this section for awhile and go get into room, pick up JohnsFolly and fish a bit more. Mike and I become acquainted and we all launch from the ramp. I tie on a jig and ask Mike for pointers.  We fish parallel to the bank as we drift with the current? Yep he says.(Keep in mind for the last several years I pick up conventional gear maybe a half dozen times a year) We began to drift. My first cast, my first hook up and first fish I was blessed with,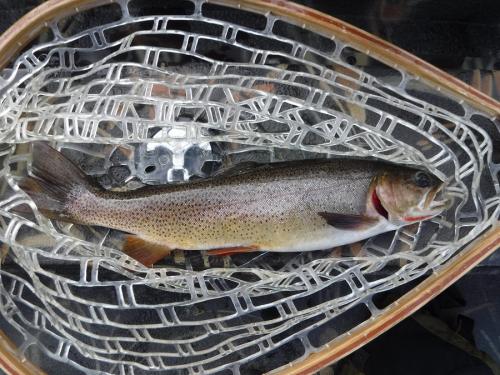 Yep first fish a cutty
. More coming time for dinner,
  BilletHead