I grew up in North West NJ, Sussex County. I'm an Appalachian Mtn. Born and Raised Country boy. I'm not from Joisey

 
Proud son of the Skylands region of NJ , near the border of NY, NJ and Pennsylvania in the Kittatinny Mountains.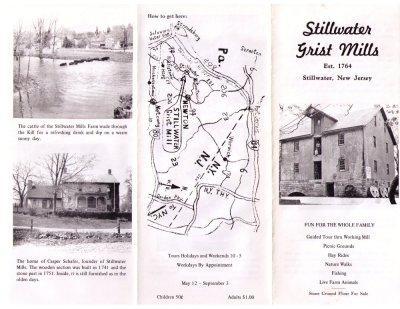 My family has history as some of the first inhabitants of the Milbrook Village in the Delaware Water Gap. A pretty popular tourist location with one room schoolhouse, black smith shop and all the trappings of the old world. http://www.njskylands.com/hsmillbrookvillage
My Nanna, Pop-Pop and family were some of the initial inhabitants of what is now National Park...Part of the Tocks Island Project. The Gov. gave life rights to land owners and the plan was to flood the region for a giant reservoir.... Thankfully this beautiful land never was flooded but we lost family legacy and land. I will take you through this journey of my life and family as I have time and reflect on the things that made me who I am as an outdoorsman and naturalist. My hope is this will give some insight into who I am and what I stand for and the foundation of my youth and the cornerstone of my psyche. In short I have a love of the outdoors instilled by my Grandfather and Father. It's a journey I hope you will take with me as I relive the escapades and moments that are at time cringeworthy, funny and worthy of personal growth and the love of all things in the Natural world. Check back as I up date and record my life.
Pop-Pop (Joseph Lowick..."Joe")

It's the mid 1970's - Dog days of summer have passed. Damp fall weather is setting in on the Ridge "Kittatinny Mtn Range in Sussex County NJ".
Been raining a couple days now.... but Pop-Pop said on his weekly visit to say hi (watch the fights on the Cable TV)........ "You come help in the garden and help me get prepped for the Indian corn" I got a surprise for ya. Then he unceremoniously spat in his hills bros. coffee can. A process repeated all day every day as evident by the stain on his white short whiskered chin.
Surprises always meant Eel fishing the Delaware River with a drop line. It also meant a stop at the store to pick up pickled pigs feet, more RedMan for Pop-Pop, and Yoo-Hoo for me.
If we  were lucky and got an early enough start, we got to bring the pitchforks and hunt for baby Lamprey Eel. (Pop-Pop would scoop the pitchfork into a brush/twig pile known to house and protect the young Lamprey Eel from fish and other predators and scoop it out onto the embankment where the fun ensued) Lamprey Hunt = A fast reflex game great for kids catching the squiggling young lamprey before it can get back in to the creek. We hunted the feeder creeks for about an hour looking for Lamprey nests as we called them (not allowed any more). If we got skunked we reverted to use the garden worms we dug up before leaving to head over the mountain.

I can only remember doing this twice growing up because it was a rare occasion.. Other times we'd just pick Indian artifacts along the Delaware in the plowed up fields being made ready for winter wheat
Anyway - Pop-Pop didn't disappoint. We got to go Eel fishing but the real surprise would come later.......My first time working the Eel Weir. Pop-Pops commercial Eel Harvesting Operation. 
The Weir 
Hawkeye and Pierce just had a back and forth that caused a belly laugh with Dad and I to close out the night's episode of MASH when I heard the front door creek open to Pop-Pop saying his customary entry....No-Bah-Dee Home!
He appeared out of the dark entry into the glow of the TV light spilling from the living room into the dark foyer. "YOU READY????" Now,.... I wasn't sure what ready meant...I had been Eel fishing that Saturday and ABC's Wide World Of Sports wasn't for another couple days. So it wasn't "Ready" for Boxing and Howard Cosell and the fights we loved to watch.. Always got a kick out of hearing Pop-Pops commentary on the fights... even more so then Howard's...which is saying a lot. He said get your play coat.....
I obliged...I didn't ask Mom or Dad...apparently didn't have too....it was a given this was ok...I guess cause they never said... school night or you'll catch a death of cold or none of that silly stuff.
Off we went....Just down the road from the house at the bottom of the hill was the Paulinskill and the town Gristmill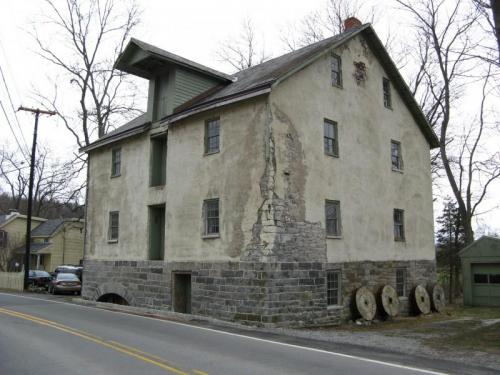 that just so happened to have the most fabulous Eel Weir I have ever seen or come to know... I've seen Many.