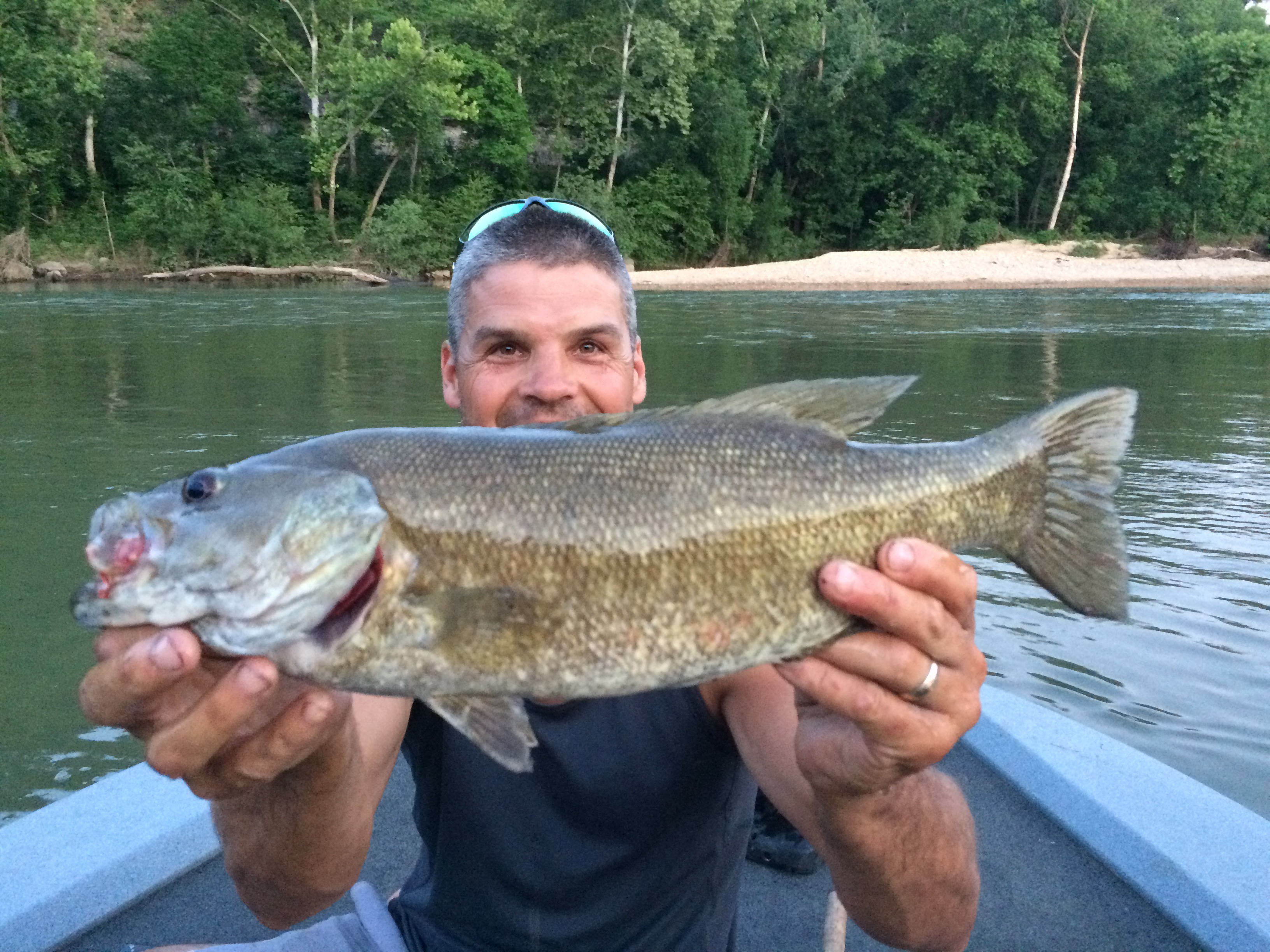 Posts

1,315

Joined

Last visited

Days Won

12
Profiles
Forums
Blogs
Calendar
Articles
Video Feed
Gallery
Everything posted by Hog Wally
I finally figured this walleye thing out. Water is 48 degrees and the boys are stacked on the spawning riffles. Big girls are in deep hole below. I kept a couple nice eaters out of the boys that fell for my cricket.

I try really hard. Like everyday.

MDC took a DNA test today and they have the fish. Should know in a few weeks. If it's a pure Sauger, which they think it is , it crushed the state record by a pound.

Fished a little tournament on the Osage Saturday and had this beast eat my little cricket !!

I've never been a huge fan and or impressed with the Smallmouth on the Nade. But, yesterday I changed my mind. I put in at a public ramp solo and ran a couple miles up before I noticed my fuel gauge was at 2.6 gallons !! Not cool. I guess I fish nearly every day and sometimes it slips my mind but I reacted instantly and decided that whatever looked good in the next mile or so I would sit on it and figure something out. I guess I'm a good judge because I set down and immediately see I am in 16' of dead water with maybe a slight bit of back flow. That means water is literally running the wrong direction. I immediately toss a swim bait as far as I can and let it slowly fall to the bottom. As soon as I moved it a few inches that oh so familiar feel of a winter smallmouth loading up on my rod. I fished for 2 hours without moving off the same spot. 40-50 fish. 8 smallies and the rest were spots. All keepers or bigger. 4 of the smallie were big imo. I didn't try any different baits on them because it was clear they were on bait fish and the 3.5" swimmers I throw were the ticket. Water was dirty and deep. Fish were glued to the bottom. I don't know any other method that would've worked. This is strictly my opinion, but the Meramec has bigger Smallmouth, and the Nade has the numbers. Don't attack me on this one. Just my opinion. I think I'll go hunting tomorrow.

Deep water, or close to deep water, have been getting good. Shallow structure bite is going away quickly.

MDC doesn't recommend crappie in ponds. I have fished this 1/2 acre pond 10 times and have mostly caught bass, some big (over 5 lbs). I've caught 2 crappie over 15". The pics are of my PB crappie yesterday at 3 lbs. So who is wrong ?

Lol. This happens at my ramp during migratory times. Prespawn and Fall. Get out of the office !!!

I was sitting At the kitchen table enjoying my supper when I kept noticing splashes on the surface. I sat and watched Shad getting herded on my gravel bar for at least 15 minutes before I finally decided I should check out the situation. It was a roaming wolf pack of big smallies on their way somewhere. Pretty freakin cool. I only caught 3 big ones but I had limited time and was without a chase boat.

If I followed their fishing advice on this article for the Meramec, I dont think i would catch a single walleye.LOL

That's what surprises me. I'm catching dink's by the truckload.

Anyone else catching walleye? I have been catching a ton of little guys and an occasional beast .

Males are somewhat still on beds, guarding fry, In my opinion, it's a great spawn. Had a huge blow up on a buzz bait today in shallow riffle. Followed it up with 3.5" swimmer and connected on this girl. 20" long and 4.4 lbs.

All Spots. And very good eating size !

Find current that's too violent to safely fish. In specific weather conditions and or times of the day, the walleye will be there feeding. 1'to 10' water, depends on conditions.

I haven't caught one on topwater yet Good to know that is starting up.

With a little break in the storms I dropped the boat in with my daughter Macey and ran a short distance and literally caught this big one on my first cast Followed by several dandies, then the sky opened up and we high tailed it home

It's all about the flow! When I fish for walleye, I usually fish where most people would pass by and not give it a second glance. These fish set up on very predictable locations when they feed. This morning I look at the river and it dropped to almost perfect walleye conditions

Watched a female and a male on a bed last Friday They were getting it done. Seen a group of females roaming shallow. Seen fry Monday. Middle meramec. Didn't get much reaction from them. Hopefully this rise don't put fry in the cornfields 🙁

I like flicker shads but they spin out in very fast flow. There's your tip ?

My lack of articulation makes my posts short and always lacking of a good story line 🤔. But hopefully the cool pics make up for the lack of info? Lol. I've been catching them on a new TackleHD pronto type bait that we have been working on. So far, it's a homerun. I can't wait to fish for hybrid stripers with it. It definitely passed the test for bass.

My cousin caught a good one last week around Onondaga

Here's a couple or 3 nice walleye I've caught lately on my home waters There's been a consistent big smallie bite for weeks but I can't help but go after these toothy creatures. I lost a really big one a week ago that I'm speculating in the 29" range.