I don't know where to start this report, as far as the generation/flow.  I usually include an educated guess on what officials may do with generation, but I have no idea at this point.  So all I can do it state the facts.
Beaver Lake, I think, is about at 1,128 feet, but there's no way of telling that I can find because all of the online indicators are not working.  Table Rock, on the other hand, is at 922.62 feet and steady.  Dam operators are running zero to 3,200 cubic feet per second of water in the mornings and about 6,100 to 6,700 c.f.s. in the afternoon, which is one unit.
https://www.swl-wc.usace.army.mil/pages/reports/remote/curcond.htm
Since both lakes above us are pretty high, Bull Shoals is even higher, so they're holding Beaver and Table Rock until they can start releasing water at Bull Shoals Dam.  There's high water on the White River way down south towards the Mississippi River-- I suspect that's why they are holding Bull Shoals.
So for now we're seeing some slow flows here on Lake Taneycomo.  The other morning, operators didn't run any water which made for some fun fly fishing.  I caught fish on micro jigs, zebra midges in black and red #14, a #14 gray scud and a peach mega worm all under a float above the Narrows.  For tippet, 6x fluorocarbon is fine.  And I was fishing them about four-feet deep.
If there is a little generation, up to 6,700 c.f.s., you can fish the same flies the same way except add a little split shot to drop and keep the fly down.  And you'll need to fish them a little deeper.  Of course, the scud needs to be dragging the bottom, but the other flies don't have to be that deep.  The Mega Worm is tied on a jig head so it should get down pretty well.
The marabou jig is working pretty successfully, too.  Depending on the flow, we're throwing all sizes -- from 1/8th to 1/32nd-ounce.  For the smaller 1/32nd- and 1/16th-ounce, we're using two-pound line and four-pound for the heavier jigs.  White has been good,  best from the cable below the dam down to the third outlet.  Darker colors are good everywhere--sculpin, olive, brown, black.
The pink worm is making a comeback now that the water has slowed down.  Drift it on the bottom like bait or use it under a float with the water off or running up to 6,700 c.f.s..  The best area has been  from the old Riverlake Resort to down past Lilleys' Landing.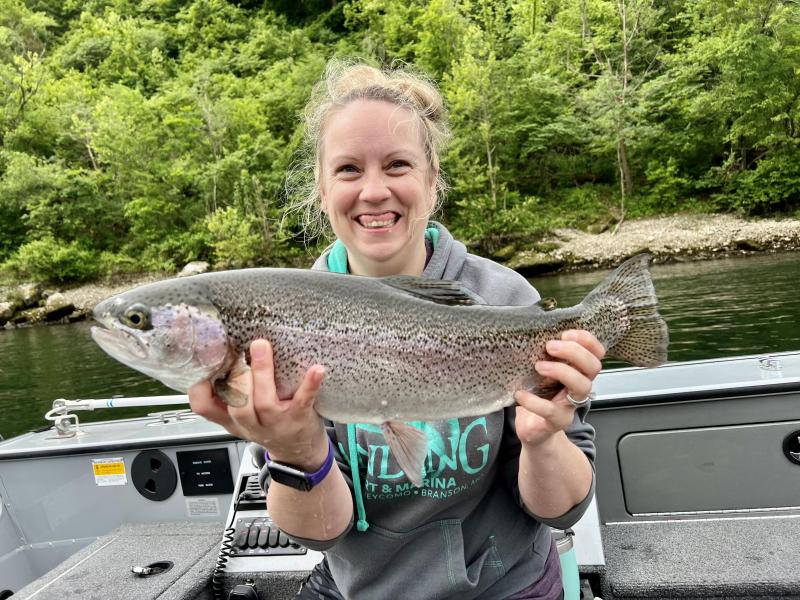 Seth and Becky Garrison just reported white jigs are good from the dam to the Narrows . . . I'm jealous.  I can't buy a bite with white past outlet #3.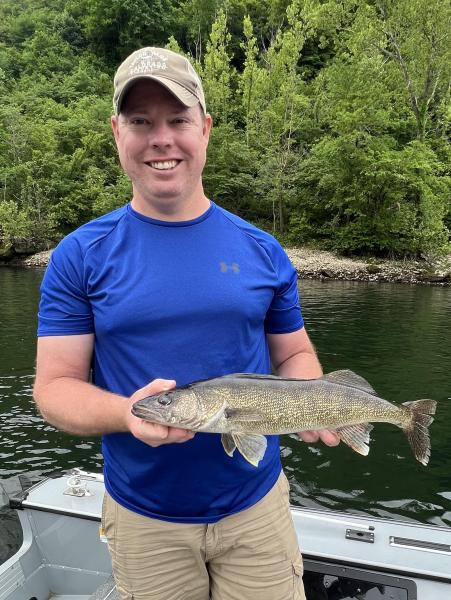 They are also catching warm-water species close to the dam -- and a random fish anywhere in the upper end of the lake.
Jerk baits are starting to work now that the spill gates are closed.  Early and late in the day are best, as well as cloudy and/or windy days.  The Magabass 110+ in shad colors is good, and rapalas F7 and F9's and shad raps will also work.  Suspending Rogues are good and of course our own Duane Doty's Signature Series rainbow and sculpin style baits.
Drifting scuds when the water is running is still one of the best ways to score a trophy.  They're working anywhere from the cable at the dam down to Lilleys' Landing.  We're dropping from a size 12 to size 14-16 in gray shades as well as olive and tan.  If the water is running pretty slowly, you can fish a weighted scud under an indicator, but make sure it's set a foot or two deeper than the depth of the water you're fishing.  A good place to do this is the Pointe Royale side of the lake from Lookout down through the Narrows (shallow side.)
I've seen some boats spot locking and/or anchoring in the main channel below Fall Creek.  While the water is running slow enough for this to be safe, it does cause navigation issues for boat traffic.  It is illegal to block a channel to the degree that it causes these issues, although it is a matter of judgement for law enforcement (which is sparse on this lake).  Anchoring towards the side of the lake is both safer for the ones  using it and for the drifter and boater.  And I expect that you'll catch as many fish, too.
I did see three boats spot locked at the mouth of Fall Creek today -- and that is a problem!  Too much traffic for that.
That said, night crawlers are working for those who are anchored in the right areas.  Steve Dickey has had trips this week on our Trout Machine Pontoon and he's spot locking on the flats above Trout Hollows, on the far side, using night crawlers and doing pretty good.  This is with 3.600 c.f.s. of water running (one unit.)