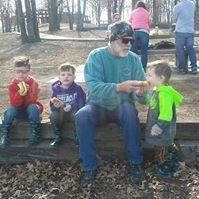 Entry posted by kelly ·
586 views
Once in a while a man does something that, at the time seems perfectly harmless. Then in retrospect he realizes the extent of the damage caused by that now not so innocent act.
I have fished five times in the last two weeks and have only a Crappie and three Trout to show for it. I fear I committed a mortal sin when I...washed my fishing rag. Woe, woe, woe is me.
This morning while again catching nada I looked down at the right time and saw the mother of all Kansas trout breach the surface not five scant yards in front of me in an attempt to ginsu a minnow. I swear it snarled at me. And my pistol was in my pocket.
Please don't send cards or, especially, offer advice. I will prevail, I will, once again, eventually, render that fish rag a smelly stiffened barely recognizable square of red cloth that bruises my leg in the wind whilst I pilot a watercraft into the blue beyond.
I will once again adorn the pages of facebookdom with self serving photographs of various Leviathan of the deep while laying claim to their defeat. Don't cry for me, don't cry for me.