Matt and I went down to the White  Tuesday night to float, put the boat in up at the dam around 10:30pm and took out the next afternoon at Cotter around 3:30pm. Great float dam was running 35mw and the fishing was great.
Night time was good,  yielded several quality Browns on a mouse just swinging and stripping. I was using my Sage TCX 8wt with a floating line and just straight mono 22 pound with a mouse at the end of the line.  The mice that we are using are 2/0 Gamakatsu B10s  so they are big and will stayed buckled up when you catch a toad, we are also throwing a full sinking line with a 2/0 Zoo Cougar. The reason we throw both is when they are not eating up top then we can go subsurface and most likely get the hooks up.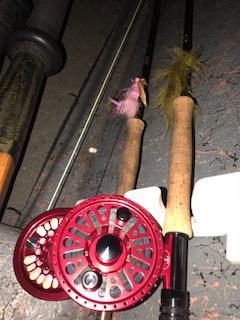 Here is Matt with a decent Brown that he caught on a Lemming Mouse.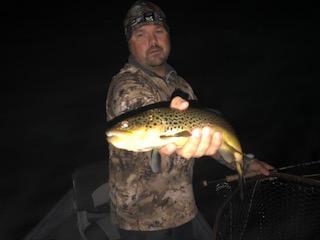 The highlight of the night came around 1:30 am when I just heard a sip on the  top of the water and my line went tight and the fight was on.  The 8wt was bent over and the fish on the other end was digging in. He gave a couple of good head shakes and I knew right then this was the fish I had been hunting for a long time.  Then with no warning he came charging to the boat, I could barely strip the line in quick enough to keep him tight , John was rowing as fast as he could in reverse as to help me out.  Next thing I knew he was under the boat shaking his head giving it all he had to break loose and that instant he came springing  out of the water and landed next to the boat,  John netted him and with a sigh of relief I knew I was looking at a fish that had haunted me for years fishing the mouse.
29"*15"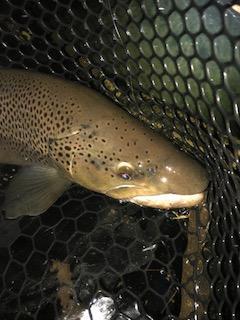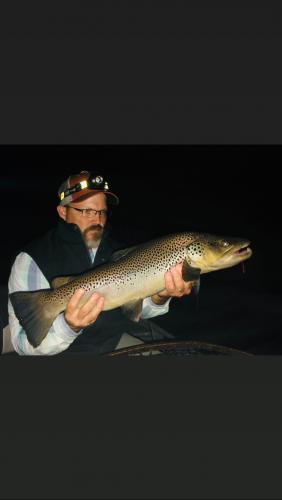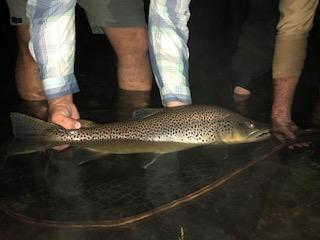 As far as the day time with 35 mw fishing was good.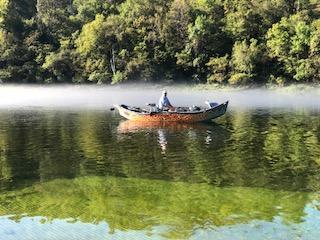 Fishing was consistent we picked up several fish first thing in the morning throwing the 56er and some variations with it in other colors like olive, brown and black. Fishing with with a full sink line and 4x tippet. Nothing very big but just a lot fish that are always fun to catch striping streamers.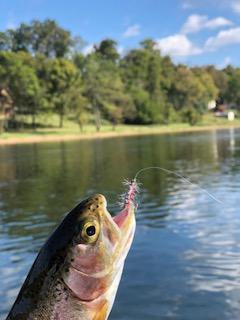 Matt was working on his slam but we could never find the Cutthroat to complete it,  here is a Brooke that he caught on a 56'er.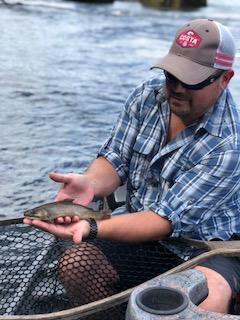 Till next time look me up on fb @ "Up Sauce Creek Fly Fishing and Custom Flies" or on instagram @upsaucecreek
Tight lines
Michael