What At Great 2009 Season For The Leavenworth Bass Club
---
The Leavenworth Bass Club (LBC) held its' annual end of season banquet on 23 January 2010 at the American Legion Post 23 in Leavenworth, KS. The LBC was formed 25 years ago by a group of avid anglers as a means to improve their bass angling skills through fellowship and the friendly exchange of bass catching techniques. They organized around the core functions of: stimulating public awareness of bass fishing as a major sport; promoting a full adherence to all conservation codes and water standards; providing state conservation departments organized moral, political, and physical support; and promoting youth fishing by fostering young people's appreciation of outdoor recreation activities. The LBC is simply a group of avid outdoor enthusiasts that love Mother Nature and place a premium on the camaraderie they enjoy when together. They are bass anglers and their membership reflects a vast array of angling experience from successful regional tournament professionals to weekend recreational anglers. And above all they hold dear the freedoms of living in the greatest country in the world. Though organizing and conducting competitive bass tournaments is just part of the LBC's annual activities, they did conduct 11 competitive bass tournaments on five different lakes catching and releasing over 1,095 lbs of bass in 2009.
Since its' humble beginings over 25 years ago, the club has grown significantly over the years into the largest BASS affiliated club in the state of Kansas. As the club grew, so did its'sense of civic responsibility. Over the years the LBC has undertaken numerous conservation projects, working directly with state conservation departments emplacing fish habitat in Leavenworth County Lake, Lost 80 Lake, and Hillsdale Reservoir. The LBC works hard to engage our youth in the outdoors and has organized and conducted numerous BASS sponsored Casting Kid's events, hosted youth fishing derbies, and sponsored a junior bass club. As the adult club sponsor of the Blue Valley Bass Buster in Olathe, Ks; the LBC conducts seminars, provides boats for their tournaments, and club members take on mentorship roles for these up and coming young tournament anglers. Additionally, the LBC has been instrumental in supporting the Kansas Bass Club Federation Nation (KBCFN) kids programs by providing boats for all three Kansas state junior qualifying tournaments last year.
Even with all these annual activities, the LBC took on another meaningful project in 2009. They planned, organized, and hosted their 1st annual Fishing for Freedom event on Truman Reservoir. The LBC organized volunteer boaters from Kansas, Missouri, and Kentucky to take 30 wounded warriors and Global War on Terrorism veterans out for a day of tournament bass fishing. Thanks to private donations and numerous local and corporate sponsors, these warriors enjoyed great food, awesome participation prizes, great camaraderie, and trophies for the winners. The success of the 2009 event generated a tremendous amount of support and the LBC hopes to be able to take 100 warriors out in 2010.
The LBC awards banquet is an annual winter ritual where members, guest, and sponsors come together for an evening of fellowship to reflect on our blessing and freedoms, and to recognize members for their successes and contributions throughout the year. Following a buffet style meal, the 2009 LBC president, Steve Clark, presented certificates of appreciation and thanked the 2009 Club Officers, committee members, and sponsors.
2009 Club Officers
Steve Clark President
Bill Horvath Vice President
Larry Stoafer Secretary
Ken Hackworth Treasurer
Ray Hildebrand Webmaster
Bob Greene Tournament Director
Danny Lee Member at Large
Dave Clevenger Member at Large
2009 Committees
Tournament Committee
Bob Greene
Mark Luna
Danny Lee
Larry Stoafer
Steve Clark
Banquet Committee
Ray Hillebrand
Bill Horvath
Steve Clark
Fishing for Freedom Committee
Larry Stoafer
Bob Greene
Bill Horvath
Bob Jorgensen
Ray Hillebrand
Steve Clark
Special Youth Project coordinator
Miles Miller – adult advisor Blue Valley BassBusters Jr. Club
The president then turned the floor over to the club's 2009 tournament director, Bob Greene. Bob recognized the 2009 awardees for their accomplishments during the season with a custom club fishing shirt donated by Bass Pro Shops and embroidered by Cathy's Creations.
2009 Leavenworth Bass Club Awardees
Angler of the Year/Guide of the year Bob Greene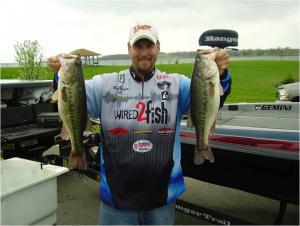 Bob's successes included:
Table Rock 1st Place
Mozingo 1st Place
Truman 1st Place
99.51 Pounds Weighed
Big Bass 4.95
Sponsors
Fishblaster Baits
Wired2fish
Mikes Probass Gear
Gandy Custom Tackle
Gemini Sport Marketing
Whopper Baits
Transducer Armor
Fitzwater Jigs
Iguana Grafix
2nd place Larry Stoafer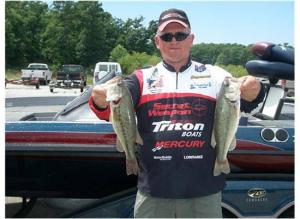 Larry's successes included:
Table Rock 1st Place
Truman 1st Place
Pomme 2nd Place
81.82 Pounds Weighed
Big Bass 4.57
Sponsors
Secret Weapon Lures
7-24 Outdoors
Crooked Creek Tackle
Blackwater International Inc.
3rd place Bill Gevedon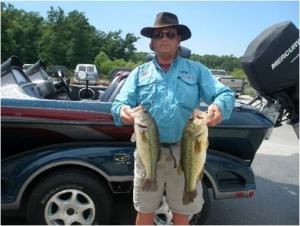 Bill's successes included:
Table Rock 1st Place
Pomme 1st Place
Truman 2nd Place
84.20 Pounds Weighed
Big Bass 5.6
4th place Bill Horvath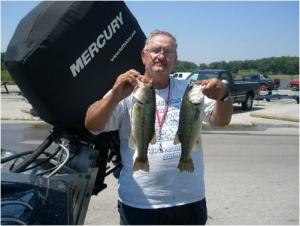 Bill's successes included:
Table Rock 2nd Place (2)
Mozingo 3rd Place
66.37 Pounds Weighed
Big Bass 4.15
5th place Ken Hackworth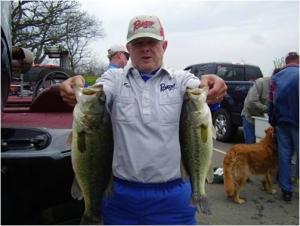 Kenny's successes included:
Table Rock 3rd Place
Mozingo 1st Place
83.58 Pounds Weighed
Big Bass 5.86
6th place/Co-AOY Mark Luna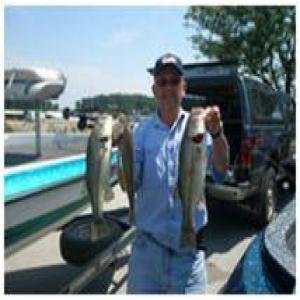 Mark's successes include:
Table Rock 4th Place
Mozingo 4th Place
53.74 Pounds Weighed
Big Bass 5.65
7th place/Boater Big Bass Randy Kenton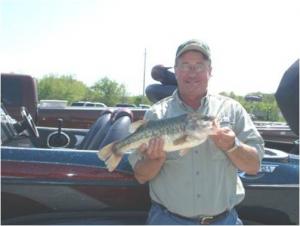 Randy's successes included:
Smithville 1st Place
Table Rock 6th Place
48.02 Pounds Weighed
Big Bass 6.02
8th place Ray Hillebrand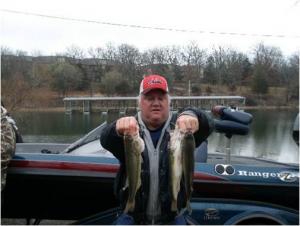 Ray's successes included:
Table Rock 7th Place
Truman 9th Place
20.56 Pounds Weighed
Big Bass 4.73
9th place Craig Schale
Craig's successes included:
Table Rock 10th Place (2)
Truman 7th Place
13.17 Pounds Weighed
Big Bass 4.98
10th place Bob Jorgenson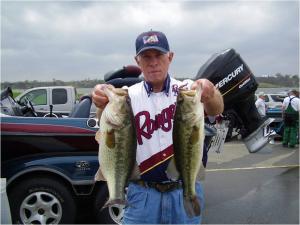 Bob's successes included:
Mozingo 1st Place
Truman 3rd Place
59.79 Pounds Weighed
Big Bass 4.57
Co-angler Big Bass of the Year Danny Lee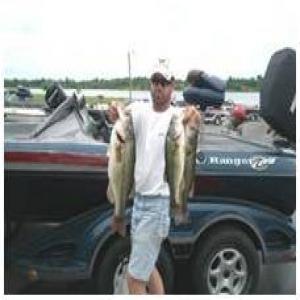 Danny's successes included:
Smithville 3rd Place
Mozingo 2nd Place (2)
57.91 Pounds Weighed
6.71 Big Bass
Rookie of the Year Carl Chasteen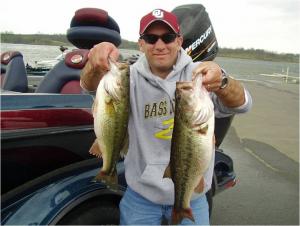 Carl's successes included:
Mozingo 3rd Place
Truman 6th Place
41.37 Pounds Weighed
Big Bass 4.48lbs
2009 Sportsman of the Year Steve Clark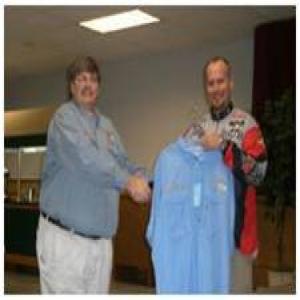 The Sportsman of the Year is the most coveted LBC award and is elected by secret ballot at the October meeting. The results of the Sportsman of the Year election are not announced until the award is presented at the annual banquet. The definition for a sportsman of the year is not precise. But he is not necessarily the best fisherman; he doesn't have to have the biggest or fastest boat or the most expensive equipment. He does not have to be the most popular or best looking member of the club. But, the Sports Man of the Year contributes. He is active in all the clubs activities and gives more than he receives. He willingly shares his angling knowledge and is respected for his opinions, attitude, and love of the sport. He is the member that we look up to, not out of jealousy, but with admiration.
2008 Leavenworth Bass Club Awardees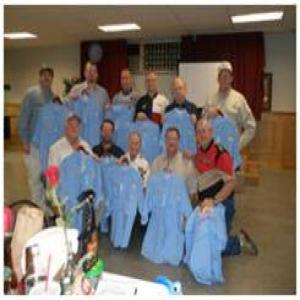 Front Row left to right – Ray Hillebrand, Danny Lee, Bob Jorgensen, Randy Kenton, Bill Horvath
2nd Row left to right – Steve Clark, Larry Stoafer, Bob Greene, Mark Luna, Kenny Hackworth, Bill Gevedon
After the awards ceremony, things settled down for the night's big attraction, a raffle of numerous prizes donated by sponsors or purchased by the club. Jeff Irvin was the big winner. Jeff won the week long Canadian fishing trip donated by Big Cannon Lodge. Additionally, Travis Perret won a three night stay at Fish Hook Resort on beautiful Table Rock Lake donated by Richard and Brenda Cornell. The banquet was a wonderful success and was only made possible by our generous sponsor's support. We sincerely appreciate them and will endeavor to maintain their support in the future by not only providing excellent and enjoyable fishing opportunities for both experienced and novice anglers but also by giving back to the community.
2009 Leavenworth Bass Club Sponsors and Contributors
Bass Pro Shops
Big Cannon Lodge
Brunson Builders
Butler Muffler and Brake
Cabelas
Cathy's Creations
Dennis Edward's Tackle
Fish Hook Resort
Franks Marine
Garmin International
Kansas Bass Club federation Nation
Secret Weapon Lures
Randy Kenton
Smithville Marine
If interested in joining the Leavenworth Bass Club, you can contact any of our club officers listed on our webpage www.theleavenworthbassclub.org for additional information.