When I start my fishing reports, the first thing I do is look at Beaver and Table Rock Lake levels plus generation flows, then I can gauge what Lake Taneycomo's flow should be in the near future.  Right now Beaver is holding at 1,120.37 feet, just above its seasonal power pool level of 1.120 feet.  Operators are running water for about eight hours a day, but the level isn't moving either way.  Table Rock is running about 7,000 c.f.s. or two full units 24/7 and its level isn't moving much either.  It's almost 12 inches over its pool.
My forecast for Taney's flow is more of the same for at least a week, but I wouldn't be surprised if the flow dropped to one unit for a time,  maybe this weekend.  There's very little rain in the seven-day forecast, so when Table Rock drops close to 915 feet, we may see a serious reduction in flow.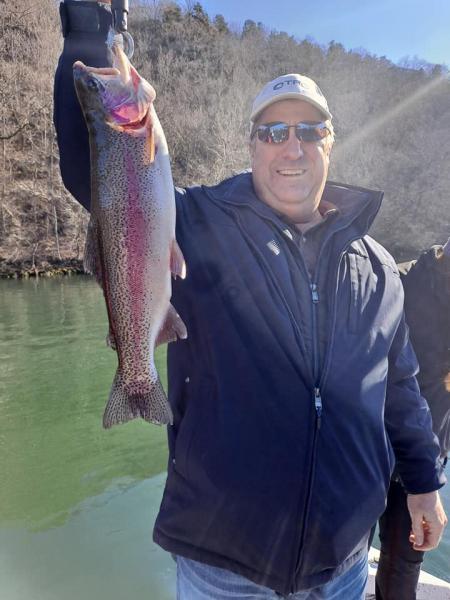 Phil Stone's client with a beautiful rainbow caught on a night crawler a couple of days ago.  Released.
With this 7,000 c.f.s. flow, drift fishing is the norm.  But you can do so many things drift fishing.
Drift something on the bottom like bait (minnows & night crawlers are best, as well as Gulp Eggs, pink PowerWorm) or flies (egg fly, scuds, shad fly) or small jerk baits.
Drift and throw marabou jigs.
Drift and fish something under a float like a pink PowerWorm or a marabou jig.
Drift and cast a jerk bait, cleo or spinner.
Drift and fly fish stripping a streamer or floating a scud under a float.
What's the best?  The best is the technique you enjoy the most and catch some fish with.  Do we always catch?  Nope.  But it's always fun.
What's been working lately?  We threw 1/16th- and 3/32nd-ounce jigs yesterday afternoon on One Cast and did pretty well.  But I noticed I had better luck using two-pound line over four-pound.  I haven't been using two-pound much, but our lake water is getting pretty clear, so it may make a difference in some applications as when throwing jigs.  We did catch fish on white and sculpin/peach in the trophy area, but later towards evening I threw a 1/16th- ounce ginger jig with a brown head down closer to the resort and caught some really nice rainbows.  I stayed towards the middle of the lake and worked the bottom.
Today's One Cast verifies my ginger jig story.
Some of our guides have been out this week.  They're drifting below Fall Creek and using night crawlers and catching some nice rainbows and an occasional brown trout.
Our Missouri Department of Conservation recently stocked about 15,000 brown trout averaging about 10 inches.  These trout won't have a lot of color and may resemble rainbows.  You'll need to look closely to see whether you have hooked a brown or rainbow.  Browns won't have many or any spots on the tail and a rainbow will have lots of spots.