Fished Friday night and Sunday afternoon on Taney  and in between floated the White river in AR all and all a great weekend of fishing.
Friday night I had a buddy that has just picked up the fly fishing bug, I have had Heath out a few times with some success but not what it can be during the night.  So when I looked and the CORP was going to be running 35mw,  I knew it would be a perfect night for a lot of fish being caught, you might be asking yourself why would it be a perfect time for newbie well it is because "night time is the right time". To me fly fishing or well any type of fishing at night will make you a better fisherman because you can't really see anything its all off of sound and feel.  
Any way we put the boat in around 10pm and motored up to the cable on the south side, oh hey did I mention that I got the I-pilot form Minkota on my boat.  ALL I HAVE TO SAY IS WHY HAVE I NOT DONE THIS BEFORE NOW!!!  We got to the spot I wanted to be put the trolling motor in the water and hit SPOT LOCK and bam just like we were anchored!!!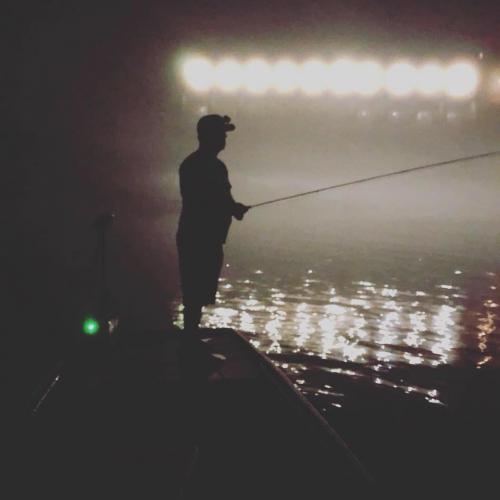 With in 5 minutes or so Heath was hooked on his first fish at night then another and another and another in about a 2 hour time period in that one spot Heath landed almost 30 fish.  It was just a fun night, no worries of catching a hog the main purpose was to catch fish and take the stress out of being a new fly fisherman an not catching fish.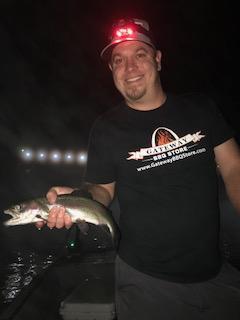 I know just get to the point of what we were using so you had better sit down we were using MEGA worms and a lighted glow in the dark indicator, I know right can you believe that I WAS A USING A GLOW IN THE DARK INDICATOR:))))) The White MEGA is what they wanted Friday night, had it set at about 6 foot cast it out up stream and drift it down and KAPOW the fish would just explode on it.. We fished till about 3 am fishing several different spots and each spot producing fish, nothing big just a bunch of educational silver bullets. 
Then there was Saturday more to come on that latter watch for a report in the White River. I got home Sunday around 9:00am from fishing the White river all night thinking I would take a nap not the case as the middle daughter wanted to go fishing, so I turned and burned down to Taney; man she can twist the arm pretty hard!!
Got down to Taney and bam 35mw perfect for her to drift fish, drifting mega worms! Around  1pm  they cranked it up to 150mw then 200mw, so I just decide that it would be an awesome day to teach her some High water techniques out of a boat.  She caught several drifting a Green Mega Worm under an indicator had the mega worm in the high water set at about 8 foot with a bb split shot above so that it would get down in the current.  We fished till about 6pm nothing big except for the smiles when she would hook another fish.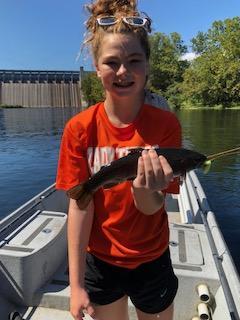 Tight Lines till next time!!
MBKWRH