Curtise thought it may be time to make the run West again yesterday,
  Glad we did before this next front. Water temp cooler than last trip. 48 to 50 is what we found. Air Temp at launch 44 but stiff South Winds created 67 by the time we quit.  Ran up the Spring and tried first to fish the faster water. A tad higher and faster than last trip too. I started with the fly rod and Curt flicker minnow crank. No love for the BilletHead there but Curt got one. I put the fly rod down and rigged up a flicker. We traveled up to some slower water working a transition area from mud bank to rock bank. Water depth tapering to approx. 7 foot deep. We began to work that shore and both started picking up more whites. Curt said we can catch these on the fly and grabbed my rigged fly rod. He then caught two back to back and I said that was enough of that give me my rod back
. He than rigged his and soon it was on. We began to put the hurt to the fish in that stretch . If I would guess a 50 yard long piece of bank. We were the first to work it but soon we pulled in a crowd of more boats. Friendly bunch of folks. Every one going by said we had it figured out. Some asking questions about what are you using? What is a Clouser? Boy that looks like fun with a fly rod. We did our best showing our flies and how we were doing it. We did move up a ways further without a hit and finished off our day back at the hot spot. Did talk to a local that said last weekend in the higher dingier water that was four feet higher he had caught a hundred sows in and around the same area. Also told us the water temp had made 60 degrees at the warmest before the cold fronts. Clouser colors that worked. Standard pink over white and I caught some on chartreuse over orange. Mine were 2 to 2.5 inches in length tied on #4 B10s. Curts looked the same sized. Sink tip lines. mine was a bit more aggressive than Curts and I lost three or four Clousers to the rocks and wood on the bottom. We caught fish from 2 to 7 foot deep. We both kept a few to eat and released the rest. Between the two of us numbered catches totals in the high 50s. A couple bonus fish. A buffalo and yes it wouldn't be a day complete if I did not catch a drum. Whites were a mix of males and females fat with egg laden bellies. I got three pictures to post and I know Curt has some if we can get him to post or send to me to post,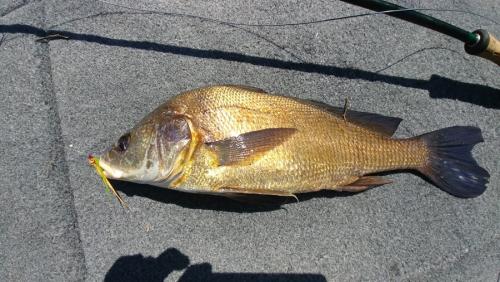 Fun time for sure. 
BilletHead