Finally got down there for the first time this year. Thanks to the guys here who have made reports. Long daily drive from BilletHeadVille for a scouting trip and reports help. Some guys don't report and I get that especially smaller streams but this place is big and popular so no secrets. it is a fun place to fish. Curtise OA forum member and my friend made trip today with me. Fun to fish with and we have many things in common. We can joke and give each other a bad time and still go home friends. The way it should be. I think we finally arrived at the ramp around 7:30 and prepared to launch. The lot was pretty full and a launch line had formed. We have fished enough together out of each others boats we know the drill and we were launched quick and headed up river. A fog had formed and heading into the sun was bad. We ran up to where we had caught fish before and along that area several boats had gathered. Must be the place to be and we slid in line. I rigged up the fly rod and Curt tied a chartreuse marabou jig on his line. I tied on a pink over white clouser.  Curt caught a couple and I noticed others were throwing white of chartreuse offerings. I quickly changed gears and put on chartreuse over white and began to catch myself. Throwing towards the bank stripping some a pause or two and letting the clouser swing. Curt did the same. Fish were caught in three to maybe to ten foot deep. Even threw opposite side of boat and caught in the middle. Fish were somewhat scattered. Sometimes one in a spot sometimes two or three could be caught. More and more boats came up and joined the flotilla. At one time there was twenty to twenty- five watercraft in our view,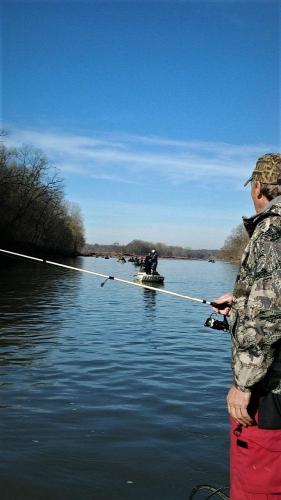 Early Curt got pretty cold. I never did. Cannot figure out who is messed up this way bit figure a mix of both of us makes one normal person :).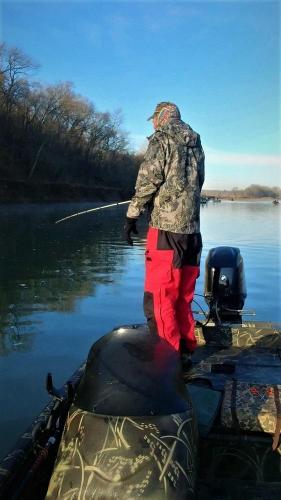 One thing I noticed all the fisher people in all these boats worked well with each other. Much visiting from boat to boat. Friendly bunch. Only seen a couple of boaters I thought were out of line. I know a boat on plane produces less wake. I get that but one shoalrunner decided to do a run slalom ski style through some fisherman. I mean close to them. I call it crap.  
    You had to get your bait down to the bottom or as close as possible. I used 250 grain sink tip line. I got down and snagged often. Not sure what was on the bottom but I could stretch the fly line and let it pop back. I never lost a clouser. Curt caught some on plastic and briefly threw his fly rod and caught on that too. We don't think his line was getting him far enough down today. Normally he and I run neck to neck but today I caught the most.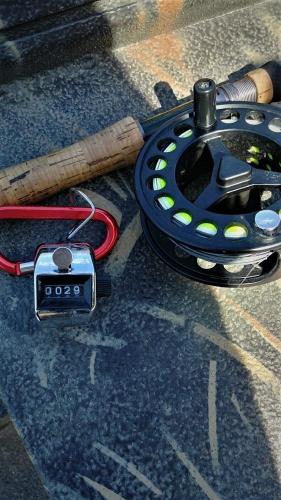 All sizes caught mostly males,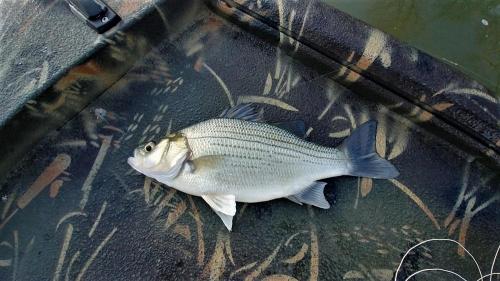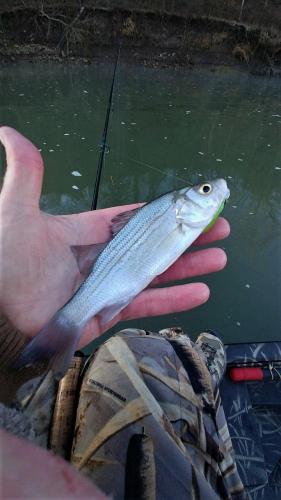 Fishing really slowed down for us shortly before noon although others continued to catch a few. We both hooked bigmouth buffalo. My one came unbuttoned as one of Curts. He landed his second and he also caught a blue cat that was three pounds or so. We did not keep anything today just catch and release. We heard there were less boats yesterday and catching was better. Go figure should have been there yesterday! We have all heard that sometimes in our trips. This being said we have all been the ones there yesterday too!  There was two fine gentlemen we talked to that was there yesterday and they cleaned 200 whites. That is allot of fish cleaning. At the ramp cleaned carcasses all over.  Water temp was 53 so soon it will really be on big time!,
   BilletHead