I headed down to BSSP yesterday to take advantage of the more autumn like weather. The sky was clear and the temperature was cool. I got to the park around 7:30 am. There were quite a few fishermen along the spillway and the stream down to the hatchery outfall. Above the whistle bridge there were a few fishermen and the water was running clear.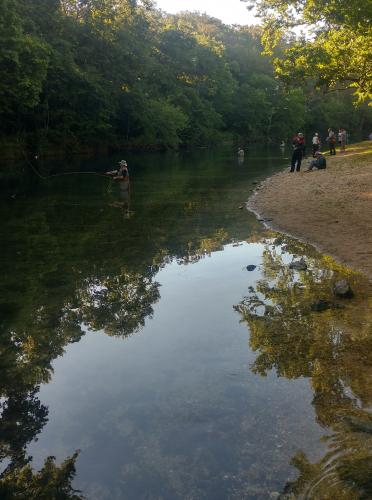 In front of the whistle bridge there were not as many trout that I have normally seen in this section of the stream. With the clear water I was using 2# P-line fishing line. Some folks were catching a few trout on vigorously worked small jigs. I caught a couple on white/salmon 1/16 oz marabou jigs. One fish was over 12 inches in length. Once they stopped responding to the marabou jig, switched to a pink/yellow/white glo-ball and caught a few more including this 13 inch rainbow.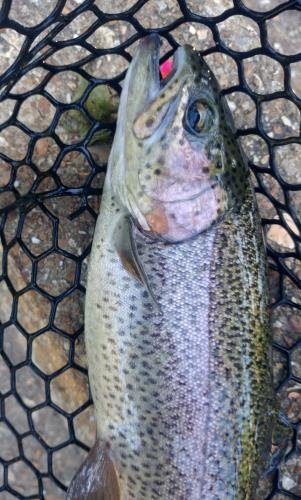 I caught several trout on a John deere microjig with the largest fish being just a bit under 16 inches in length. When fishing the small jigs or glo-balls most fish will react by circling or a straight out rush to the bait and not a strike and pull the line, then they just take the bait into their mouths then spit it immediately back out. So the best way to catch the fish was to anticipate the strike, and set the hook when the bait disappears or the trout flares it's gills. I was planning on fishing a few other streams/rivers, so I only fished BSSP for two and a half hours, caught eleven trout, and left with three for the table. All in all a great day on the stream.