Venice is known as the redfish and tuna hotspot of LA,well we were alittle up the road in Buras and only ventured to launch one day out of Venice. Myself and 2 friends headed down for 4 days of fishing last week.Have a friend who goes quite often in August and he claimed the heat wasn't that bad. Hoped for more stable weather than we had last Oct when I last visited the area. Last trip was a spur of the moment thing. That combined if it being high seson landed us in a triler which we shared with another party ,cooking for ourselves and as far as a guide we took  what we could get. This year we stayed at Paradise Plus Lodge, were fed and the guides and boats an upgrade from our prior trip. 
   Not going to put alot of specifcs down just give you the basic idea of our trip.Fished 4 days. For reds you can go after bull reds 25# plus or fish for keepers. The bulls are typically in open water feeding on bait, the smaller fish resides in the shallows along the marsh grass. If you go if a guide they are going to hand you a spinning rod with a popping cork. The bulls you typically use a swimbait jig andon the smaller one shrimp on a jig. We did that the first day but after a day of lobbing corks we ditched the cork and used either a swimbait or a large beetlespin rig with a swimbait jig attached. did get the flyrod out on the last day but with 2 spin anglers in the boat I was compromised by the distance I could cast. also not having some vibration to the lure decreased it's effectiveness. 
Bull reds it seem like the size the very consistent. You may catch a few larger but the vast majority are cookie cutter. But they are big cookies.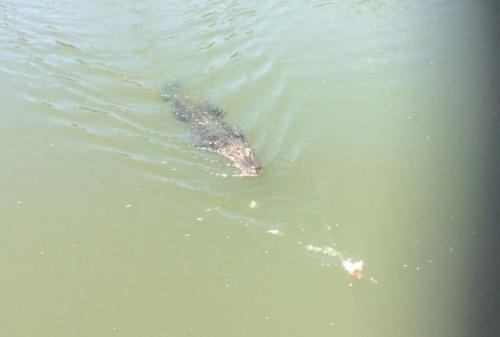 Went into what they call a pond which is a "pond" off of a passage , the guide said tghe gator in ther has become his pet and sure enough a 4 ft gator swam up to the boat and followed us around. Hope he gets smarter before gator season
Not everyone down here is a redfish fisherman, lots of work boats out. Shrimpers,no didn't see Forest or Bubba, crabber and Pogey fisherman. also see helicopters flying the oil rig workers out to sea.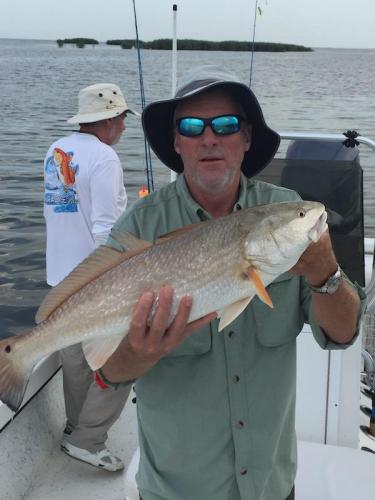 smaller keeper size red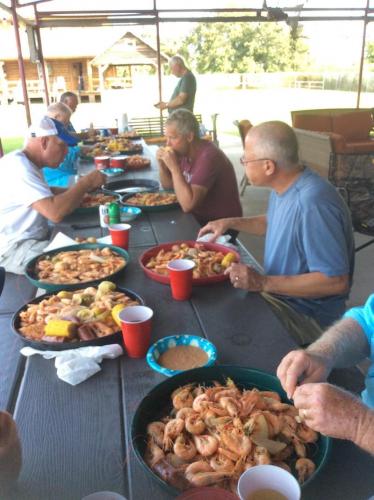 Shrimp boil one night more than we could eat.