Just for general information, Phil and I flew on Alaska Air out of KC.  We chose to fly first class for several reasons, one being the distance of the journey and others being very marginal price difference when you took into account we were taking lots of weighted luggage, especially a gun.  Alaska has very similar baggage restrictions as other airlines with the exception that you may include in your luggage an oversize bag if it is caring sporting gear.  Not overweight, but oversize at no additional charge and this really helped us. Also we were fed and watered in a proper manner and not thrown a sack of chips or peanuts.  Makes a difference when your in the airplane for nearly 8 hrs. 
Nice Breakfast on Alaska Airlines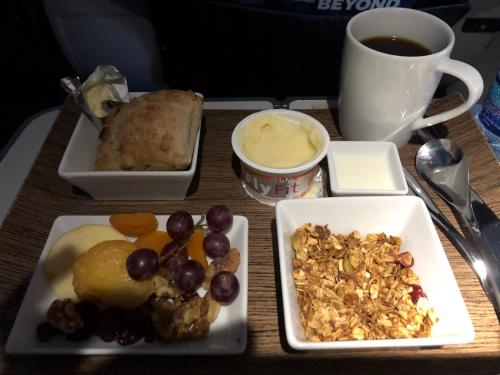 We arrived at about 11:45 in Anchorage and hustled a bit to get a couple of loaves of bread from Great Harvest Bread Co. to take on our float.  Food was going to be provided but I'm glad we took the bread as it really worked out well.  A note on the Mountain House food provided.  It was really good. and a two person portion is really for 3 people.  It is filling and easy to prepare.  I think the only meal we could finish without leftovers was the B&G.  I did take lots of condiments and extras and they highlighted it very well.  I would not be afraid to take Mountain House for a couple of weeks at a time, its that good.  Especially the Biscuits and Gravy, simply outstanding.
We had fish two nights and Phil cooked the fish.  I made most everything else.  He cooked Char fillets on the grill and fried Sheefish.  Both were excellent.  We mostly boiled our drinking water or used water purifying bottles.
Alaskan Adventure Lodge at Sleetmute, formerly know as the Holitna River Lodge is owned by Dan Paull and girlfriend Jami.  It is not an easy place to get to.  Really there are only a couple of bush flight companies flying in there.  We flew with Sound Aviation.  Bill and Beth.  It is quite an operation and they fly non-stop daily to most of the villages in the area, hauling food, sundries and lots of people.  We had a dog on our flight home that had a fish hook in its tongue so they get passengers of all types.  It is the Bush. They fly a 6 passenger retractable sheel Piper and by next year will have a 12 passenger online hopefully
 They seem to always be a bit late and we were late both going and coming.   We really pushed it coming out as we got to our terminal only 25 minutes prior to boarding for our home flight.
SOUND AVIATION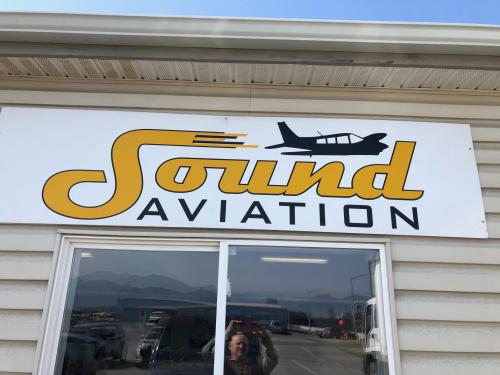 The flight to the Lodge  via Sleetmute was just about as interesting a flight as I have had in Alaska,  with the diversity of geography just outstanding.  The peaks and ruggedness of this area is simply an unforgettable site.
Flight from Anchorage Picture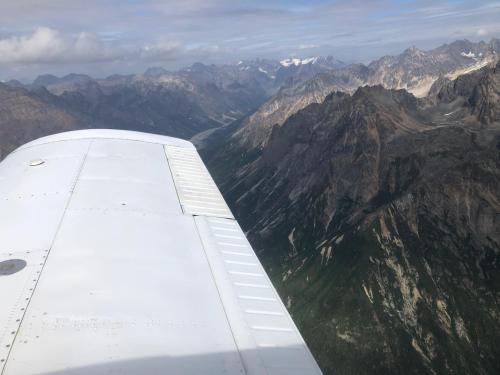 Arrival at the Lodge we were met by Dan, Jami, Terry, and Rodney that is their main staff with also another staff of 3 guides.  We stayed in the Trapper Cabin.  Small useful and to the point.  Table, chairs, wood stove and bunk beds with comforters, pillows and small sheeted beds.
Phil in front of the TRAPPER CABIN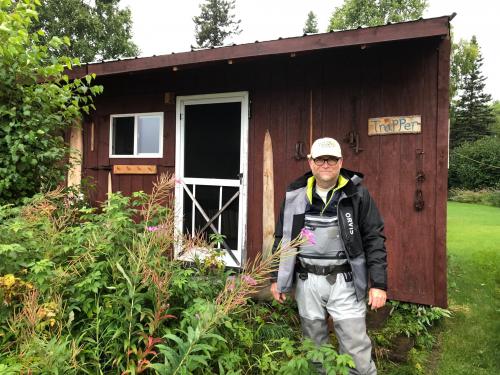 Their Lodge and big garden was just to the right.  We had several meals in their lodge served family style and very good, especially the garden vegies and rasberries deserts fresh from that garden..  Jami has cooked in Alaska camps for several years.  The dining hall is at the rear of the lodge and their kitchen and living quarters are in the front.  They don't seem to mind a bit about coming into their space but we were cautious about it, as we both know how that feels.  They have a community restroom and shower house attached to the back of the lodge with two sinks a shower and potty.  Nice hot running water during generator hours, which I believe are 6 AM to 1 PM and then again from 4 PM to 9 PM.  Everything is on a generator and gas is 5 bucks a gallon.  Not really bad but logistically its hard to get.  It is delivered once a week from an air carrier out of Sleetmute, about 40 miles down stream.
View from the front of the Lodge.  We saw Moose in the river bend and also a pair of Beavers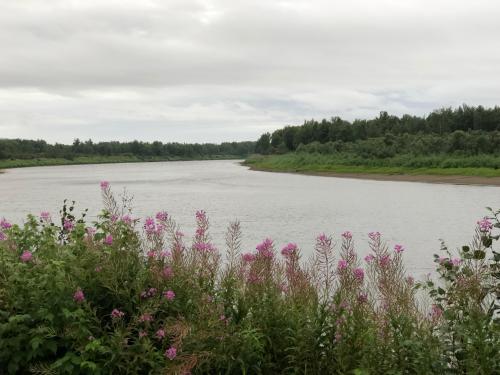 Tuesday morning we packed up our considerable gear along with their camping and food for the several day float and packed the boat.  Rodney their camp handyman and general great guy was going to take is 60 miles up the river by boat and we would float back.  He took us about 55 and Phil saw a gravel bar he liked and I will tell you that one move by Phil really made our trip.  More later.
Boat packed for Holitna River trip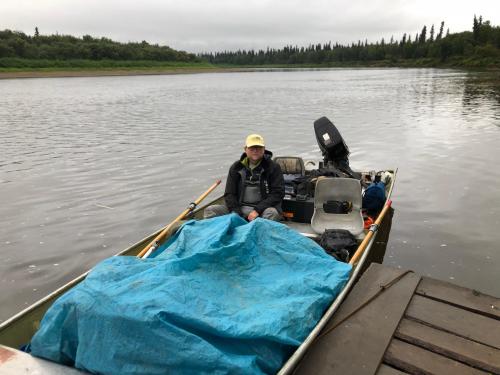 The river is quite large at the lodge and gets larger as it heads for the Kuskokwim   Going up river it starts to change to a more traditional fly fishing wade able type of water and really this is what we found we were looking for.  Where Phil and I camped that first two days was the best water for our type of fly fishing.  This water held huge amounts of spawning chum salmon and grayling and char were feasting on eggs.  Great for beaders,  nymphers and jiggers.  We used a bead a jig, a mop fly and streamers to catch chum,  and silver salmon as well as char and grayling, with the grayling almost at will.  I had 5 on my first 5 casts with a bead and then 5 more in 5 casts with a mop.  Phil could catch them one right after the other on a Lilleys Jig.
Holitna River at our first camp site, traditional fly fishing water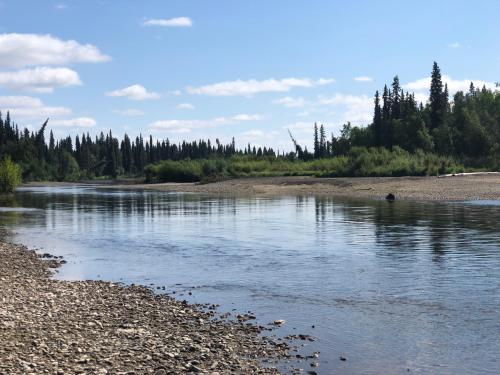 After unloading and sitting up our camp we caught quite a few fish.  The idea was to pack the raft and start down the river on Wednesday morning.  We got up to a flat raft that had a leak  Rodney had pumped it up with an electric pump and left us a hand pump that we later found out had the guts out of it.  We texted the lodge for a new pump or a raft repair and of course they could not arrive until Thursday so we had two nights at the first camp.  That was super as it had the best fishing.  If we were to do it again we would have gone up to the confluence of the river another 35 miles and made that float picking us up just about a day downstream from our first nights camp.  We didn't know this.  I'll talk about the Sheefish in a minute but they really need to accessed if that is your primary fish on the lower river from the lodge.
The second night a two raft party floated by that had started on the upper river and said the grayling and char fishing were outstanding also further up.  We both surmised at the end of the trip that a 5 night float from the confluence and then a two night lodge stay would be the best of both worlds.
Raft set up ready to float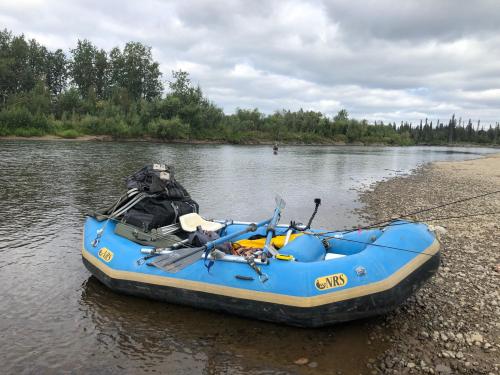 Rodney got us floating by 11:30 on Thursday and that first day was fantastic on the upper river.  Phil was catching char and grayling at will and we found a slack that was totally full of red salmon and silver salmon.  We caught just about all the silvers we wanted to and could have continued to catch and catch but we strolled on.  Great day on the water.
Nice 4 person tent with fly, provided by the lodge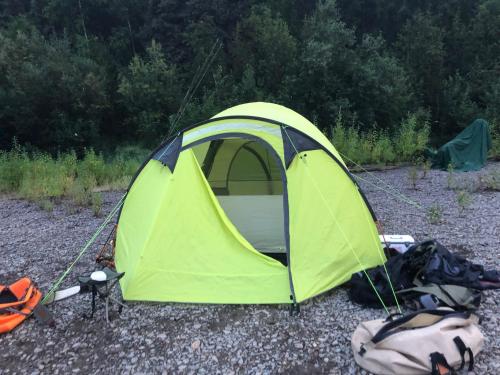 We slept dry and comfortable every night.  Phil had a cot and his pad and I just used my pad and bag.  I never got into the bag as it was quite warm.  I just spread it over me like a down throw.  We also had some fantastic camp fires that Phil built every night that were a pleasure to watch.
Nice Camp Fire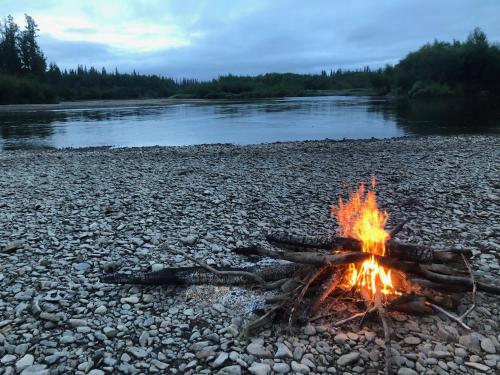 Our camp was elevated on Friday night and we caught several silver salmon and pike.  It was on a beautiful turn in the river and you could see for several miles down stream,.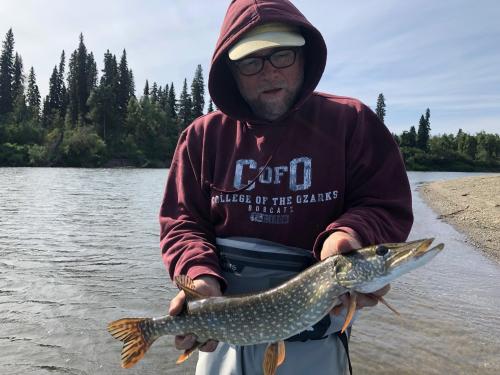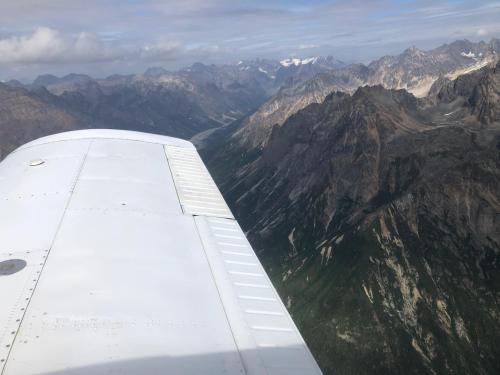 Saturday we got into a more traditional Sheefish location and caught 3 sheefish and several silver salmon.  Mostly caught on a jig in a deeper hole.  Also the NE wind started to blow and we thought we might be in trouble as we were rowing right into the teeth of it.
Sheefish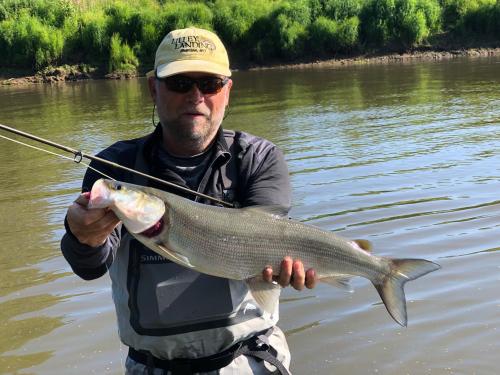 Our Saturday night camp was on a wind swept bank and Phil did a magnificent job of anchoring our tent.  He had to reanchor in the night as the wind was howling.  We had to be picked up on Sunday as it was just to tough going right into that stiff N. wind.
As I stated earlier the reason for the Holitna float was for sheefish.  We wanted the Kobuk for lots more sheefish, but could not make that happen, it is at least a year in advance for that type of float.  The upper Holitna is beautiful and I hope one day to perhaps see the upper river beyond where we started but again there are so many rivers to run and probably not enough years left to make a dent on them.
I will tell you we were both in very good shape for this float and shared completely in the camp work and rowing.  I had been on a 4 month fitness plan getting ready and Phil is most always in good shape.
I was doing 200 setups, 200 15lb. weighted arm curls a complete stretching and loosing program and a 40 minute exercise program on a bike with a lot of cardio prior to the trip. It made a huge difference as we were both very strong rowers and had energy left over at the end of the day.  Phil is a way better lifter of weight and he handled the heavy lifting.
Either Phil or I would be happy to help anyone on this trip so just email us if you want to go.  Also here is the best jig that the lodge used for most everything from salmon the sheefish, I tied this one this morning.   I also got a kick out of one of the guides saying he lover the Whopper Plopper for Pike.  They caught most of their sheefish on the jig, hardware and soft swimbaits like the Keitech.  I think they said they used the BP brand as they were longer lasting.  I also saw bags upon bags of Zoom Flukes lying around.
Jig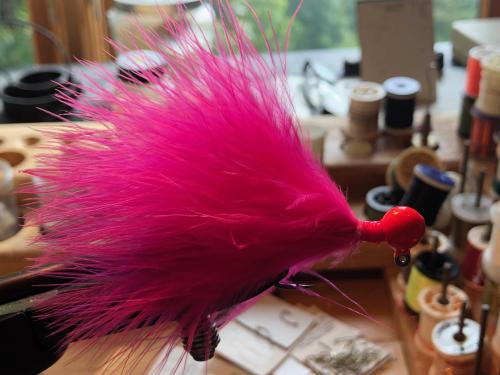 The brand is Jake's Jigs and they are popular through out Alaska and the pacific NW.  I have seen them on Kodiak and at times they use them in the salt for mooching.  I have several I'm going to send up to the Lodge for Dan to tie.
Jake's Jigs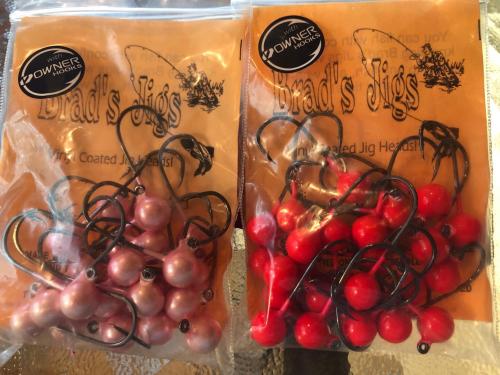 Thanks for watching and a big thanks to Rodney, Terry, Dan, Jami, and Bill and Beth at Sound