What a week makes in time.  This week on Lake Taneycomo, the water is off, no generation.  And even my good friends and fishing guides are asking, "why???".  It's pretty simple really.  Everything downstream is flooded and there's no place to move the water to without adding to the flood waters.
There are 2 reasons why the dam operators would start moving serious water through the White River System:
Rainfall runoff would take all 3 lakes to their flood pool levels or
The flood waters on the White River at Newport, Arkansas drop to safe levels.
Here's some links to sites that are worth watching:
https://www.swl-wc.usace.army.mil/pages/data/tabular/htm/bulsdam.htm
https://www.swl-wc.usace.army.mil/pages/data/tabular/htm/newport.htm
https://www.swl-wc.usace.army.mil/pages/reports/remote/white.htm
This one shows, among other things, the percentage of storage for each lake.  We normally go by lake level (feet) but when managing the lakes, the Corps goes by percentages.
Beaver - 86%
Table Rock - 56%
Bull Shoals - 88%
As you can see, Table Rock Lake has the most room for runoff.  Of course, Taneycomo is just a pass-through lake.
At the Newport (Ar) gage, you can see it is at 24 and flood stage is 26 feet.  Regulating stage is 12 and the 5-year average is 19 feet.  As this drops, Bull Shoals will be allowed to release water from its dam and thus starting the chain reaction at the other days... moving water through the system.  But this won't happen until the White drops out through the Mississippi River.
We're hoping for a dry spell all through the White River Basin.
For now, we're seeing either no generation or just a little generation during the afternoon this week.  This is a nice change of pace for those who like to fish slower water, or those of us who live to fly fish, we can get out and wade.  And yes, fly fishing has been excellent.
I've been boating up to the Narrows and Lookout Island, getting out of the boat and wading those areas and fishing a scud, namely a Perfect Scud we carry in the shop made by Jeremy Hunt.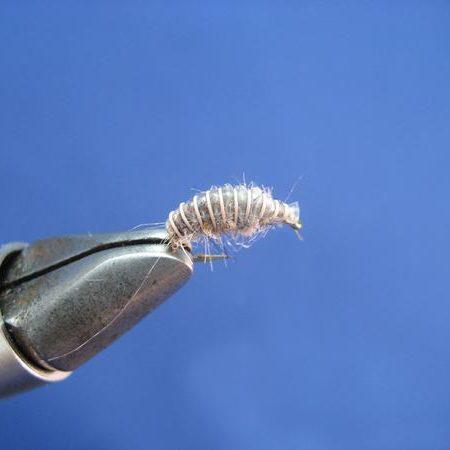 I'm fishing a #14 gray using 4x tippet and a small hard foam indicator about 2 to 4 feet deep.  The fly is weights and I really don't need a split shot, especially if the water isn't running.  There are lots of great quality rainbows at the Narrows right now, as you can see in this video I shot the other day.
Watching this on your phone won't give you the full value of this video.  The best way to get the most out of it is to go home and watch it on a big screen TV and turn off all the lights.  You'll see rainbows beating the gravel for scuds and sow bugs, you'll see them pick them off as they drift down... you'll even see one fish chomp on some rocks and when he spits them out, a small scud comes out of its mouth too.
Yes I did run my scud in front of the camera... that was the point of the video.  And I did catch a couple in the first 3 minutes.  But I got so much more out of just filming the actions of the rainbows as they went about their business rooting out bugs from the moss and gravel.
I did catch a lot of rainbows, no browns, on the #14 Perfect Scud both Monday and Tuesday.  But I think any other scud pattern will work.
In this video, I shot scuds that were trapped in a pool of water.  Note the orange in the body.  I think it wouldn't hurt to tie a little orange in the body of your fly.
I also caught rainbows on a #14 root beer Zebra Midge under an indicator fished any where from 3 to 5 feet deep, 6x tippet.  But I had fun stripping a yellow #14 soft hackle on Monday.  it was pretty windy and the chop on the water was perfect for stripping anything.  I bet a wooly would have worked too.
The slow water has put the kabosh on the big brown trout party.  Blake has been going out and throwing a jerk bait but it isn't as hot as it has been.  Duane's client have been throwing it early with a little success but most of the brown they're seeing are chasing and not hitting and the ones that are hitting and hooked are lost.  The best bite is the first and last 60 minutes of daylight.
The brown jig with an orange head is reportedly one of the best colors this week, along with the black jig.  The trophy area is doing pretty good and so is the Short Creek area.  If the water is off, throw a 1/16th-ounce using either 2- or 4-pound or throw a 1/32nd-ounce jig with 2-pound line.
Night crawlers has been good for some and poo for others.  I personally have a love-hate relationship with them.  They bite them but I can't get a good hook set of them.  But there's been nice trout caught this week so far on them.  Tubby Johnson from Oklahoma caught this nice 22-inch brown on a worm one evening this week fishing with his grandson, Hunter.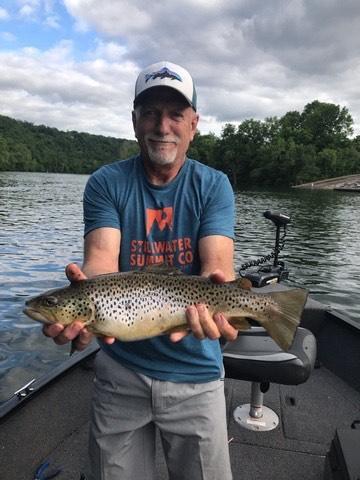 Power Eggs are working when the water is running.  An orange/white combination did well for those drifting from Cooper Creek down to Monkey Island.
The Berkley Pink PowerWorm on a small jig head fished under a float 5 to 6 feet deep down around the bridges and the Branson Landing has been "gold" for most of the fishing guides.  Duane's clients the other day landed 22 "doubles".  That's when both clients have fish on at the same time.  Use 2-pound line for best results but 4-pound is probably ok.