Fished for 4 days and the fishing was steady every day except for Thursday the 22nd.  Here is a quick recap for each day.
Thursday 3/22
Launched at Baxter at 7 and loaded the boat around 3:30.  Fished from Campbell's Point all the way to Mill Creek launch at Kimberling.  Covered a lot of water with little to show for it.  Ended the day only catching 3 with 1 being a keeper Kentucky.  Not really much to say.  We threw cranks, spinnerbaits, a-rigs, and neds to no avail.  Luckily, this was the worst day and it got better from there. 
Friday 3/23
Launched at Moonshine at 7 and fished until around 4 or so.  Fished from the dam almost to Kimberling City.  I think we ended up with 16-18 or so fish and had 6 keepers.  The fish were split pretty evenly between a jerk bait and the a-rig.  The jerkbait fish were all coming from cedar trees on the outside of pockets and cuts.  This is what all the better fish from the weekend came on.  Lost one that would have been around 5lbs on Friday.  Got it almost to the boat and it decided to take a turn into one of the previously mentioned cedars.  Did get the megabass  jerk bait back though.  The a-rig fish were scattered.  Out deep off of points and also caught several casting right up to the bank and slow rolling it back.   Best 5 that made it in the boat would have been around 12 lbs maybe.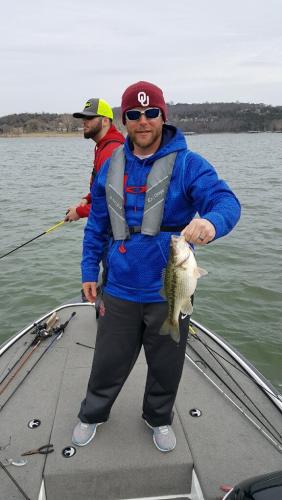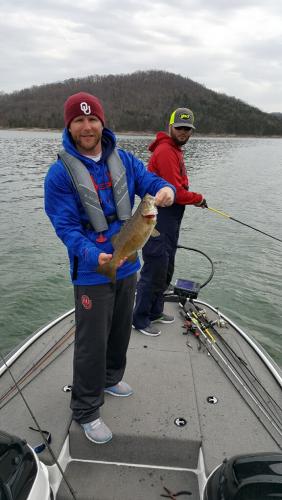 Saturday 3/24
Launched at Moonshine and started the day in Spring branch.  Worked the first couple of points and pockets and had a limited by 8am using both a-rig and jerk bait.  Shortly after 8 we caught our big fish of the weekend.  4.76 largemouth out of a cedar tree on the jerk bait again.  It was good enough to place 3rd for the hourly weigh in and win us our entry fee back.  Fished several pockets around the dam and then back up towards spring branch the rest of the day.  Ended up with 15 fish and had probably 10 keepers.  The bite really died off for us after around 11:45 or so.  Only a couple of fish after that.
Sunday 3/25
Fished same locations as Saturday, but, much slower early on.  Managed only a couple of fish by 10:30 or so.  Switched up to just chucking the a-rig and did manage to start catching some with some consistency.  Mostly smallies.  Ended the day with around 16 or so with 8 keepers.  Of the 8 keeper fish 6 were smallies.  Most of them looked like they were about to pop.  They were all in that 8-10 foot range and were just crushing the a-rig.  Could not get them to hit anything else.  Here are some of the fish from the weekend.  Had pretty good weather, caught some fish, and spent some time on the water with some good friends so it was definitely a successful weekend.