Put in at Bridgeport 10:30 on Wednesday morning.  Cloudy and a little breeze. Water color was fair and 49-50 degrees.
Headed to Flat Creek.  Water was much clearer in Flat and muddy coming out of James but temps were about the same.  There were 3-4 boats below the bridge but saw nothing caught.  They seemed like they were looking for crappie on the flats.  I didn't go above the bridge.
Came back out of Flat and down past the ramp.  First cove on the left is where I've fished alot.  Found a few fish on the livescope out in 24 feet of water but couldn't get them to play.  There was a guide in the middle with spider rods out.  Saw them catch a couple - they left.
Ventured across the main lake to the other side and sought out MDC brush piles.  Found the first one - nothing.  Second was really small but yielded the most fish.  6 big keepers and 6-7 shorts.  24 feet of water on the bottom.  Next one yielded a few shorts - then MDC agents pulled up and checked me.  Kirby and a guy from Barry county.  Last one was on the bluff - big pile.  Caught 2 more nice keepers off that one and a few shorts.  4:15 had to head back.  Could have limited if had more time but 8 is plenty for us.  I think there was 3 females in the bunch.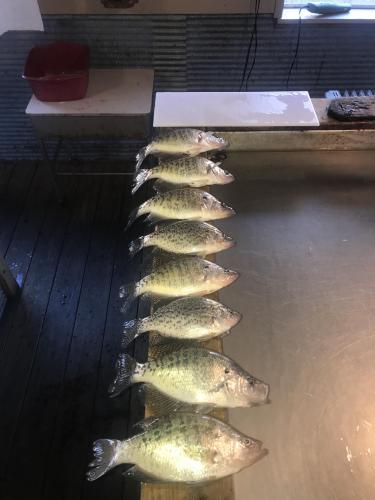 Put in at Cricket at 10 yesterday morning.  Windy.  Water color dingy and 52 most places.  I fished up Yocum, above and below the bridge, up Long and up Cricket.  Brush piles - some had fish but couldn't get them to bite.  Fished the flats.  Saw lots of fish on the livescope but couldn't get anything to bite.  Quite at 4... too tired to fight it anymore.  Others were moving around a lot and not catching that I could see.  Just an off day.
Did meet the new owners at Cricket Creek Marina.  Awesome couple!  And they've done a lot of work/improvements to the facility.  Young family... wish them well!