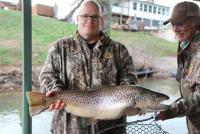 This was a great fish.  My friend and former co-worker from many years ago, Donald (Butta Bean) Whitelaw, and his friend, Todd Murphy, came down from the STL area today for an extended weekend of trout fishing on beautiful Lake Taneycomo.  Donny stopped by the fly shop for some advise and to say hello early this afternoon.  I invited them back for a little fishing when I was done with a project I was working on.  
About 3:30 or 4 in the afternoon, we headed up the lake to the cable at the dam. We did one long drift from the cable down to the narrows. We were all throwing jigs most of the time. Donny kept switching from a jig to a jerk bait and back to a jig again.  3/32 ounce jigs in sculpin and ginger along with grey and white jigs were catching fish. There were a couple of hot spots below the cable to the boat launch that were good. 3 small rainbows were caught across from outlet one.  4-5 more were caught from the lower half of the island across from outlet 2 down to past the tree below the old rebar hole.  
We picked up a couple of fish from the boat ramp down to Trophy Run and then a few more from there down to below Look Out. We hit a slow spot the 1st half of the bluff below Look Out to the Narrows.  The second half of that bluff to the narrows has been a good area for browns for me the last couple of weeks and I was telling Donny and Todd this.  
I kept the boat close to the bluff and we threw as close to the bank as we could get.  Todd caught the first brown and it was about 15 inches.  Donny caught the next and it was a nice male about 17 inches long.  I caught a small rainbow and was visiting with a friend in another boat that was drifting by when Donny said he thought he had a good one.  
It was taking line and running up stream pretty hard so I started chasing it with the trolling motor so Donny could gain some ground on it.  It finally came to the surface and it was a pig!  I had Todd reel in and get the net ready.  She came up and dove down a few more times before gliding head first into the net. This was Donny's largest brown he has ever caught and it was great being a part of and watching it happen.



---