Been going over to Swan the last couple of evenings trying to catch some whites.  Found a few males where the lake meets the creek but that's all.  Wednesday was hot and the whites were starting to dance at dark.  Saw quite a few but few were biting.  They were preoccupied.  Thursday night was colder and we saw few whites, nothing moving.  But we talked to a couple of kids that had been catching them below the dam so we wanted to try it up there.
Got there about 5ish and found where to put in.  There's actually a couple of places off the side road 160-125.  You can see them to the left of Swan Creek - 2 roads taking off and heading down towards the main lake.  Both these places are great to put in and it wasn't too crowded.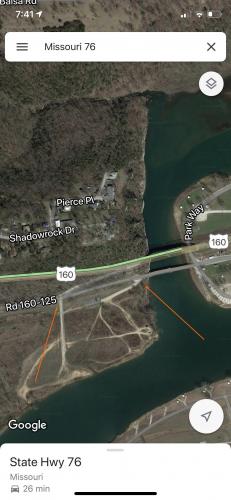 We headed up and found may be 10 boats scattered around, most were drifting in the current and jerking a spoon.  Depth was about 35 feet most places.  We saw one small white caught the whole evening but they had to be doing it because someone was or had caught them that way.  The 2 kids we talked to were tucked up close to the "cable" on the Powersite side throwing into a pocket close to the bank and we saw them catch a few.  We tried over on that bank, saw fish on the Livescope but they were deep and we couldn't get on them.  Even drop a minnow down with no luck.
We worked down that bank to the trees and again saw a few schools of fish but nothing worked.  Threw swimming minnows, blue rebels, marabou jigs and live minnows.
Then I thought, there's a bunch of people along the bank on the Forsyth side.  It was packed over there.  They must be catching some fish.  I know Blake said a friend of his is catching walleye off the bank at night - showed me pics.  Lots of BIG walleye and frequently catching them this week.  That's the only bank fishing anywhere so... we went over and started below the last bank fishermen.
The water even right on the bank was 15 feet deep, dropping to 25-30 pretty quick.  Was saw big schools of shad everywhere, and other schools, huge schools of something else that were too big for shad.  I'm still having trouble distinguishing the size of fish on my Livescope... but Tom hooked up first, and it was a big sow white.
We caught fish for about an hour.  We didn't move too much, sitting out from the bank about 80 feet and casting into the bank.  Using 1/4 oz heads and blue/white swimming minnows we caught about 15 whites from 2 to 3 pounds, one big crappie, a smallmouth and 2 BIG drums.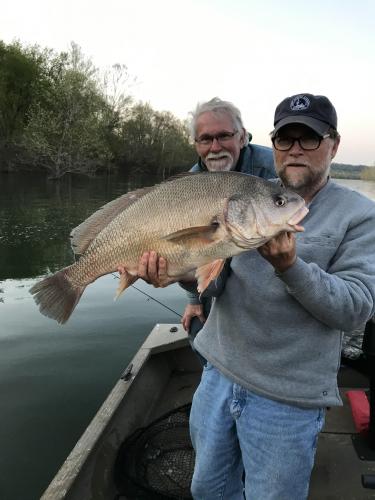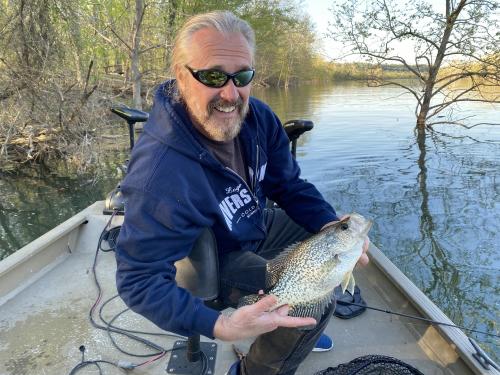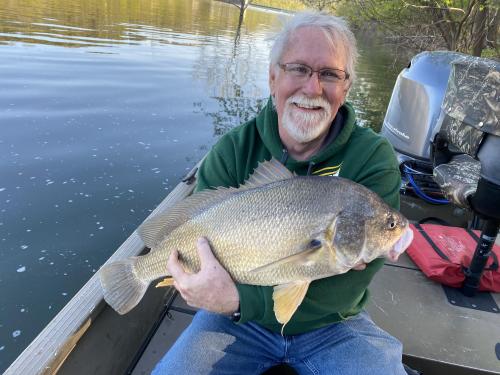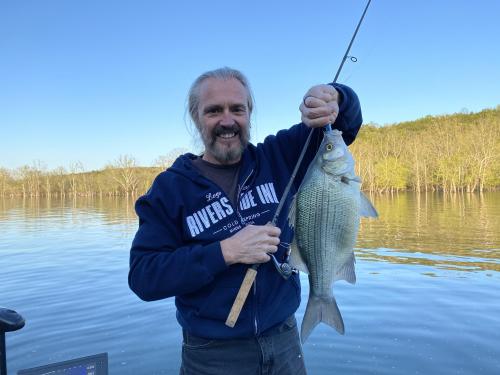 I haven't cleaned the whites yet but some seemed to be partially spawned out.  WT was 49.  I don't know where these fish would spawn or when seeing the water is so cold.
One thing, when Chuck hooked and was fighting his second and biggest drum, I put the Livescope on it.  We could see it fighting on the bottom in 27 feet of water and I was amazed how small it looked.  We were seeing what looked like spoonbill swimming around on the PS side of the lake... I assume there are a few in BS.  If not, catfish?  They were huge, much bigger and longer than the drum looked.
Hope someone reads this and goes over... that was some great fishing!!