Hot sunny and calm all week.  Pretty miserable camping at Cedar Ridge but I thought 'buck up and make it happen!'  My original intent was to get into the walleye, but it didn't turn out that way.  After fishing Canada I stuck to some of those methods in spite of what I read here.  Jigging raps and deep trolling for example.  Zilch, except I got into the crappie pretty good and thought that was worth relating.  For the most part I found them in 22-26 fow along more shallow sloping banks.  There were not everywhere of course; just had to troll along and watch the depth finder; I have no idea what kind of fish it shows but if I saw a lot of activity at those depths there were often crappie there.  I was moving  between 1.6 and 2.0 mph as I used my 70 hp main motor.  I haven't trolled much with my electric as the batteries need to last me for several days as I have no plug in.  Fish were mostly 10-13" with some smaller ones.  I was running 4 lines, lures running probably 15 feet deep to right down on the bottom.  I know I'm on the bottom because of the 8oz snap weights that get the lure there no problem.  Here's some nice ones.  One morning I got 12 for maybe an hour and a half trolling.  One time I hit a school and three rods popped.  Pulling that many lines can be a potential disaster, but there were no snags in the area for the most part.   I was most successful fishing up to maybe 10:30 or 11 a.m.  They might bite anytime you find them but by then it was a furnace in the boat.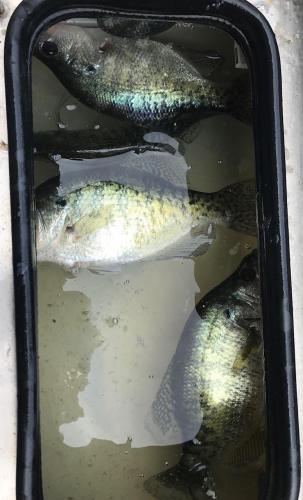 On each corner I run two rods; the one on the outside with a Dipsy Diver tilted outward.  The one on back with a snap weight, or an in line weight.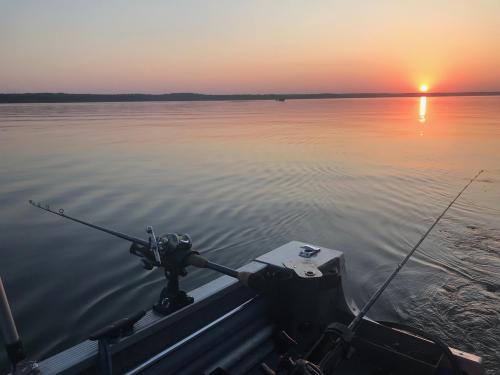 Here's the most successful lures.  They are all pretty small of course.  That's a #4 Mepps spinner I put on a bottom line; I could feel it being hit but not much hooked up; finally got a big 13" on it.  Was just curious what they would hit.  If you haven't used a snap weight; that red clip attaches to the line anywhere you like, so you can have a long drop back from the weight; best done with 2 in the boat as the other person can clip off the weight as you wind the fish in.  From the snap weight you can have any length drop line to the sinker; I usually go around 20".  The other weight is an in line; I tie that into the line about 5 feet above a lure and just run it out the back.  I'll pick that rod up and sweep it at times to give more action.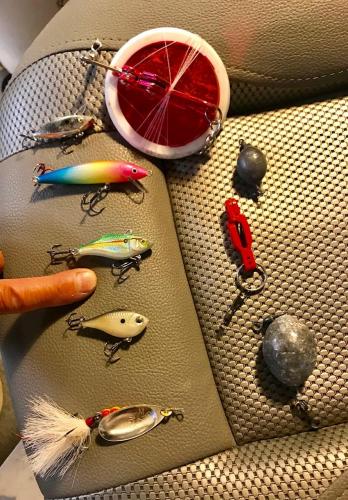 One thing with the Dipsy or the weights; rod holders are essential.  Too tiring to hold that much resistance.
Now you would think dragging this stuff all over would result in some accidental walleyes, right?  Nope; not a one in a few days.  So I'm really grateful that Walleyedmike posted his success story.  And it's not like I hadn't been running a bottom bouncer with a crawler during all this time; I tried that for quite a while, but not in the right places.  After WM's posted I tried some bottom bouncing on big flat areas and had some success.  Just had a day left but immediate;y caught an 18", and lost two nice ones at the boat.  This morning I had a real bruiser on but it shook lose.  I know some folks have been successful fishing points with jigs and crawlers, but I struggled there.  Lots of fun no matter!!