Modifying Scadden Frame To A Transom And Be Able To Change Back
---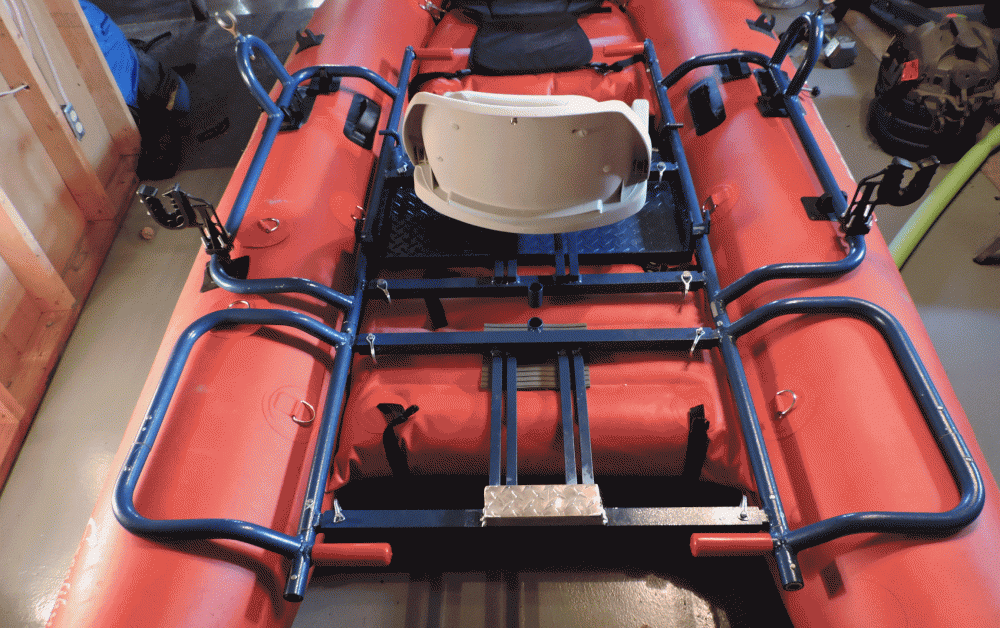 Transom design for my Scadden Excalibur XX with the two person LaserX frame. I didn't want to use the regular cargo plate that comes with the frame due to it not being wide enough or strong enough to handle my 5hp lehre propane motor. I decided to Mod the second person frame section and make it modular take down configuration. This way I could make a transom that was completely attached to the first frame when I want to run this inflatable in zodiac orientation and then reassemble back to the two person when I want to run with another person.
To start: I ordered 4  8" pieces of aluminum tubing from North Fork Outdoors that they use to connect their sections, so I could pin my cuts back together (it turns out I had to turn down the 4 sections (outer most parts of frame) as they were a different thickness tubing). luckily the local weld shop had some tubing they could turn down for me.
I purchased 16 tab locks to hold the sections in place (5/8ths I believe).
next I marked lines across the top of the tubing where I was going to make my cuts so i had registration marks to line back up after cutting.
After cutting the frame pieces apart I drilled each section (starting with the small foot piece) and worked my way from the final transom assembly back out to the two person original frame. This was pretty tricky. The important thing to remember was drill and pin one hole at a time and think about what you are doing before any drill holes are made otherwise you could end up with pins and tab locks that dont match up. Fortunately it worked out great and no mis matches.
I then had a block of aluminum welded to the seat section, which I turned upside down so I had room to screw tighten the motor and make sure the new transom block was not too high for my short shaft motor.