When we were at the Johnson Shut-ins last week, I saw several different species of fish that I would love to catch including several greenside darters and a couple of logperch. The logperch is one of Missouri's largest darter species and one species that I had not yet seen let alone had the opportunity to catch. Also this area also has the brook darter. I didn't get to fish the last time down, so I packed up my daughter and we went yesterday as sort of a pre-Father's day event. BilletHead has started discussions on several occasions about what would you do for a single fish, drive 40 minutes, 2 hours, 4 hours, ... I have always felt that it could be worth it for the experience. With that in mind we set off at 5:45 am to the Black river to fish below the shut-ins (ended up as a 420 mile round trip) for the hope of catching a brook darter, greenside darter, and/or a logperch.
Knowing that you cannot fish in the designated swim areas I had a plan to pack in our fishing gear and hike down river. We ended up on a trail that headed up the hills above the shut-ins. Finally we found a side trail that headed back down towards the river. We did see a couple of lizards along the way including this male fence lizard. You can just make out his blue patch of breeding coloration on his side. Believe it or not, Livie was not able to catch this guy. Don't worry she caught a few other things with her hands (more on them later).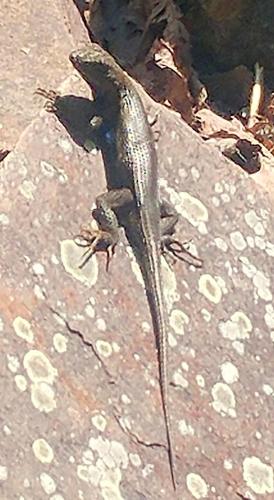 After an invigorating hike with a couple of white knuckle slides, we made it to the river. Saw lots of fish including many darters right off the bat. Could be a good day!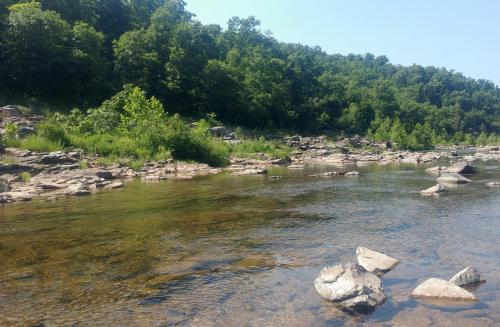 We got the rods rigged up and baited (using in nightcrawler pieces instead of redworms because that's what we had at home). Of course Livie caught a small green sufish right off - with her HANDS
!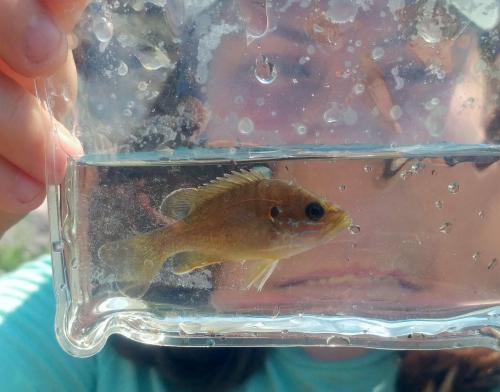 Then she caught one with her rod.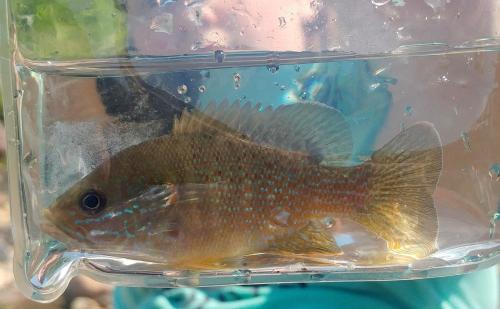 While she was catching sunfish, I focused on trying after the micros around me. I caught a few bleeding shiners right off the bat before I targeted the darters around us.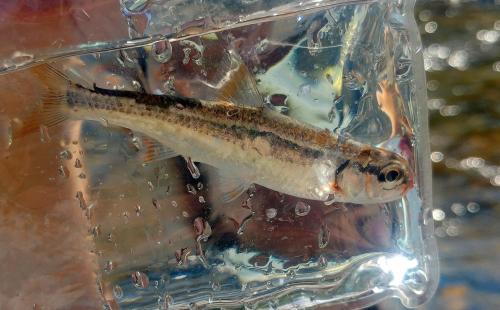 We each targeted the more colorful darters, which were likely to be the males. Based upon their size, I was fairly certain that we had caught brook darters. It was not until I uploaded the photos that it became apparent that we had in fact caught small rainbow darters. Still nice looking fish, but somewhat disappointed because If I had looked closer at them we could have kept fishing for the brooks.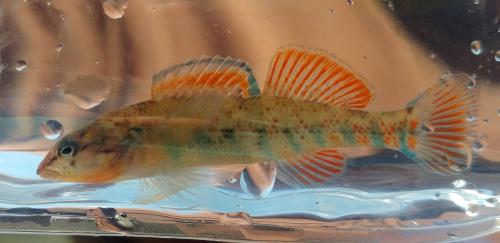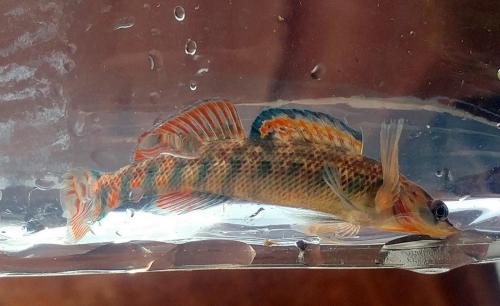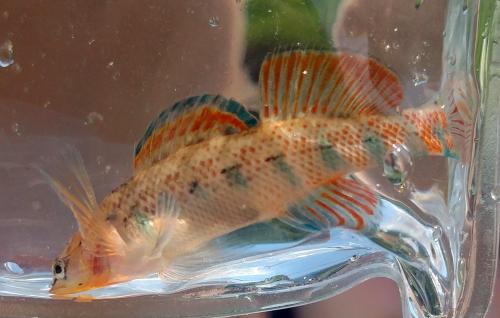 After catching these guys, I focused on trying to find and catch some other darters. Livie was excited catching a bunch of longear sunfish which is always the case when you catch the first few
.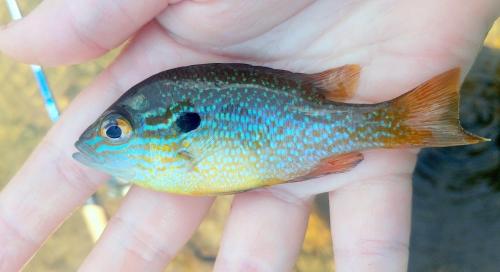 I was even happy to catch a few as a break from trying not to fall on the slick rocks (Note use felts soled boots if you have them!) and hunting for some new species. I found a spot that had a few greenside darters. Livie was first up to try for these guys. This is a species that can be difficult to get on a bait or to catch once they do go after your bait. Livie suffered through both scenarios with one of two fish just being spooked by the bait or not being able to get a hook set on the fish if it did bite. She got very frustrated and gave me the rod. I had a bit better success in terms of getting fish interested in the baits, but never got one hooked. I lifted a few out of the water and one actually flew out of the water and almost landed in the catch bag Livie was holding. Both of us were frustrated and moved on. Didn't get another chance at any greenside darters. Another frustration was trying to hook the nightcrawler pieces onto the small hooks, The worm pieces were a bit large and did not stay on the hooks very well.
Livie did get a nice hand caught bullfrog tadpole as a consolation prize.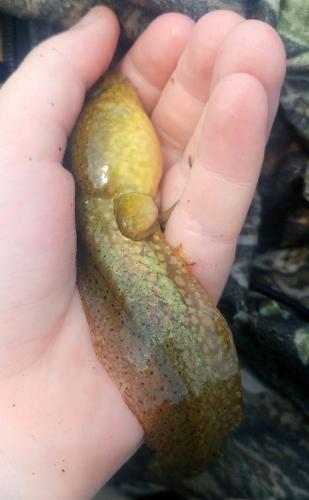 I chased studfish and blackstripe topminnows as I continued downstream, but either spooked them or could not get them hooked. I came up to a large deeper pool. I caught sight of a large striped darter, the first logperch sighting!! I just had a topminnow strip my bait and had to call Livie to head back down to me with the bait and the rest of our gear. I spooked the first one that I tried to get on my bait. I didn't see another one for 5 or 10 mins. Then there were two in a spot about 20 feet from me. I snuck up to them and spooked them again. This time they came back quickly to the same spot. I dropped my bait and got bit as soon as it hit the water, it was a longear sunfish, then another, and another. I started seeing more logperch, but every one of them seemed to be surrounded by two or more sunfish. I ended up putting on another sinker to get the bait quickly through the gauntlet of sunfish down to the logperch. Once the bait got down to the darters, they would go after it or the sinkers or the bait or sinkers.... Or another sunfish! Finally the cry of "Get the bag.. Get the bag!" rang out and the first logperch of the day was in the bag.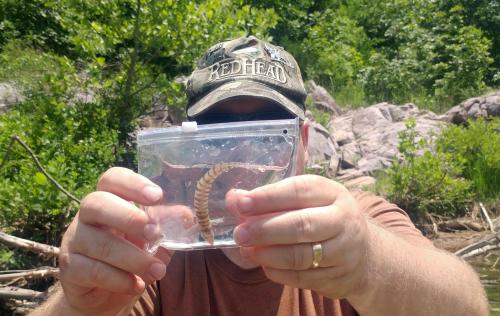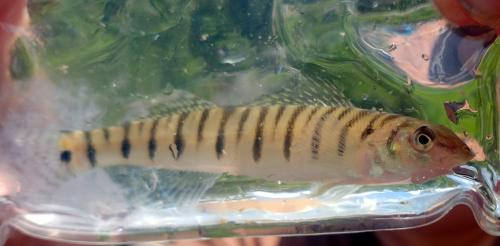 Livie was up next and she had much the same experience with about 15 to 20 sunfish caught before she caught her logperch near this brush.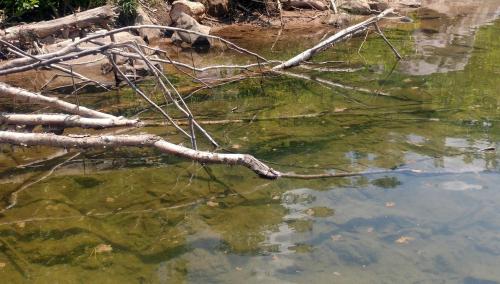 Unfortunately it did not get into the bag for a photo. She was heartbroken and spent another 20 plus minutes trying for another one only to catch at least another 7 or 8 sunfish. Severely dehydrated we left and hiked back to the car.
We got dinner at Kettlehut smokehouse in Festus MO and split a piece of their lemon cheesecake pie!