Where to go , what to do?
    Really wanted to make the run to the Spring in Oklahoma for whites but with the wind forecast Curtice and the BilletHead met at the Aldrich ramp and jetted up the river looking for fish. Higher than the last time I was up there. We shot up to a couple of spots for a try. Anchored near a cut bank with some slower water. We rigged up the fly rods. Curt tied on a purple clouser and I a good old pink over white clouser. First cast this is what I got

,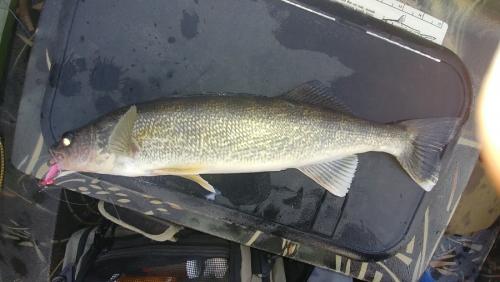 18 incher and not too shabby I thought. We casted some more and about ten casts later I had another walleye but came off at the surface. A few casts later I had another,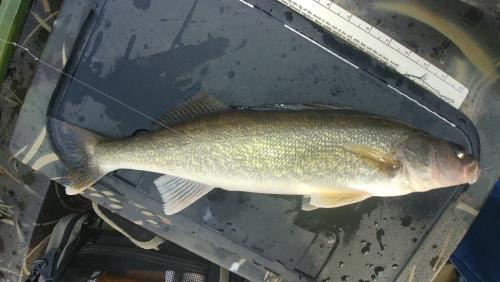 19.5 inches

. Funny how they bit. I would cast out and let the clouser swing. Strip back slowly. When I thought I had enough and wanted in I would strip fast to get line ready for another cast. This is when I got my hits stripping fast.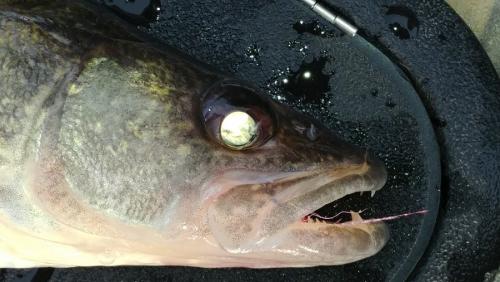 We worked over several places. Whites were pretty scarce. I landed one and Curt two or three. It wouldn't be much of a trip if I did not catch something weird,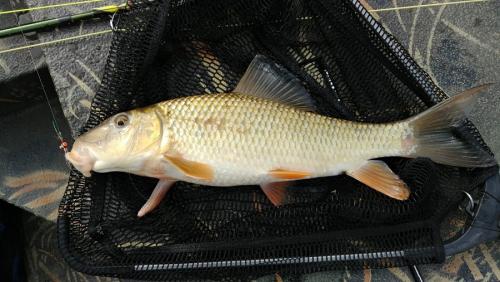 Seen several other fishermen and three of those guys were fellow fly fisher folks. No one was tearing them up. Starting water temps 49 to 50 degrees. Did hit one stretch of 54 on way back to ramp. Most of the day it averaged 52 degrees.   A nice day out. Wind was strange in places. We knew it was South West but in places it was blowing up river seeming to come from the North.  Air temp started in the fifties and finished out close to seventy-five. Trying to decide if I should do this trip again in the AM? Also Trolling motor acting strange, got a spare that is working,
    BilletHead