After a rain over the weekend, we're seeing an increase of flow from Table Rock here on Lake Taneycomo.  The release rate was a half unit or about 3,400 cubic feet per second, but it has increased to two full units at 7,000 c.f.s. flow.  Beaver Lake rose about a foot while Table Rock only rose about nine inches.
We are looking at a pretty big rain moving through today and Thursday  with a possible rain amount of three to four inches over the whole watershed.  That would add as much as three feet of rise to both lakes above us and increase our flow to four full turbines for a couple of weeks.  We will have to see how close the forecast is for the White River Watershed. 
We have to remind ourselves that it is spring time and rains like this are common.  I think we've been fortunate so far, not getting these rain events that just sit on us for days.  We are thankful.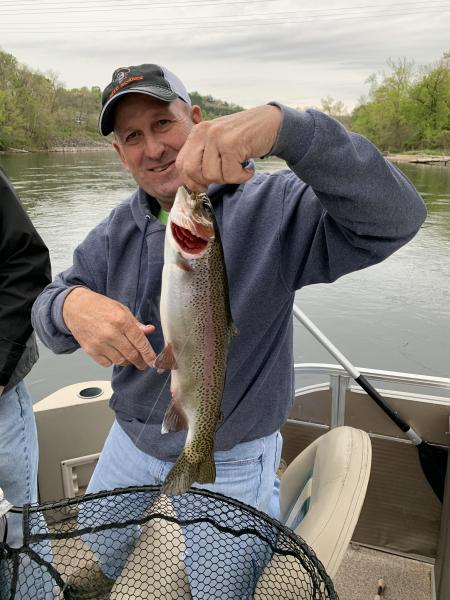 Trout fishing has stayed pretty consistent the last couple of weeks with a lot of rainbows in the upper lake right now.  We've seen lots of what we call  stocker rainbow that average about 12 inches long.  You can distinguish a stocker from a rainbow that's been in the lake for some time by its dull coloring.  Rainbows that have been in the lake are clear, colorful and usually pretty plump.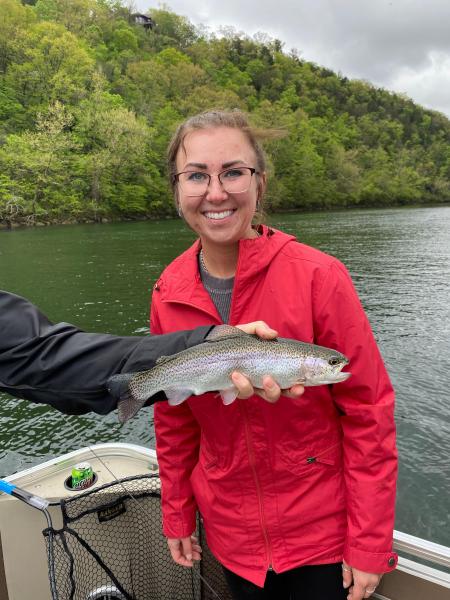 We're still finding these stockers in the creeks in downtown Branson.  Turkey Creek has been the hottest with Coon and Roark  close behind.  Fish something, almost anything under a float about five-feet deep and the trout will nab it.  The Berkley pink worm is good, but so is a Mega Worm in white or pink.  Use a small jig head and put a piece of night crawler on it, or a Gulp egg.  Four-pound line is fine as far as line but two-pound is better, especially if the creek gets really clear.
Yesterday's One Cast features Blake concentrating on the Cooper Creek flats.  They found quite a few hungry trout.
The moss is getting pretty thick on the bottom of the lake and it's a pain when trying to drift something like Power Bait or night crawlers.  I took out some friends from Mount Valley, Kansas over the weekend and we drifted night crawlers from the mouth of Fall Creek down to our place, Lilleys' Landing.  I rigged their lines with 4-pound line, a #8 short shank bronze hook and a small split shot about 24 inches above the hook.  The trick was using a size B shot which is pretty light, but heavy enough to get the worm to the bottom.  Then if we didn't get bit, we'd reel in and check for moss after a couple of minutes.  It didn't take long for the moss to accumulate.  We caught plenty of rainbows.  The best stretch though was from Trout Hollow down to our dock.
Captain Bill Babler reported catching some real nice rainbows using a Mop Fly (sometimes called a Mega Fly) from Lookout to the Narrows.  He's using it under an indicator 6 feet deep.  The best color is white but he said pink is working too.  For line or tippet he's using 5x or 4-pound line.