The weatherman has been busy updating his forecast for our area.  A few days ago it looked like rain every day this week, with an expected total of more than four inches, which would have sent our lakes soaring upwards and opened the flood gates again.  But it's changed -- several times.  Most of the rain stopped south of us and moved to the east, although Texas and Oklahoma are expected to be hammered.
Beaver Lake is at 1128.6 feet right now and holding.  Officials are running water to the tune of about 3,000 cubic feet per second.  Table Rock Lake's level has dropped to 917.6 feet  Officials there are running about 9,600 c.f.s., and that's keeping the lake steady, barring any more rain.
My guess is that we'll see this flow for at least a week or more, especially seeing some rain in the forecast.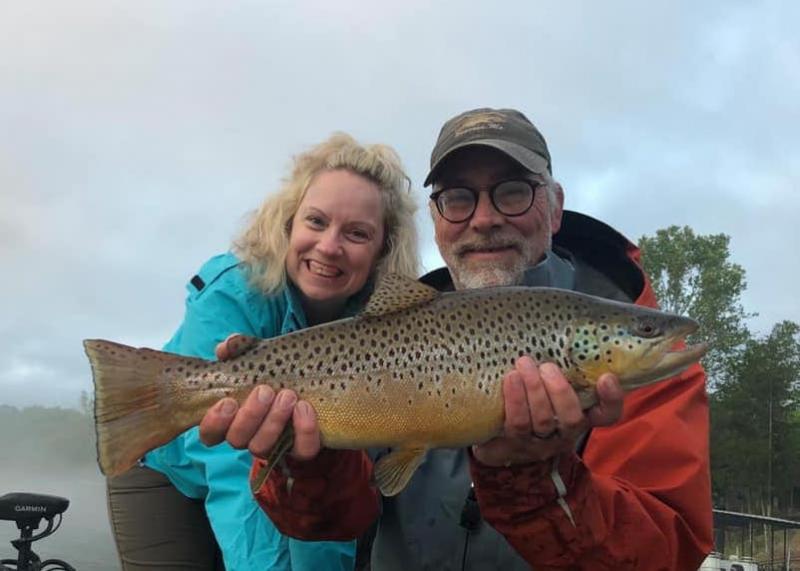 The water temperature coming from Table Rock is just under 45 degrees.  Dam operators ran the spill gates for almost a month, which dumped a fair amount of trout delicacies into our lake  -- threadfin shad and other small fry.  So fishing with most anything white from the cable below the dam down to the third outlet has netted some great rainbows and a few browns, along with a bass or walleye every once in a while.
Right now, scuds rule.  Scuds are the nickname for our freshwater shrimp that live in the lake.  The scud fly is a hook with fur tied on it, basically, and yes another name for the fly is a "fur bug" or "furbee." We're drifting them on the bottom using a little weight or floating them under a float close to the bottom.  We're using sizes 8 to size 10 in gray mostly but rainbow, olive and brown are working well, too.  Four-pound line is fine, and the weight size is dictated mostly by location on the lake -- the farther up on the lake, the faster the current is.  You need more weight in faster current but less as you drift away from the dam in slower current.
As generation slows, and it will, you'll need to switch to less weight, but more importantly, you'll need to use a smaller scud.  The trout tend to get educated and start passing on the bigger scuds,
A lot of our guides are using a double fly rig with an egg fly and a scud tied about 24 inches apart.  You can also try a San Juan Worm instead of the egg.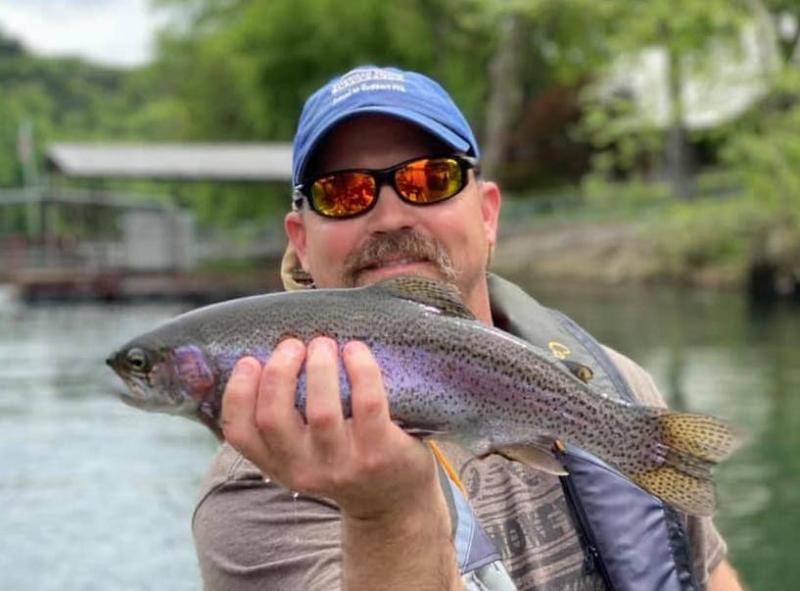 This technique has worked from the dam down well past Trout Hollow Resort.  I caught some rainbows yesterday below Trout Hollow on a jig, but they were fat with scuds.
I have had limited success lately throwing sculpin 1/16th-ounce jigs on two-pound line  above and below Fall Creek.  I'm working the middle of the lake and throwing mainly to the shallow side, working the jig pretty slowly.  I'm actually catching quality rainbows below Fall Creek, almost as good as those in the trophy area.
Fishing off our dock is fair.  The water is still running pretty fast, and it's difficult to keep the bait down on the bottom, but people are catching their limits, it just takes a while.  Salmon eggs are working pretty well along with night crawlers.