Generation on Lake Taneycomo continues a little  9 - 11 a.m. and then again from 6-8 p.m daily.  At the most operators are running about 7,000 cubic feet of water per second.  The colder days and nights, along with some wind, has dropped Table Rock's surface temperature but not produced a massive mixture yet.  We're seeing some turbidity in our water and an improvement in the dissolved oxygen content -- great for fishing -- but  a lot more cold weather is needed to  "flip" Table Rock.  That boost to the water quality  will happen but probably not until after Thanksgiving.
Overall fishing remains fair for most anglers with low numbers but good quality fish caught.  A good number of trophy rainbows and a few browns have continued to be registered for our catch-and-release program.  A lot of these trout have been caught close to the dam when the water is off, mainly on flies like scuds and sculpins.
We're still catching fish on some tried-and-true techniques we've  reported -- night crawlers, marabou jigs, Berkley PowerBait, Berkley's Pink Worm and a variety of flies.
We've also seen quite a few bigger trout caught in areas other than up close to the trophy area.  I'm referring to areas like the Cooper Creek flats, around the bridges and at the Branson Landing.  These trophies are being caught on marabou jigs (mainly cast or trolled), trolling hard baits like Bombers and Rouges or suspending the Berkley Pink Worm under a float.
This is a pattern we've seen in the past where bigger rainbows and browns move out of the upper end of the lake after the fall and winter spawning runs.  These lunkers are looking for bigger prey like shad, sculpins and smaller rainbow trout.
We're still seeing a good number of really small rainbows, mainly above Fall Creek.  This week I've already caught several in the four-inch range, sporting par marks and perfect fins.  We cite these as evidence of at least one year class of natural rainbows spawned in our feeder creeks.  While seeing them in our fishery is cool enough, you have to know that these trout are the perfect size for bigger rainbows and browns to chase -- another reason to add jerk baits to your arsenal.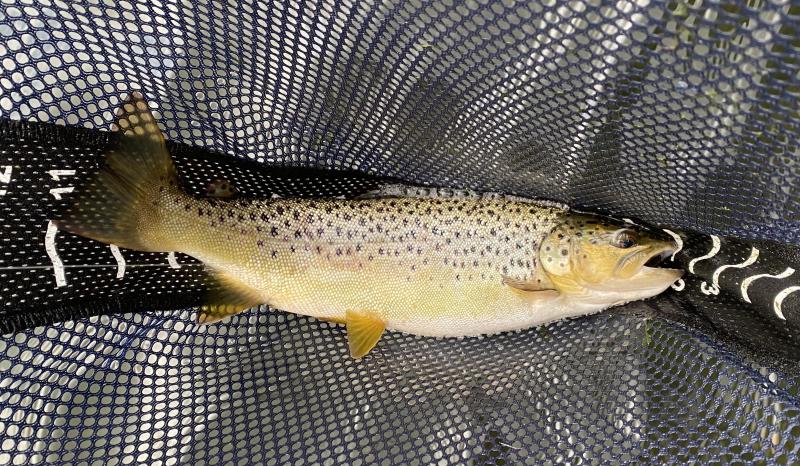 Have you noticed the lake level variation on our lake?  Even after living on the lake for almost 40 years, I'm confused by how our lake level can vary by as much as two feet or more on any day.  Or course, location on the lake makes a huge difference.  For example,  in the Branson Landing area, you'll not witness much of a difference because of the depth and width of the lake.  But if you're at the Narrows, where the lake is fairly wide but very shallow, you'll see big differences in depth.
Tuesday the gravel bars just off the channel can be out of the water as much as 12 inches although normally it's only about four inches above the surface.  Tuesday it was about six inches under water which is really high.  I think there's several reason why this occurs.
The most obvious reason is the operation at Powersite Dam, the dam that holds back water at the lower end of Lake Taneycomo.  Most of the dam is a spillway while the north side houses electric generating turbines.  There are two ways water passes Powersite -- over the spillway and through the turbines.  One is based on natural gravity and the other by pulling water through the turbine system.  The dam operators can draw Taneycomo down below the natural spillway level but at the same time  leave the level at the top of the spillway dam.
I also think wind plays a factor in at least the upper lake's water level.  A good stiff south wind does hold back water that would normally move north towards Powersite.
I've witnessed a pattern lately between higher lake levels above the Narrows and how trout, mainly rainbows, move up and feed on the shallow flats.  If the lake level is high, as it was on Tuesday, trout are not feeding on these flats as actively as when the water was lower.  These trout are feeding on bugs that live in the gravel (sow bugs, scuds, midge larva, plankton and snails).  They are very prolific in the areas that are under water all the time but don't move up into areas that are dry most of the time.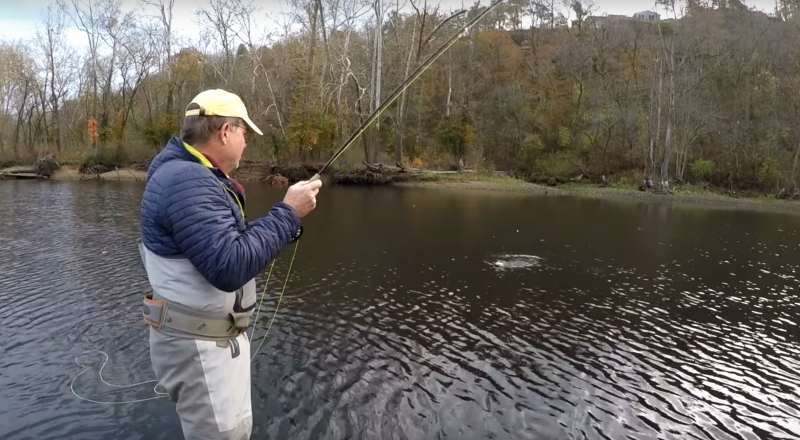 When the lake level is normal or low, these bugs are up in really shallow water, as little as several inches.  Our trout will move up and nose around in the gravel, literally kicking the gravel to dislodge these bugs.  I've seen them in groups working an area together.  What bugs one kicks up, the trout behind it eats.    It's fascinating to watch.
So Tuesday, when the lake level was high, there were no fish in shallow water feeding.  They were out away from the edges in deeper, 18-to 30-inch water feeding on bugs.
The areas where this occurs is on the inside bends, opposite the bluff bank.  Of course,  from the dam down to Lookout both sides have shallow banks.  From Lookout down to the Narrows, which is over a mile long, there's a bluff and a shallow side.  Below the Narrows you'll find the east side is shallow along what we call Eagle Island, across from the rocked bank.  Then on down from Fall Creek, the bluff is back on the west side, and the east side is the shallow flat.  This continues down to the Riverpoint Estate's boat ramp.  Below the ramp, the lake deepens to the points where there's really no shallow edges that work.
We've been targeting these shallow flats with #14 and #16 scuds under a small indicator.  I'm using 6x fluorocarbon tippet.  Good colors have been tan, brown and light gray.  I've moved towards using only one fly instead of two simply because I tire of untangling and retying the rig.  Of course, if the lake level is high, I make adjustments and fish out where I see them feeding, moving the fly deeper to target those fish.  I used to fish the bug about one and a half times the depth of the water, but I've changed that configuration to set the depth just a little deeper than the trout.  If I'm fishing to trout that are 24-inches deep, I set the float at 30 inches, not 36.  This helps keep the fly free from algae that grows on the rocks.
I shot a video a couple of years ago of rainbows eating bugs off the bottom.  Pretty cool to watch them target food, actually eating algae and rocks, spitting them out and swallowing the bugs.  When they hit the bottom it makes an impressive noise -- they don't mess around.
This is what we'd see if looking out on the flats today.
This is perfect jig and float conditions, as long as you can find a chop on the surface that is.  Find that chop and fish a small, < 1/80-ounce jig under a float at least 4 feet deep.  I like brown or scuplin with an orange head.  I'm using 6x tippet or 2-pound line.
I've visited with anglers who are throwing spoons and doing pretty good.  Stay with smaller spoons -- 1/6-ounce is a good spoon.