Generation has been almost exactly the same every day since my last report two weeks ago.  There has been no generation in the morning, up to about 2 p.m., then the current builds to almost four full units for three to five  hours. It has gradually been slowed to zero generation which then lasts through the night.  Sundays is the only variation, when two units are run  instead of four.  Water temperature is holding at 48 degrees and becoming very clear.  Duane Doty spotted a sculpin on the bottom of the lake in 10 feet of water from our dock this morning.
There has been high, (hot) sun, no wind, and now clear water.  Those are tough fishing conditions on any body of water.  So it goes without saying that early in the morning is the best time to fish.  It's getting light at 5 a.m. now and the water in front of our dock starts to see sunlight by 7:30 a.m.  It's not that you can't catch fish once the sun gets up, but it does get tougher.
For instance, friend Coy Howry and hit the lake Friday morning at 8:30 a.m.  We started at the dredge spot up lake from the resort and worked our way up.  We were throwing 1/16th-ounce jigs with two-pound line, sculpin/ginger, white and brown colors.  I caught one pretty quickly, then nothing for a long time.  An hour later we were up past the old Riverlake dock when the breeze picked up and a chop on the surface of the water appeared.  We immediately started catching rainbows and netted our joint eight-trout limit in less than 10 minutes.  Yes, a chop on the surface makes a huge difference.  
Look for broken lake surface area!!  See it, go fish it!!
As I mentioned, the sculpin/ginger continues to be one of the best jig colors we're using, whether it's 1/32nd ounce or 1/8th ounce.  White is still okay but seems to be dropping in the popularity poll.  Under a float, the brown, sculpin or sculpin/ginger or peach with an orange head is best, 1/100th ounce.  But use two-pound line for sure.  If the water is off, I'd use two-pound line regardless of whether you just throw a jig or use the jig-and-float .  Our water is too clear for four-pound now.  I use Trilene XL clear.
No generation:  Floating a night crawler has been much better than any Powerbait.  Use a #8 short shanked bronze hook. Hook the night crawler through the ring, pinch off the tail half and inject air in the head section.  Make sure it floats.  Your weight should be about 18 inches from the hook.  If the water is running, no air needed in the worm.
But if you're going to use Powerbait, orange and yellow are working the best.  Again, use two-pound line or add a short section of two-pound line to the end of you line.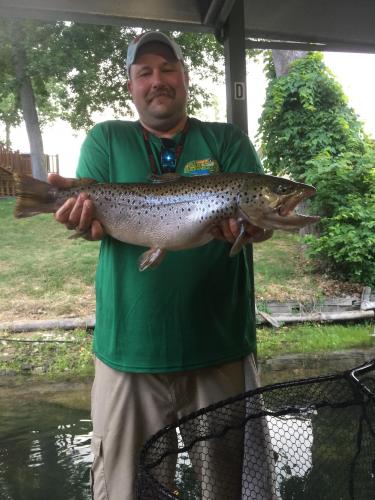 Jeffrey Steven and his buddy Jeff Trares were throwing jerk baits above the dock up by the dredge yesterday evening and almost at the same time they caught two nice browns.  Steven's measured 23.5 x 15.5, 8 pounds and Trare's was 19.5 inches, 4.5 pounds.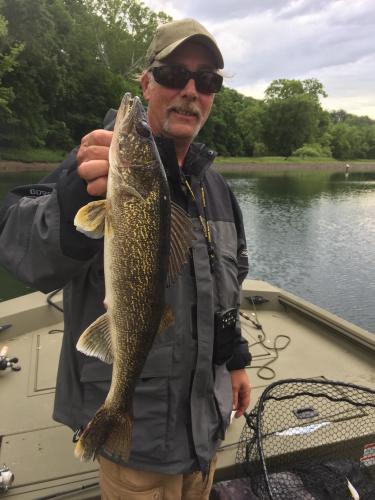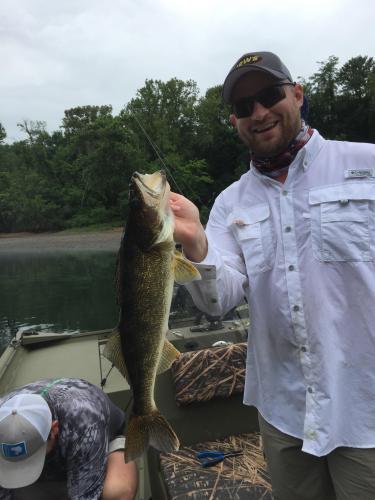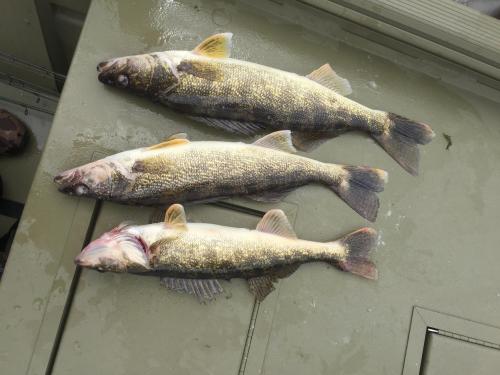 Duane took some guys fishing Sunday up by the dam and caught these nice walleye on stick baits.  Yes walleye.  There are a good number of walleye and white bass up there.  Caught them early in the morning, that's key.  Another tip -- work the stick bait very slowly.
Turner Micro Jigs have made somewhat of a comeback.  Well, if you ask our guide Bill Babler, they've always been good under these conditions.  The half micro, which weighs in at 1/100th of an ounce, in sculpin olive or ginger, have been great during the early morning stillness, again using two-pound line or 6x tippet.  Fish it anywhere from three- to six-feet deep, depending on the depth of the water.
Our hot spots aren't really hot spots any longer.  The fish seemed to have spread out, scattered from the Landing to Lookout.  There is still a lot of trout from Lookout to the Narrows.  The dam area is hold a lot of fish too including warm water species.  
Not that any of our readers need to heed this,  but our conservation agents have been working a lot of nights lately, nabbing poachers filling their stringers at night below the dam.  Dozens and dozens of people have been cited for too many trout, keeping illegal sizes, using bait, no license, no permit -- you name it.  If you see someone taking fish illegally, call the hotline at 800-392-1111.
Speaking of fishing below the dam, fly fishing mornings has been pretty good.  Jeremy Hunt says he's catching them on midges, sculpins and of course the white Megaworm.  Lisa Bellue caught this beautiful brown last week on a Megaworm and released it.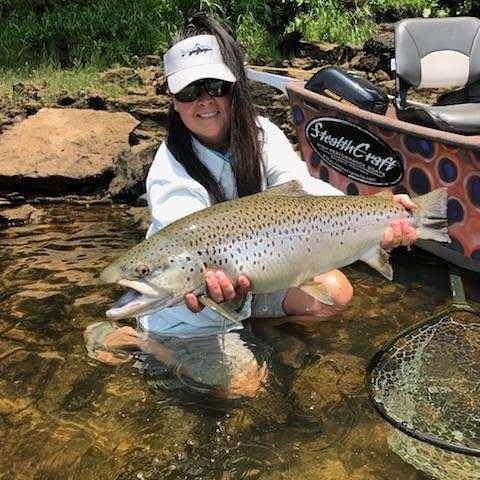 Back down below Fall Creek, the pink Berkley's Powerworm is still catching rainbows, but our guides have had to travel around a bit to find schools of fish.  When they discover them, they'll catch 5 or 10 and have to move to the next place.  They do work together, calling around to see if anyone is on fish.  That's why you'll see a group of them sometimes in the same area.
Early, fish the worm four- to five-feet deep and as the sun gets up, you have to go deeper - up to eight-feet deep, depending on water depth.  And again, two-pound line is best.