Well I finally was able to fish for an extended period of time, and it was on! Blake, from Lilley's Landing, and I boated up to the cable Saturday, 7/27 around 4:00 pm. We fished until dark-thirty, making several drifts from the cable through Trophy Run, and then from Lookout to Trout Hollow. 
Blake was throwing a 1/16-ounce peach jig with a sculpin head and the trout were hammering it. I, of course, threw a jerkbait. The ticket this time was a Spro McStick in Table Rock Shad. Fish were slamming it--hard! Lots of chasers but a lot of fish hitting within a few jerks. Most of them had all three hooks in them, somewhere, too. A real pain to release them without getting some new jewelry. We landed around 70 fish in 4.5 hours. Biggest we landed were some absolute chunk rainbows by the cable and through Rebar. A few were 16-17-inches and two pounds or more. The fish are fat and healthy. We had 2 units running and fish were everywhere--near the bank, middle of the lake, and near structure. I missed one just below the cable on the south side that was 20-inches or more. Big rainbow that went after it, but she just whiffed on the McStick. 
On my last cast I landed a 16-inch brown just across from Trout Hollow on the gravel bank and wood. A nice end to a heck of an afternoon.
Dillon and Jack Harris were fishing around us most of the afternoon. Everyone caught a lot of nice fish. Jack caught a 19-inch rainbow on a sculpin/olive jib and Dillon had one 20-inches near the boat but lost it (due to a net mishap). Shags from 96.7 KCMQ and and his graphic designer, Tim, were around us, too. They did well on scuplin/olive jigs, Shad Raps, and a variety of baits. Here are a couple of his photos from the weekend. Photo credits to Nathan "Shags" McLeod.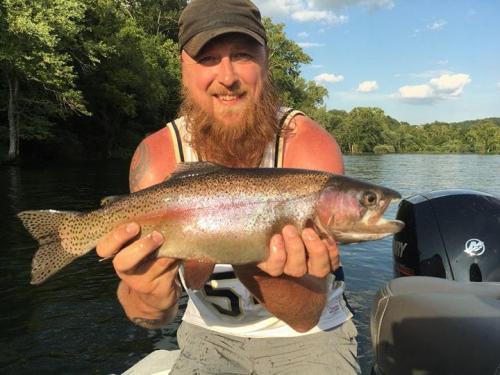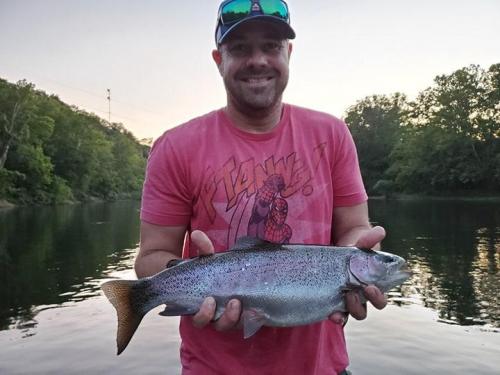 Here is the McStick I used. As you can see, it took a beating.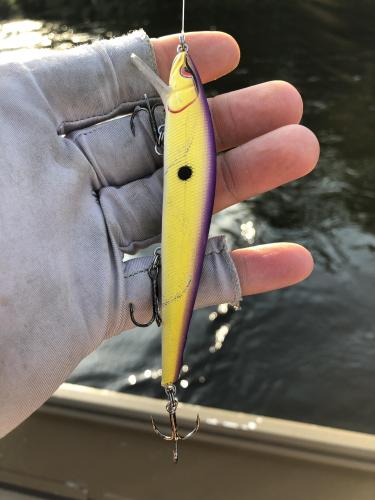 I will be back for a week starting August 10th and will be giving some detailed reports then.