Trout fishing on Lake Taneycomo has been pretty good lately.  One of our guides, Bill Babler, said his clients caught 77 trout in a 4-hour trip yesterday, both on the Berkley's Pink Power Worm and night crawlers.  I'd say that's pretty good "catching".
Our generation schedule has been consistent too, with no generation at night through the morning, then moderate flow in the afternoons ending about sundown.  But that changed today when problems at Bull Shoals Dam caused a shift in providing power from the group of hydro dams in our grid. 
Here's the jest of what happened, from an email forwarded to me this Friday morning from Southwest Power Administration via Missouri Department of Conservation, Fisheries Division.  "Bull Shoals regulation stopped working yesterday, and the plant was placed in manual mode."  Regulation means, "running water round the clock to adjust for the small fluctuations in power demand".  One dam in the system must be running water, generating power, all the time so there's no interruption of power when there's fluctuations in the grid.  Regulating shifted to Table Rock Dam so now Table Rock has to keep running at least 35  megawatts (may be less, I don't know for sure) of power 24 hours a day till something changes. 
This minimum flow isn't much water.  It's less than one full unit. The current at our dock is barely noticeable and it doesn't affect dock fishing at all.  I does, though, affect wading below the dam and there is pretty good current down through Short Creek to Trout Hollow.  Bottom line, we like this minimum flow because it helps trout eat more, and more often.  When food is moving down with the current, fish can't help themselves - they eat.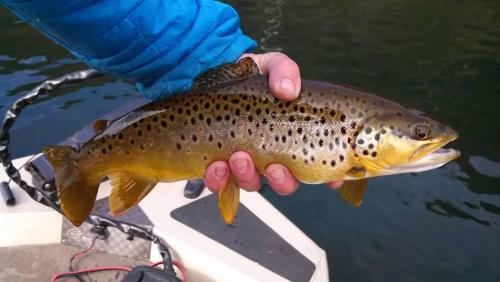 We're still on 2-pound line watch!  We're telling as many people as we can - it makes a big difference!
Blake, who is one of our dock hands, told me yesterday that he's converted many guests fishing off the dock to 2-pound line.  After not getting a bite, he will offer to tie a short piece of light line on to their line, retie the hook and let them try again with 2-pound tippet.  Wallah!  They start catching trout.  All it takes is about 24 inches.
Why 2-pound line?  Our lake water is very clear and trout see the line.
I know I sound like a broken record, reading my fishing reports but I'm not going to lie, or try to sell you a different lure or bait just to sound different.  The Berkley Pink Worm is still catching most of the fish for guides and second best thing is night crawlers.
The go-to jig color last weekend at the Branson Firemen's Benefit was black and brown.  Just ask Gerry Dwiggins, long time trout tournament fisherman, who landed and winning trout - a 23.65 pound brown trout.  He hooked it below the Branson Landing and took 45 minutes to land.  He was using a 3/32nd ounce jig and 2-pound line.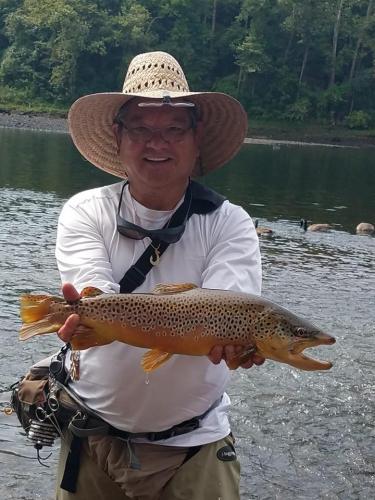 Our brown trout do make a run to the dam area in the fall to spawn, although they are not actually successful creating any young trout.  They go through the actions and lay eggs but because of water flow and temperature, none hatch.  Some browns are showing up early and are being caught on small scud and midge patterns.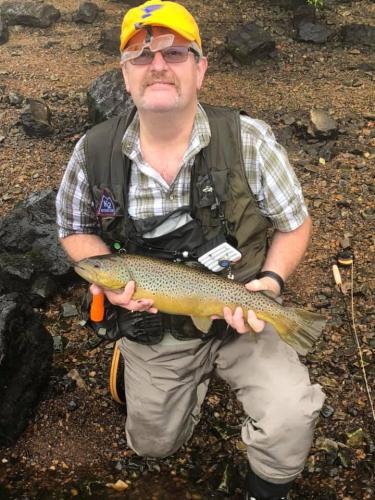 They are seeing some nice rainbows up there too but wade fishing will be limited to close to the shore because of the minimum flows for now.
Boating to the dam, though, should be easy.  There's plenty of water to get to at least the Big Hole and fish the area from a boat.  I'd throw a variety of jigs colors starting with black/brown, sculpin and even white.  Again I'd use 2-pound line and either 1/32nd or 1/16th ounce jigs.