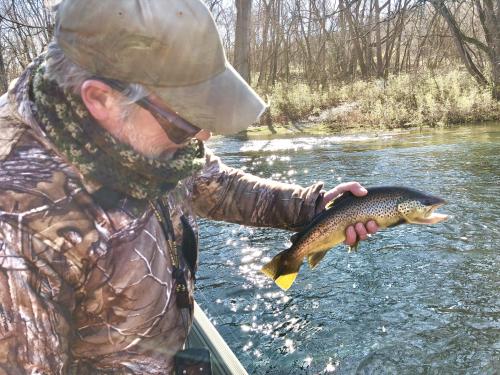 Taneycomo is pretty moody right now. Went down and fished with Duane Friday-Sunday throwing jerkbaits, crankbaits and jigs. By far the best time was the afternoon/evening. Biggest one we landed was 21-inches. Boated several in the 15-19-inch range on all of the mentioned baits. It was good Friday evening, poor Saturday morning, and great Saturday evening. Sunday was poor. 
We were throwing Duane's signature series jerkbaits, Megabass, and 6th Sense Provoke 106x and 106DD. They were really hitting it light this time around. They liked to chase it, and had several 3-4 lb browns swipe at my jerkbait on one drift from Trophy Run to Lookout--but they were not eating it. I stuck one 3-4 lb brown above the boat ramp Friday afternoon before the snow, but he was only on long enough for me to see how nice it was.
Crankbaits were better this time around. On Friday during the snow, I drug through several times with the Bomber Fat Free Fingerling in Pearl White and could not go 20 yards without it getting crushed. Boated lots of nice 15-17-inch fish. On Saturday, Shadtreuse was the color to use. Caught fish from the cable down to Fall Creek doing it.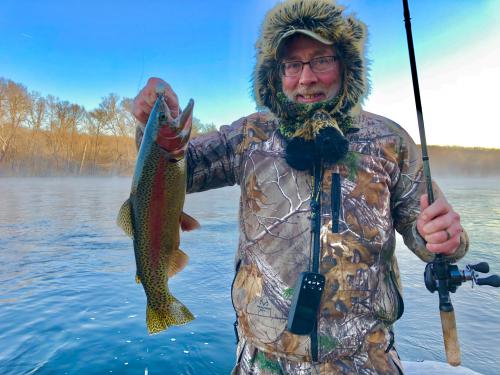 As I said, Saturday was really good in the afternoon. Robbie Dodson and his clients caught some really nice fish on PJs 1/8-ounce jigs Saturday afternoon. Check out the Facebook group Trout Fishing, Lake Taneycomo for those pics. Duane managed a toad white bass in the morning, but it didn't really pick up until the sun was high. We caught fish from the Cable (mainly the North side) to the Narrows. Around 5pm, we were throwing Duane's sculpin flavored jerkbait in the Narrows. I decided to try the shallow side and after one jerk this 21-inch rainbow crushed it.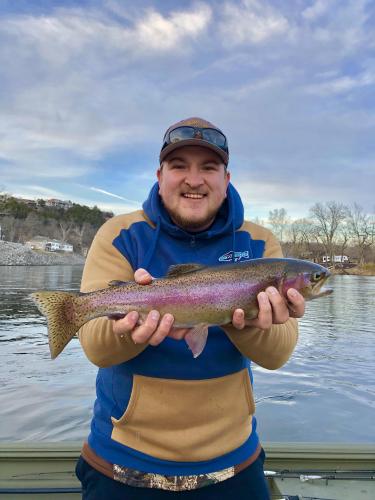 Sunday was just plain tough. We caught fish, but we had to work for them. Nothing of size, but hey that's fishing. I even did some exploratory jerkbaiting down lake, past Cooper Creek. Nothing but one small brown chasing. Overall, I would say the fishing was good. I've had better days, I've had worse days. I think if and when the shad start coming over the dam (reports of them dead in TR right now) these tactics will be unbeatable. As soon as Phil or Duane sees them coming over, I will be headed down. You should be, too!
Jig Clinic
On Friday, Phil and Duane took out a few folks on a jig clinic put on by Lilley's Landing. It was a great event and Duane was able to teach Steve a lot of the intricacies of fishing a jig. He picked it up pretty quickly, and was able to catch a 23-inch rainbow the next day. Pretty cool. 
Until next weekend..