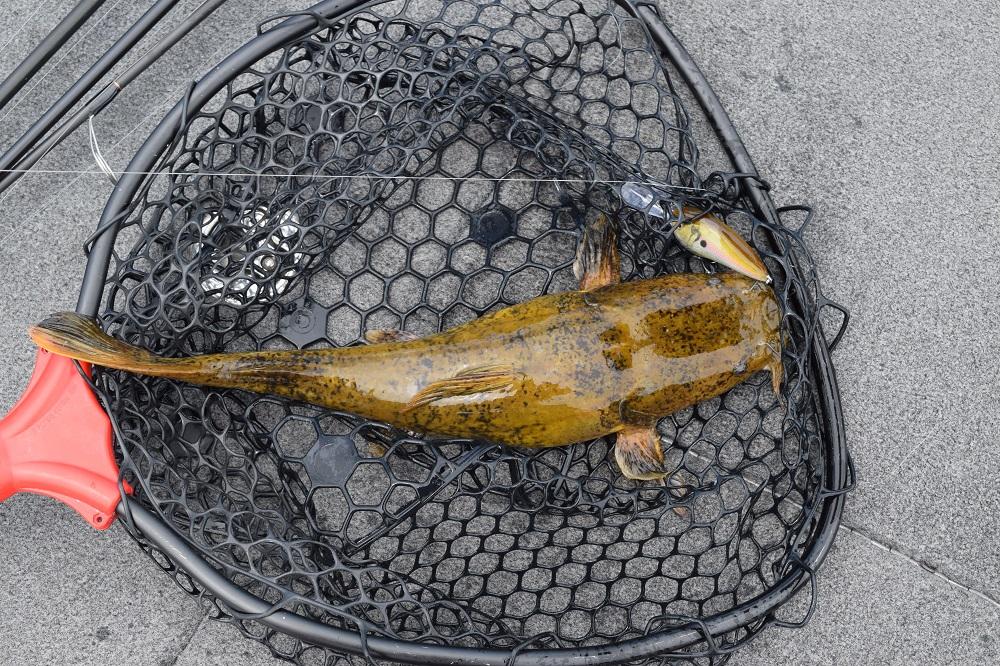 Above is my big fish of the day.  2 lb. flathead that ate a crank.  Only crank bait fish I caught.
I launched at noon and fished until 5:30 PM, not a recipe for success, but I had a morning appointment so I got out there late.  I was hoping the cloud cover would hold, but it did not, skies turned partly cloudy. 
I caught a half dozen bass, biggest was a 14" meanmouth.  I got one on a Ned, the rest were on either a 3/4 oz FB jig, or a 3/8 Nutech jig.  Chunk rock banks, fish in 5 - 15 FOW.
Had several chasers that chased the jig back to the boat, they did seem to want a moving bait, but not the cranks I tried.  Might be worth trying a finesse spinner bait, Road Runner, swim jig or maybe even a lipless.  I didn't have time to try any of that stuff, maybe next time.
Ran into Champ176 at the ramp, it was a pleasure to chat with him.  Funny thing that happened, he had mentioned in another post that he had never seen the MO Water Patrol on TR.  As we were talking guess who pulls into the Big M marina?   Yep, the Water Patrol - I think they eat lunch there sometimes. 
WT was 82-83, water is a bit murky with a few feet of viz.