There are a dozen names for it and some of them are not flattering.  Alabama Rig A-Rig, Umbrella Rig, Mob Rig, School Rig or just plain old Stupid Rig.  Thing about it is what ever you call it or how ever you feel about it, this fishing method is legal, deadly effective and here to stay.
In the Fall of 2012 this rig started showing it's "Ugly Face" to some and "Oh My Gosh Good" to others.  The first one I happen to see was being used by Pete Wenners and Chris Tetrick.  They had started using this Andy Poss fishing method after seeing it win multiple tournaments in the Eastern US.  Now the fishing method that Andy started in 2009 is wide spread throughout the entire country and at least 20 different bait manufactures make and market variation of the Umbrella rig.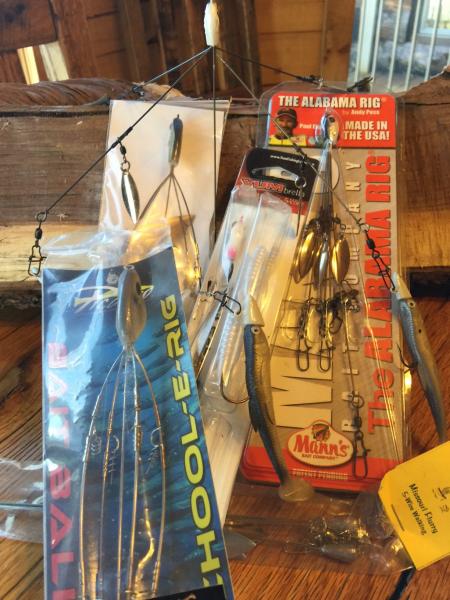 As late Winter and early Spring of 2013 rolled around, A-rig fishing as it is known for short started catching huge strings of bass on all of our White River lakes Chain.  It was fueled by producing huge stringers of bass that had not been caught here since the fish kills of the early 90's.  It has become a staple here to this day.   What we thought at first to be a passing fad now is a very important tool in catching large stringers of bass in very cold and cool water months of the year, by simulating small schools of either threadfin or gizzard shad.
Most Alabama Rigs are constructed of a 5 arm, wire rig, similar to the spokes on an umbrella.  There are umbrella rigs constructed with as many as 20 arms that hold various baits and teasers.  You are only limited to your imagine when it comes to attractants.  Each state has its own regulations on the rig, concerning how many "Hot Baits" or hooked baits you can have on the rig.  In Missouri we are limited to only 3 hooked or Hot Baits. If we are fishing in our Sister water in Arkansas we are not limited to 3.
The next question is how in the world with only 3 hot hooks on a multiple baited lure can you select the proper one that the fish will hit.  Most Alabama Rigs are built with an extended middle arm.  This allows one single hot bait to trail the school or mob.  Fish also approach the school most often from the bottom, so wise A-Rig fishermen rig the two bottom arms and the middle extended arm to present the best opportunity for hook ups.  The remainder of the baits are teasers and should be presented in a way to make it look as if they are tightly schooled.  The bass will most often take the trailing bait or lower extended baits that are not tight to the teaser baits that are in the mob.  At times I even further extend the hot middle bait with a 3" eagle claw wire leader.  It works to perfection and I rarely get non-hook up bites.
Baits and teasers can be anything from willow leaf spinner blades to a variety of soft plastics.  Combinations are countless.  With over 50 manufactures making soft plastic grubs, curly tail minnows, and boot tail shad imitations.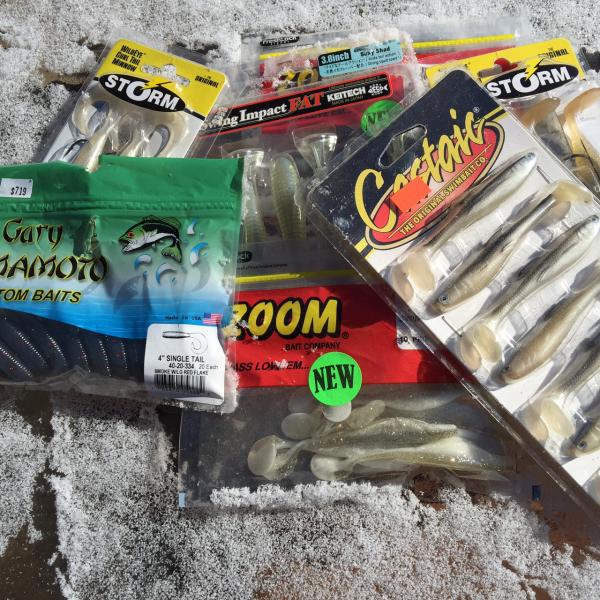 Ok, you have now got your 5 arm rig and your soft plastic Yum-Yums, what hooks are you going to use if the baits are not hooked already and how ya gonna rig it?  When I first started I used Storm Wild Eye Shad.  This is a fantastic small swimbait.  It swims perfectly, comes in a variety of sizes and is nicely weighted with a super heavy hook.  It's best feature and maybe its biggest draw back is the heavy Gamakatsu hook.  With prices on the A-Rigs running from the 9 to 29 dollar range, you want to get as many of these bad boys back as possible when they reach out a grab some underwater something.  And they will.  Lots of fishermen have varied the hook strength to match the line strength that they are throwing the rig on.  Enough line strength to slightly bend the hook without causing it to break the line that is attached to the expensive A-Rig.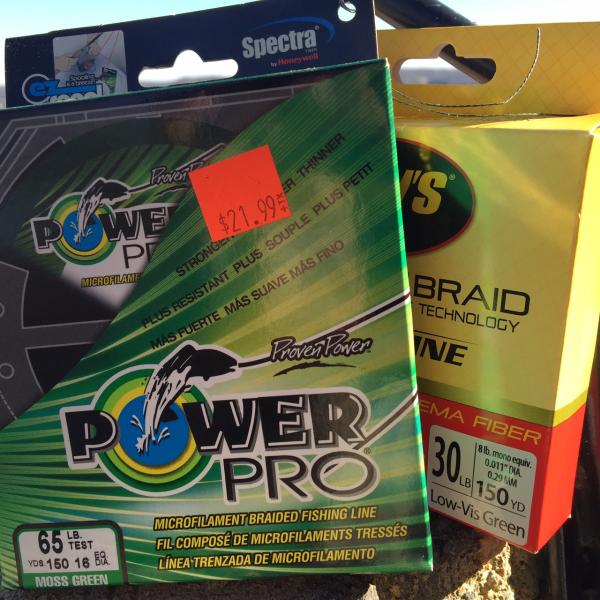 When you do hang up, try not and set the hook, just let it come snug and run your boat around behind the snag and try and pull it loose from the rear.  This is the best method.
For me,  I use pretty heavy line.  What say you, you are already dragging wire thru the water, might as well put lite  rope on it to get it back when that old underwater oak branch tries to snatch it from you.  Personally I now use a hook created by Table Rock Bait Co.  ie Chompers.  It is a jig head hook especially designed for the Alabama Rig.  Put a drop of gel super glue on the hook and slide the soft plastic of your choice and your nearly ready to start flinging.   That being said, how in the name of Virgil Ward do I attach the teaser baits to this apparatus.  It can be done several ways.  We all started using a very small hooked jig head, say 1/16th. to 1/8 and simply snipping the hook off at the bend.  That gave us the structure to attach the bait and maintain it in a very nice smimming mode.  Since we have had time to experiment, most good A-Riggers use a small screw attachment called a Hitchhiker.  They can be bought online or at most stores including WalMart.  You simply screw the Hitchhiker into the head of the teaser bait and then put the snap of the hiker into the swivel of the A-Rig arm
Now, I have my line, my umbrella, and my baits all set up.  How do I get this monster in the drink and get it back?  When this deal first started most of us tried to just use a heavy jig rod and a reel that would spool enough big line to get it out there a reasonable distance. This seemed to work somewhat OK until you engaged the reel as the spare tire of a bait was still sailing thru the air.  Most often you just got a clank and a clink and that was pretty much all your regular bait caster wanted of that deal.  There have been a score of improvements in this field also.  The best A-Riggers of 2 yrs. ago were using a Shimano Curado 300e as the reel.  Still hard to beat, but this is heavy.  The reel is also a full hand full for a big guy.  For me at 5'9" I"m not that big I was having trouble with my Curados with not only the weight at 10.8 oz. but the size fitting my hand.  They also carry a very hefty price of $249.95.  The drag is more than solid at 15 pound, so this is the classic reel to handle a 3 plus oz. bait like the rig. It only comes in a gear ratio of 6.4 to1 which is satisfactory, but there are better options now.
Lew's features a reel called the Super Duty that was designed with the A-Rig in mind.  It is Super tough with Brass gearing a heavy 14 pound star drag and is lite weight of 7.8 oz.  This reel is offered in gear ratios of 5.4 to 1 to 8.1 to 1.  It is a low profile soft sided palm size reel that fits the hand much better than the bulkier Curado.  Paired with the New for 2016 Falcon Cara Super Duty 7'6" casting rod you have a multipurpose outfit that fishes either an A-Rig or the new hit of the month sensation the Whopper Plooper.  Just bite off the rig and tie on the Plop and your ready to go. Lew's has the Super Duty regular price for $179.99, but I am seeing it offered on Optic's Planet for $142.00 to $148.99.  A full hundred bucks less than the curado and a very nice lighter weight option.  The Cara Super Duty weighs 2.1 oz. on a split grip frame so you have a outfit that you can throw perhaps a little longer at a total weight of 9.8 oz. making rod and reel lighter than the curado.
Not bad at all for this type of a very heavy preforming outfit.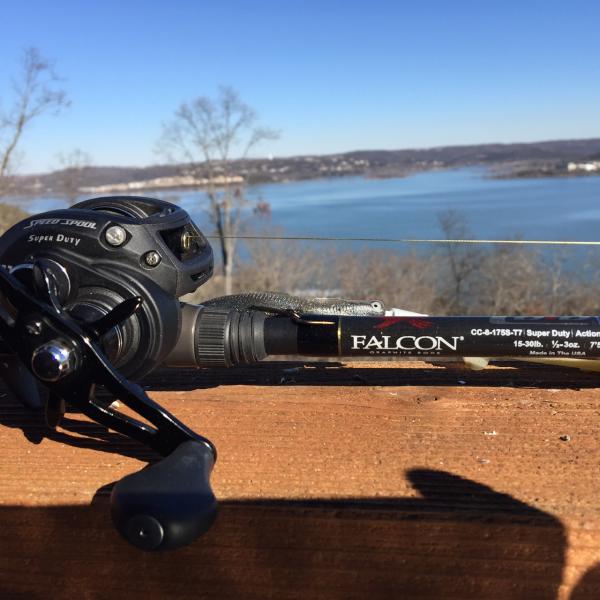 We are completely set up and ready to let it fly now, but where do we do the flinging.  The A-Rig can be fished just about anywhere that the fish are.  It can be fished this time of the year to suspending fish on bluffends and cove mouths and channel swings just over tree tops.  As the water warms it can be fished to staging fish and fish that are rising in the water column.  I fish it in very similar locations that I would fish a suspending stick bait, as water temperatures rise.
Late Summer and early Fall this bait will again excel as a wonderful dock bait.  When shad are schooling and chasing in the backs of the pockets, it is simply deadly around dock corners.
The best method I have found is to fish the bait with a slow pulling method, letting the bait sink to the desired level on the cast and then retrieving it by pulling the bait thru the water and picking up the slack with the reel.  This method will allow the bait to stall or flutter as it is retrieved.  On the strike, and they can be violent, instead of jerking the rod, just continue to reel picking up the pace or draw the rod back as you would by sweeping it as the hook set on a carolina rig.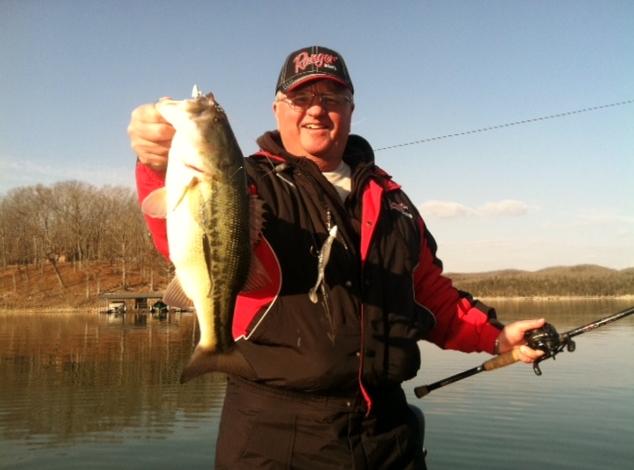 How ever you feel about it, the A-Rig is here to stay.  Get geared up properly and see how some of our local fishermen are winding in once unthought of tournament weights.  Now is the time for the Rig, so get your umbrella up and get after it.