Table Rock Lake Current Fishing Report 2-27-20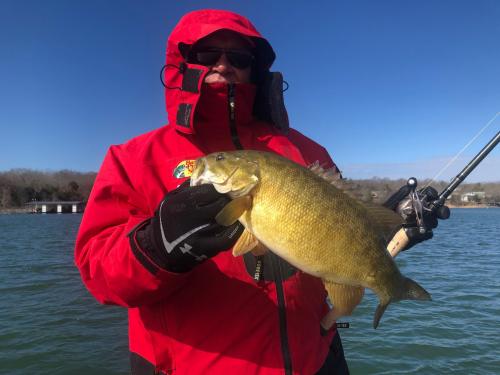 Took a BFL client yesterday in the KC to Aunts Creek Zone.  Water clarity is kind of a greenish and frothy color if that is a color.  Surface temps at 46.6 and a pretty stiff wind that really made no difference to the Big Phoenix.  Did restrict our fishing locations somewhat but still got them figured out early. 
BFL is a Ranger tournament somewhat, not like OMTT but still lots of Rangers.  When we got back to the resort 2 of his other buddies that were also prefishing and both with new 21 ft. Rangers were at the dock, both soaked.  They had tried to go from Mill Creek Ramp up the James and from Mill Creek to point 9 there were 3 foot cross blow waves.  We never got a drop of water on us and they were totally miserable.  Both said it was a nightmare.  Just Sayin. 
We had 12 keepers with my client and good buddy catching 10 from the back of the boat and me hoisting the 2 smallest out of the front.  Not a real guide trip cause we are searching for derby fish and I get to fish pretty hard.  In other words he laid the wood to me.  Good for him.
Fish were positioned really similar to where they are up the White and every year I am learning.  With the cloud cover and the water staying pretty much the same temps all day and not rising at all with the lack of sunshine and churning water they are staying deeper than in the past.  They are on channel swings and major cover channel banks, but they are not up in the water column, and that is why its hard to catch them on a jerk bait, they are just staying deep.  ie swimbait and A-rig.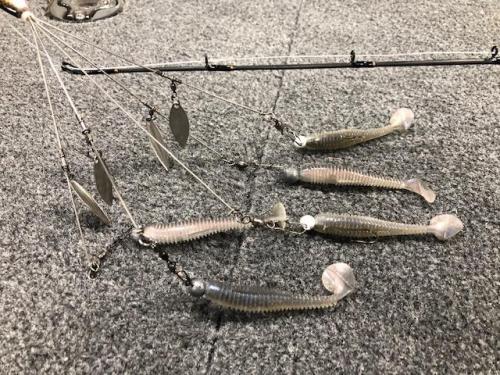 Every fish we caught yesterday had a big crayfish in its gullet, even if we were around shad, they all had shrimp cocktails sticking out of their throat.  I was positing the boat deep, in the 40 plus foot range throwing into 15 plus and slow swimming the bottom with the rig, most fish coming on the bottom out of 18' to 30' on very vertical channel banks.  You can see them hovering and rising up at times in that depth range.  Very seldom did we see one up in jerb bait range, almost all were bottom dwellers.
We could have caught more per location, but since we were prefishing we would catch one or two and move on.  Biggest fish was a 3.8 K and had 3 Jaws that were 3.75 and and 3 more jaws that were 3.60.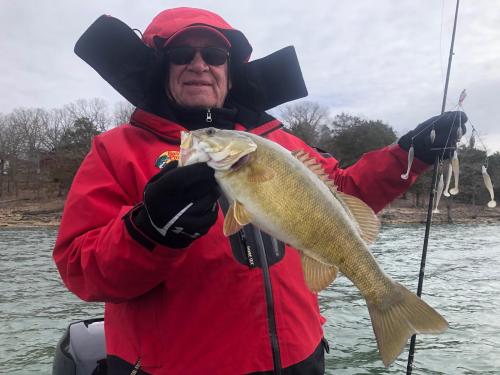 These fish are by no means everywhere and for me between point 5 and Long Creek with the exception of the float-n-fly it is totally dead water.  I'm kind of sick of pounding it to death with poor results.  Get away from Branson/Indian Point and the dam area and its a totally different lake that has fish in it.  Most years the dam area is the last to turn on and the same is happening this year.  Another factor is just the sheer traffic in that area and the numbers of baits the fish are exposed to on a every day basis, it just seems like a never ending amount of constant fishing pressure.
If you want to catch fish on Table Rock, you have to be willing to go look for them or figure out a method or location that no one else knows of.  Then please let me know what or where that  is and I'll keep your secret 
Good Luck
I had the two smallest with a 1.80 K and a 2.10 LM.  We had 9 Smallmouth keeps 2 K keeps and the one LM.